Ten crazy statistics from Kentucky's 48-10 victory over Murray State
It started out slow, but the Kentucky Wildcats finally turned it around in the second half to cap off a 48-10 victory over Murray State on Saturday afternoon. We had our fair share of impressive highlight-worthy plays, combined with a few miscues we can blame on the Florida hangover. Overall, the Cats put on a solid performance and they're heading into week four undefeated. Can't complain about that, right? Here are ten crazy statistics from Kentucky's victory over Murray State:
Kentucky is 12-5 in their last 17 regular season games
Do you remember the days of back-to-back 2-10 seasons just five and six years ago? A relatively-empty Commonwealth Stadium week after week in 2012, followed by a year of clinging on to nothing but hope under Mark Stoops the year after? Yeah, that's gone now. In their last 17 regular season games, the Cats have a winning percentage of 71 percent. Take out his 2-10 debut season, and Mark Stoops has led the Cats to a 53 percent winning record, and they've only gone up each year. Victories over Louisville, Tennessee, Florida, Mississippi State, and South Carolina, among others. "We're just getting started, bro."
Terry Wilson is No. 9 in the SEC in total offense, No. 4 in passing accuracy
With 392 passing yards and 223 rushing yards, Kentucky quarterback Terry Wilson is currently ranked No. 9 in the SEC in total offense. Wilson is averaging 205 total yards per game and 6.8 yards per play. Completing 69.5 percent of his throws, Wilson is No. 4 in passing accuracy, behind only Georgia's Jake Fromm (80.4 percent), Tennessee's Jarrett Guarantano (72.2 percent), and Alabama's Tua Tagovailoa (72 percent). Going into the season, many worried about Wilson's accuracy and whether or not he would be able to move an offense forward through the air. Three games into the season, he's proving to be just fine in that department.
Kentucky has two top-ten rushers in the SEC, three in the top-20
We all know about Benny Snell and his dominance on the ground, and it has pushed him into the Heisman conversation early in the year. He's currently ranked No. 2 in the SEC with 375 yards rushing and three touchdowns. He sits behind Texas A&M's Trayveon Williams, who leads with 399 yards and four touchdowns on the ground. Beyond Snell, the man under center actually finds himself in the top-ten, as well. With 223 rushing yards and two touchdowns, Terry Wilson sits at No. 10 in the SEC, ahead of the likes of Arkansas' Devwah Whaley, Alabama's Najee Harris, Georgia's Elijah Holyfield, and former Kentucky target and Richmond native Damien Harris. To put the cherry on top, AJ Rose sits at No. 20 in the conference with 146 yards and three touchdowns.
Kentucky has managed 847 rushing yards through three games, the most since 1987
With 245 rushing yards on Saturday, the Wildcats have pushed their season total to 847 yards, the most through three games in over 30 years. Wilson led the way with 85 yards on the ground, followed by Snell with 75 yards, and Chris Rodriguez next with 43 yards. Back in 1987, Kentucky ran for 892 yards in their first three games, but no team since has managed to do what the Cats did on Saturday and this season as a whole.
The defense has allowed zero points in the third quarter this season
There was a time Kentucky's biggest issue came in the form of second-half adjustments. Like clockwork, the Cats would take a solid lead going into halftime, but find a way to choke the lead away in the final stretch. This year, however, Kentucky is dominating after the intermission, allowing zero points in the third quarter in three games. In turn, the Wildcats have been able to score 38 points in the third quarter through three games, giving them the lead going into the fourth in each contest. It's the first time since 1991 the Cats have held an opponent scoreless in the third quarter in the first three games of the season. Executing down the stretch is crucial for teams trying to take that next step, and they're finding a way to do it.
Kentucky is No. 3 in the nation on third down
Completing 61.54 percent of third-down tries this season, Kentucky is ranked in the top-three in all of college football behind just Central Florida (81.8 percent) and Mississippi State (65.22 percent). On defense, they're allowing just 46.81 percent of conversions, 22 of 47 attempts. On fourth down, the Cats have converted on three of four tries, and have given up just one of four conversions on defense. That's absolutely nuts, and shows the poise of the Wildcats on both sides of the football in the biggest moments of the game.
They're perfect in the red zone
In seven tries, Kentucky has converted on all seven of their attempts in the red zone this season. Five of those attempts have ended in touchdown scores. #Efficiency
Six different Wildcats scored touchdowns against the Racers
Terry Wilson, Benny Snell, AJ Rose, Allen Dailey, Zy'Aire Hughes, and Danny Clark each found their way into the end zone on Saturday. With six touchdowns from six different players, that's the most from a Kentucky team since they did it in 2012 against Kent State. And that's the last time we'll ever discuss the 2012 football season.
Benny Snell is just three scores away from beating Randall Cobb's touchdown record
With his seven-yard touchdown run against Murray State, Snell inched his way up the charts ever-so-slightly, pushing his career total to 35. He was later credited with a 43-yard touchdown throw, though that apparently does not count toward his overall career total, just like Cobb's five touchdown passes did not count. (Stupid rule, I know) Nonetheless, Snell is just two scores away from tying Cobb's record of 37, and three away from topping it. He as already surpassed Craig Yeast (32) this season, along with Moe Williams, George Adams, Rodger Bird, and Derrick Locke at 27 total scores last year.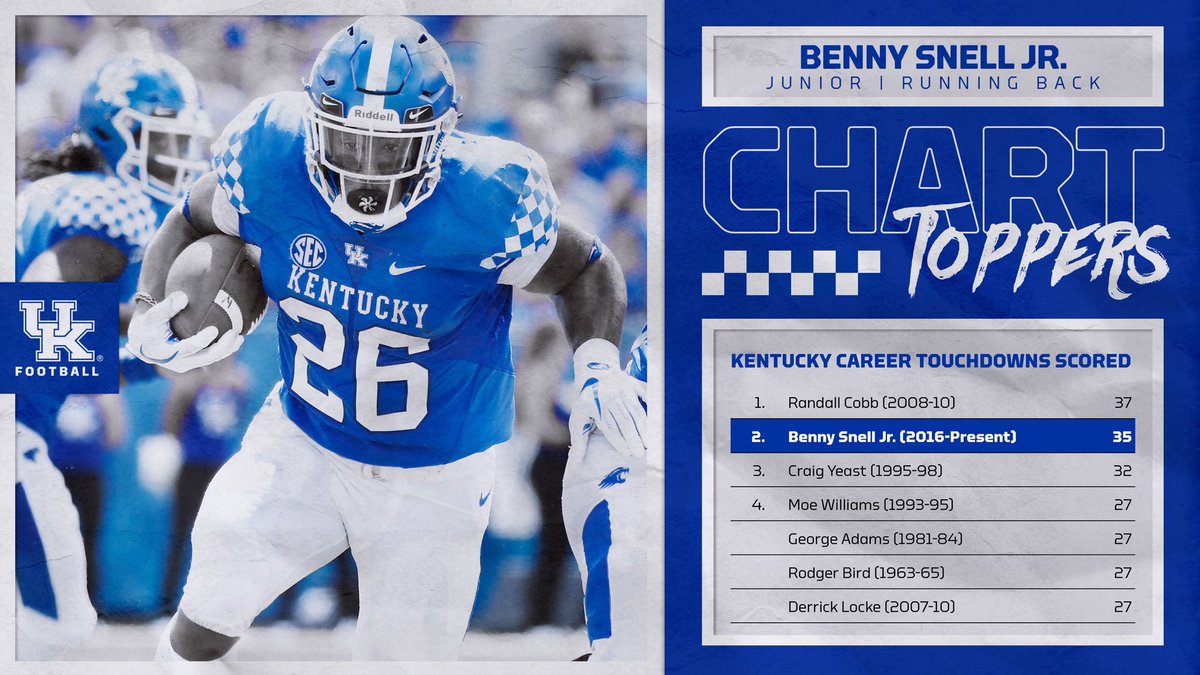 Benny Snell leads former Kentucky targets Mac Jones and Jarren Williams in passing yards
As mentioned before, Snell was credited with a 43-yard touchdown pass on a reverse toss to Terry Wilson, who then lateraled it to Zy'Aire Hughes, who then ran it in for a touchdown. It didn't seem like much at the time, but it actually put Snell in the record books, pushing him ahead of some pretty familiar names.
Snell is now No. 24 in the conference in passing, ahead of former Kentucky commits Mac Jones (Alabama, 30 passing yards) and Jarren Williams (Miami, 17 passing yards).
He's also ahead of true SEC quarterbacks such as Matt Corral of Ole Miss, Matthew Downing of Georgia, and Kyle Trask of Florida. Doesn't mean much in the grand scheme of things, but you better believe I love every second of it. [mobile_ad]