Ten Quotes from the Coaches to Describe UK's First Preseason Football Scrimmage
UK's first football preseason scrimmage was closed to the public.  Unable to judge for ourselves, let the coaches describe how things went down at Kroger Field.
1. Stoops is Happy to Have More Time
"It's a good thing we still got three weeks.  Two weeks we'd be pushing it.  In three weeks there's a lot of time to get things ironed out," Stoops said.  "It's a good starting point.  We've just got a lot of work to do."
Stoops had the face of a perpetually sighing person as he described today's events.  He hoped to see more, but he did see a little something.
2. Fundamental Run Defense
"I think we worked really hard fundamentally at doing some things better.  I think that showed up today," Stoops said.  "There was definitely some positives, some good things.  I think we were more stout up front than we've been.  I think our run defense in general; they did rip off a couple, but I think in general we were more solid.  We saw more second and longs, which is what we were looking for."
Maybe the UK defense can turn a few other teams into "Second-and-Ten U?"
3. A Flashy D-Line
"There were flashes, but we don't want to flash.  We want to be consistent."
Matt House agreed with Stoops; the rush defense was better.  He specifically praised Calvin Taylor and Adrian Middleton for performing well in the trenches, but they still surrendered too many big plays.
4. House Channels Stone Cold
"Anytime they pop a long run, I'm not happy and that's the bottom line."
The UK defensive coordinator's raspy voice kinda sounds like Stone Cold too.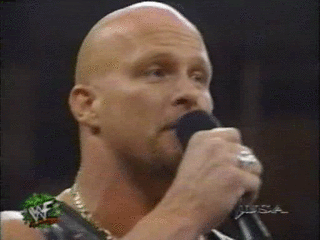 5. A Self-Destructive Offense
"We're our own worst enemy."
Eddie Gran's offense had great starts to their first two drives, but failed to finish.  The first drive featured a few big runs in a 10-12 play drive, but things fell apart once they got inside the one.  After a misread on one goal-line play, the offense was stopped short of the end zone when the ball was put on the ground and the defense recovered.
6. Protective Quarterbacks
"I saw both guys really do a good job of protecting the football, first and foremost," Stoops said.  "I thought both guys really showed up at times with some impressive throws and threw it in some really tight windows.  I like seeing that.  I like seeing the competitive plays."
Gran agreed with Stoops.  He was happy to see the QBs take care of the ball and manage the offense.  Gran wasn't quite as complimentary, but that might be more about the receiving end not fulfilling their duties than the quarterbacks failing to fulfill theirs.
7. Bowden Balled
"I thought he was one of the guys that showed up and made some plays," Gran said.  "It's hard because he hasn't been here that long, but he went out there and he's a competitor, but he's one that did show up."
On a day where there seemed to be more lows than highs, it's encouraging to hear praise about the crown jewel of the 2017 recruiting class that's only been practicing for a week.  It's not the last you'll hear about Bowden from UK's first scrimmage.
8. Big Ross is Playing Big
"He's really taken a step up," Gran said. "He's big, physical.  I think he got a couple of catches today.  He's really working hard to get that big body down low and rip through people.  He brings a different dimension to us if we can get him out there singled up, especially against man-to-man.  So far he's on track and can be a man that helps us."
Kayaune Ross fits the "big outside receiver" stereotype and it's turning into big plays.
9. No More Juice
"Garrett made two really big-time contested catches.  That was really good to see. He's working outside and inside and that's been really good for us.  He showed up a little bit today."
He's still Juice to everyone else, but it's odd to hear Eddie Gran call him Garrett.  Maybe it will make him thirstier to catch more passes?
10. The Heat is On
"It's the first time that the coaches have been off to the side the whole time," House said.  "The first time where you get to live tackle and it was a good to be outside and get a little heat too."
The first two weeks of training camp have gone too well.  Today was the team's first wakeup call of the 2017 season.