Ten takeaways from this week's Mark Stoops Show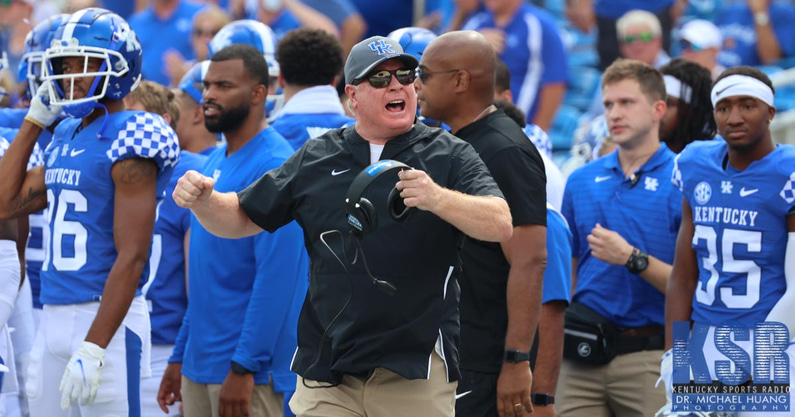 While Mark Stoops typically speaks to the media a few times per week during the season – once on Monday afternoon for a weekly press conference and another post-practice session on Thursday evening – the Kentucky head coach usually uses his weekly call-in radio show on Monday evenings to kick back and relax a bit. During the hour-long show with Tom Leach, Stoops usually opens up about his team's performance from the previous week, previews Kentucky's upcoming opponent, and answers questions via phone and social media from the Big Blue Nation.
Following Kentucky's victory over Louisiana Monroe in the season-opener, Stoops used this evening's edition of the call-in show to discuss what went right, break down specific play calls, and preview the Missouri game, among other topics.
Here are ten things we learned during the Mark Stoops Show this evening:
Tape was better than expected
It's hard to complain about a 45-10 blowout victory, but it's even harder when the tape confirms what the numbers showed: UK looked the part in week one.
After going over the game film several more times, Stoops is pleased with his team's effort on both sides of the ball.
"Obviously, throwing the football and getting the ball down the field. It was very good for us," he said. "I had been seeing it in practice, but to execute it in-game, hitting the long ball and being on target and having accuracy down the field was something we've been missing. It was important for us to have that.
"We had good balance, we were physical when we needed to be. There are things to clean up in all areas, offensively, defensively, running, throwing, you name it. There are areas to improve, but also a lot of good things to build from. Really proud of the defensive effort overall. We've got to get some penalties cleaned up, but outside of that, I think the guys really played hard."
Will Levis is an "effortless" quarterback
After shaking off a quick tip-drill interception, Levis bounced back with numerous deep strikes for scores and long gains. It confirmed what the staff had seen in practice throughout fall camp and why they were so quick to name him the starter.
"Just like we had been talking about through camp, he has an extremely live arm who can make all the throws. It's effortless," Stoops said. "He needs to work on things fundamentally, he's been working with Liam (Coen). He's just off here or there. … You could see he could throw the ball down the field with ease. He has the ability to make all the throws."
More importantly for Stoops, he's leading the team both on and off the field.
"Will is very much a leader," he added. "He's naturally a leader. He came in with a great presence about him, he's very believable. His teammates really respond to him and that's a good sign for me. It's not forced, it's not because of his position, it's because he truly has the leadership qualities and he earned that from his teammates in a short amount of time. That's fun for all of us."
Levis' performance deserves "at least a couple bites" of a banana
Stoops told the SEC Network he would follow in Levis' footsteps by eating a banana whole if his starting quarterback threw for 400 yards against ULM. While he came up short – Levis finished with 367 yards and four touchdowns – Stoops admitted it was performance deserving of "at least a couple bites."
"That would be the first question of the night, right?" Stoops said. "Yeah, so I think I should clear everything up. I probably should eat at least a couple bites (laughs). … He didn't throw for 400, missed the cutoff. We needed some reps for some of the younger guys."
Stoops needs Kroger Field "rocking" on Saturday
With Kentucky taking on its first SEC foe under the lights, Stoops expects the Big Blue Nation to fill the stands at Kroger Field. According to the UK head coach, the team needs it.
"We need it full and we need it rocking," he said. "We have a chance to have a very good football team and we need everybody all in together. Need that atmosphere. We have to put a good product on the field and we need fans packing the stadium making that noise."
Wan'Dale Robinson is a "difference-maker"
Robinson came in with high expectations, and somehow, the former four-star prospect surpassed them in the season-opener. Finishing with 125 yards and two touchdowns in his UK debut, it's clear the Nebraska transfer is a game-changing talent.
"I think that's pretty evident just watching, Wan'Dale's a difference-maker, there's no question," Stoops said. "He's really improving each and every day as a wide receiver and just learning to play the position. He's not just a playmaker, he's a skilled player, and he's getting better. Liam (Coen) and the coaches have really helped him, and he's helped us, there's no question."
As for his muffed punt on Saturday, Stoops says there's no concern on that front. He's going to continue to field punts and the explosive plays will come.
"Not even going there," Stoops said. "He's done it thousands of times and you know he'll be just fine. I just stay away from him and let him do his thing."
Young playmakers get early reps
Blowout victories lead to early playing time for young players looking for reps, and that's exactly what unfolded for Kentucky on Saturday. Four-star freshman Trevin Wallace was the first to see the field, followed by a slew of other first- and second-year standouts.
"A lot of talented young guys," Stoops said. "You look at guys that went in there, (Martez) Thrower did a nice job, Tre'vonn Rybka, Jared Casey really did a good thing. Justin Rogers is getting better, Carrington (Valentine) is a young guy who went out there and played most of the game, he's getting better. Same with Jalen Geiger. We've got some good, young talent who are getting better with each and every opportunity.
"Offensively, Christian Lewis, we were trying to get him a touchdown throw down there in the red zone. He's a big guy who's done that in camp and I wanted to get him a game rep. Chauncey Magwood got some good reps, so a lot of good young talent."
Kentucky set to host Military Appreciation/Heroes Day
It's not just the SEC opener and the first night game of the season. UK is set to host Military Appreciation and Heroes Day at Kroger Field on Saturday, an annual tradition for the program. This season, the game will fall on the 20th anniversary of 9/11.
"It's an honor for us to represent them and we thank each and every man and woman for their service," Stoops said. "We really can't thank them enough, they're the real heroes. We'd love to go out there and play hard and represent them the right way."
Injury updates on Taj Dodson, Dekel Crowdus
Defensive back Taj Dodson suffered a groin injury against ULM, while a few other players have been dealing with health issues of their own. Stoops updated the status of a few of those players Monday evening.
"Taj is a little dinged up," Stoops said. "We'll see how it goes this week, but it's unfortunate. Taj seems to always get something here or something there. It's a shame. He's a great, great young man, works really hard. He just needs to stay healthy, we need him. Something is always aggravating him and it's disappointing for me and I know it is for Taj, as well. I know he tries extremely hard and works very hard, but he always seems to get something dinged up with him."
As for Dekel Crowdus' knee injury, Stoops didn't reveal much.
"Yeah, Dekel is getting better, going through rehab," he said. "I don't want to be too specific on that, but you know, he's going through the rehab.
JJ Weaver back to full strength, has chance to be "very, very good" player
After working his way back from a torn ACL this offseason, JJ Weaver has been given the green light to play an unlimited number of reps. And with his return comes high expectations, especially following his two-sack debut to open the season.
"He definitely has a chance to be a very, very good football player," Stoops said. "I think he's getting more and more confident each and every day. To see him get out there and get that many snaps and have that kind of production was very good to see for us. He feels better with that, getting some game reps under his belt. In the scrimmages, I just wasn't ready to cut him loose and let him go out there and play you know. Just a confidence factor, just no reason not to give him another month to heal up. That's the doctor's call, not mine. Now he's got the green light, he has the ability to go play full strength right now.
"… It's a real credit to him to see him out there again and have that kind of production. We need it, but more importantly, JJ needs it. It's fun for him and it's great for him to be back out there."
Octavious Oxendine turns heads
After picking up zero tackles in three games as a freshman, Octavious Oxendine followed it up by racking up five tackles in game one of his sophomore campaign. Needless to say, Stoops was impressed with the Radcliff, KY native's effort.
"I was very pleased with him, very happy to see that," Stoops said. "He's just another one of these guys who is a great young man. He works so hard and it's really a joy to see some of his work paying off. There are guys that just keep on grinding, keep on doing what you need to do, keep on taking the coaching, and eventually, it's going to show up on the field. He's a perfect example."