Early Scouting Report: Tennessee Volunteers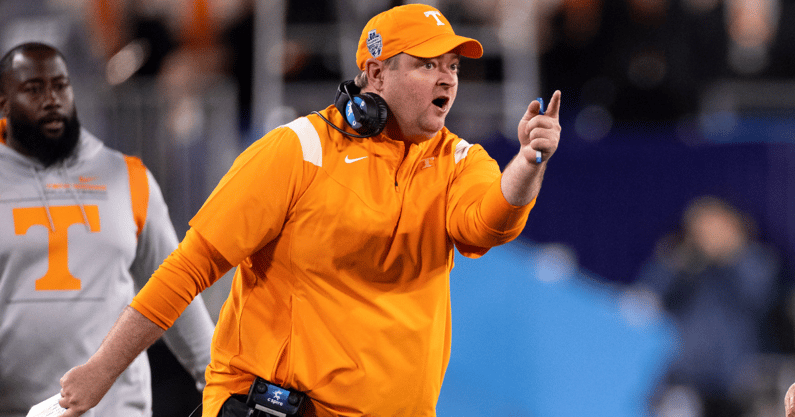 When you looked up at the end of the 2021 season, Tennessee was just 7-6 with a .500 record in SEC play, but it was a very fun 7-6. Entering year two with Josh Heupel, the Vols again have some buzz around their football program.
With Hendon Hooker back at quarterback, an offense that will put up points, and a challenging schedule, Tennessee might be the ultimate league pass team for this year's college football season. There will be many entertaining games involving the Big Orange.
KSR is continuing our early scouting report series where Heupel will look to keep this program moving forward after a surprising first season on Rocky Top.
Nuts and Bolts
After defeating Kentucky on Senior Day in 2008, head coach Phillip Fulmer was carried off the field in what was his final game as the head coach at Tennessee. One year after winning an SEC East title, Fulmer was dismissed as this program was not competing for championships and had a long losing streak against Florida.
The next year, Nick Saban's Alabama dynasty won its first national championship and is still running. Meanwhile, the Vols have only beaten Florida once in the last 17 meetings. This program hasn't beaten Alabama since 2006. Tennessee has not had a double-digit win season since 2007 and has only produced a pair of top 25 finishes in the last 15 years. Over the last five seasons, UT has the third worst overall record (27-33) in the SEC.
A proud fanbase and football program have a lot riding on Josh Heupel. The former Oklahoma quarterback flashed some proof of concept in year one.
Despite a 1-3 record in one-score games, the Vols surprised many with an offense that averaged over 39 points per game and had a quarterback produce elite numbers. Recruiting has seen a slight uptick in the 2023 cycle, and people are starting to believe in the Big Orange again.
After a strong run at UCF, Heupel is looking to make a name for himself on Rocky Top. Using his version of the Art Briles spread, Tennessee wants to beat foes with tempo and spacing. Year two will tell us a lot.
Tennessee caught some folks by surprise last year. Opponents should be better prepared this fall. Will the results follow? We're about to find out.
Transfer Portal recap
Once again, Tennessee had a busy offseason with the college football waiver wire. The Vols lost 12 players to the transfer portal but attempted to supplement their roster with Power Five transfers.
Georgia Tech transfer Wesley Walker (6-1, 204, RJr.) could step into a starting role at nickel, and the Vols addressed depth at multiple spots in the portal, but this class does have a lack of star power.
However, Heupel's program took some big swings.
Bru McCoy (6-3, 220, RJr.) was a five-star prospect in the class of 2019 who enrolled early at Texas only to transfer home to USC that summer. After recording 21 receptions as a redshirt freshman, McCoy did not play last fall. The ceiling is very high for the prototypical boundary receiver, and Tennessee is hoping McCoy reaches that full potential in Knoxville.
Tennessee offense
In his first season at Tennessee, Josh Heupel put together a top-10 offense as the Vols went a thousand miles per hour and produced surprising efficiency in the passing game. Tennessee arguably had their best offense since Peyton Manning was on campus. That is setting expectations very high for 2022.
Let's take a look at the big numbers posted by the Vols last season.
Scoring: 39.3 (No. 7 overall)
Success Rate: 47.8% (No. 20 overall)
Yards Per Play: 6.5 (No. 17 overall)
Yards Per Rush: 4.9 (No. 34 overall)
Yards Per Attempt: 8.9 (T-9 overall)
Plays Per Game: 76.2 (T-20 overall)
Explosive Play Rate: 13.2% (No. 41 overall)
Points Per Scoring Opportunity: 4.7 (No. 20 overall)
Typically in a Heupel offense, the unit is going to create explosive plays in both the run and pass game but completion percentage and overall success rate will be sacrificed. That can create some early passing downs where a good pass-rushing team can give the offense some issues. Drew Lock, Dillon Gabriel, and McKenzie Milton never completed better than 60 percent of their passes in this scheme.
Hendon Hooker (6-4, 218, Super) crushed those numbers last fall.
The Virginia Tech transfer ranked No. 13 nationally in completion rate (68%) while averaging a robust 9.7 yards per attempt. The veteran quarterback posted a strong success rate (52.6%) that ranked No. 3 among SEC starters. Hooker took a lot of sacks but added value in the QB run game (613 rushing yards, 5 touchdowns) to negate a lot of those negative plays while consistently connecting on vertical throws.
After accounting for 36 total touchdowns and only throwing three interceptions, it isn't crazy for the super senior to receive Heisman Trophy buzz entering the season.
At wideout, both Velus Jones and JaVonta Payton have moved on, but Cedric Tillman (6-3, 215, RSr.) returns as one of the best receivers in the SEC. The former low three-star recruit recorded 64 receptions for 1,081 yards last fall with a 60 percent success rate on 16.9 yards per catch. Tillman gave the Vols efficiency and explosiveness. Expect a big season from the deep threat with a big catch radius. But the Vols will need some younger secondary options to emerge. Tennessee is depending on former top-200 recruit Jalin Hyatt (6-0, 180, Jr.) to take a big step forward.
Tennessee surprisingly lost Tiyon Evans to a midseason transfer, but Jabari Small (5-11, 213, Jr.) ended the season strong rushing for 180 yards in the Music City Bowl. The Memphis (Tenn.) Briarcrest Christian product should have a great shot at a 1,000-yard season in this spread scheme.
The Vols return four starters on the offensive line and will have a camp competition for the starting job at right tackle. Pass protection was a legitimate issue for this group last season as the offense ranked No. 75 overall in sack rate (6.2%). In the run game, the unit was helped by the spread scheme. Former five-star recruit Darnell Wright (6-6, 335, Sr.) leads the way with 16 career starts.
Tennessee defense
Things were great on offense, but quite often Heupel's scheme put his defense in bad situations constantly. Defensive coordinator Tim Banks had his unit playing well for the first half of the season, but things fell apart down the stretch as the Vols allowed 40.8 points per game and 6.3 yards per play on 83.2 snaps per outing in their final five games against Power Five foes. All of those numbers would've ranked in the 100s nationally if stretched over a full season.
Let's take a quick look at the full season as this defense did do some good things.
Scoring: 29.1 (No. 90 overall)
Success Rate: 41.7% (No. 58 overall)
Yards Per Play: 5.4 (T-52 overall)
Yards Per Rush: 3.7 (T-36 overall)
Yards Per Attempt: 7.3 (T-60 overall)
Plays Per Game: 81.4 (No. 128 overall)
Havoc Rate: 11.2% (No. 87 overall)
Pressure Rate: 29.2% (No. 75 overall)
Takeaways: 16 (T-68 overall)
Points Per Scoring Opportunity: 4.3 (No. 85 overall)
The Vols have a lack of depth, and the high volume of snaps played a toll on this unit. Tennessee will have some legitimate depth questions to answer again this season.
The strength of the unit is on the edge in this hybrid four-down front with Tyler Baron (6-5, 260, Jr.) and former junior college transfer Byron Young (6-3, 245, Sr.). The duo combined for nine sacks last season and must produce for this group to get teams behind the chains.
Omari Thomas (6-4, 320, Jr.) is a former top-100 recruit and intriguing gap plugger on the line who serves as Tennessee's top run defender. Former Kansas transfer Da'Jon Terry (6-4, 321, RJr.) had a strong first season on Rocky Top and gives the unit some size. However, this group has legitimate depth concerns, and many need a true freshman or two to play big snaps this season.
At off-ball linebacker, Jeremy Banks (6-1, 224, RSr.) is a former tailback that transitioned to Mike and was a tackle machine last year. Banks recorded 128 stops and is likely headed to another big year.
In the secondary, there are real concerns outside of safety Trevon Flowers (5-11, 200, Super) who has 25 career starts. Pass coverage could be a legitimate weakness.
The Vols lost their three best defensive players to the NFL Draft and have some real holes. Some young players will be needed to play some big snaps. The edge duo of Baron and Young has to become a force for the unit this fall.
Outlook
There are some big expectations in Knoxville, and it can be pretty easy to talk yourself into Josh Heupel's second team on Rocky Top.
The Vols have an explosive offensive scheme with a super senior quarterback that seemed to master the system last year. If Hendon Hooker takes another step forward, this could be a legitimate Heisman Trophy contender.
But the concerns are still obvious.
The Vols have holes on both sides of the line of scrimmage, and the defense fell apart down the stretch last fall. Opponents now have a year of tape to study and will be more prepared to play against the NASCAR tempo. The explosive offense and leaky defense could lead to exciting games.
With LSU and Pittsburgh joining the traditional schedule, there will be some very fun matchups involving Tennessee. Anything from hovering around .500 to pushing double-digit wins seems possible for this squad.
But winning close games feels like a must in 2022.