Terrence Jones Down To 3?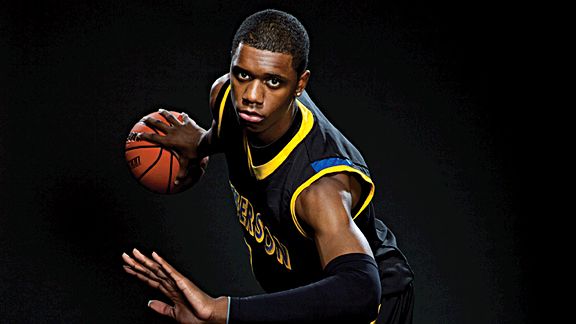 The internet was abuzz late last night and early this morning when those who didn't have a Scout membership sat down in their fleece pajamas with their cup of joe and Meg Ryan look-alike girlfriends and read the Seattle Times report, quoting Scout.com, and saying that
Terrence Jones may have narrowed his school list to three (Kentucky, Oregon and Washington)
. It's all just a little misleading, since the report, originally written by Larry Vaught, says that it is
believed
that Jones has narrowed his list to those 3. The main point is that he hasn't publicly narrowed anything down, although the reports are probably very accurate as to which schools are standing out the most for Jones. Jones continues to be a bit of an enigma.
Many sources and reports indicate that UK is in a favorable spot with Jones
, which has long been based on his love for Calipari's offensive scheme. What's puzzling though is that Jones and his friend Terrence Ross would like to make their decisions known at the same press conference. While the news with Jones seems to be sounding better and better for UK, the rumblings around Ross, most likely based on the news surrounding Lamb likely picking UK (which we'll discuss later),  hasn't been quite as favorable. It just makes you wonder if both could announce together with each picking a different school. I guess it could happen but it just seems more likely that they would announce together and go together. But, then again, that's probably not going to be the case with Selby and Lamb, although they are announcing together only because of the event they're both attending. If you've learned one thing with Calipari, it is that you must expect the unexpected in recruiting. If anyone could convince all of these kids to come to the same place, it's him.
Could Lamb and Ross coexist? I certainly believe so.
While Lamb has a prolific mid-range shooting ability and would probably play a mix of 1 and 2, Ross is the more dead-eye outside shooter and would probably play the 2 and 3. Poole's athleticism rivals that of Ross' but again, Ross will be the one you want taking the outside shots. Multiple reports have indicated that
Ross and Jones are likely to decide together on April 23rd or 3oth
. Lamb will make his decision known tomorrow during the Jordan Brand Classic.