Terrence Jones on ESPN2 Tomorrow at 11; Monday's Movies & Links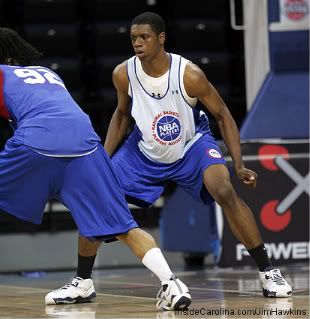 Terrence Jones and his Jefferon (Ore) team take on Josh Smith's Kentwood team
tomorrow night on ESPN2 at 11pm EST
. Many times the only chance for fans to see their school's prospects is through highlight films, which often don't tell the full story of a recruit's game. Add to it that Jones is from the west side and the odds of you ever seeing Jones before college get even smaller. I think you get the picture.
Take the opportunity to see a possible future Cat with one of the most complete all around games on the high school level today
. --------------- Now I want to take the chance to carry on a great KSR tradition, started by myself in November, I think, which was originally called the Friday Movies. Now in it's second installment, and on a Monday, the grand tradition continues. Here's some of the great clips of Cat's prospects that I've found, with a few story links sprinkled in just to make sure that there's zero consistency in this time-honored....tradition. Tradition. Tradition.
- I've found quite a few good short clips of JUCO target Ricardo Ratliffe and I really wish that the guy that puts these up would at least think about combining them all for what would be a really nice highlight reel.
- Game highlights of Oak Hill Academy vs Westchester. Oak Hill ended up on the wrong end of this one but Doron Lamb seemed to have a nice game and shows up often in the video.
- Nice look at the game of a fresh face to UK's radar, Terrence Ross of Montrose Christian. He was the former teammate of Terrence Jones above and actually won a state title with him...just an fyi. I may have told you that before but I enjoy connections like that.
- Everybody's boy, Michael Gilchrist, who honestly is just a great a kid as he is a baller, scored the game winner for St. Pat's on Saturday night, from the free throw line, downing Joe Jackson's White Station team. Just another way that Mike can get his points I guess. Good for him and St. Pat's.
- Justin Coleman places UK in his top five along with Louisville, Arkansas, Marquette and South Florida. His coach also makes a pretty bold prediction about Coleman's future.
- 2011 target Quinn Cook had a great game this weekend but ultimately saw his Dematha squad fall to St. Anthony's.
- Not a big surprise here but Doron Lamb has been invited to join the Burger Boys this year in the McD's game. Zag's blog has an interesting look at the New York flavor that this year's game will have.