Terry Bowden, ULM appear to be waving white flag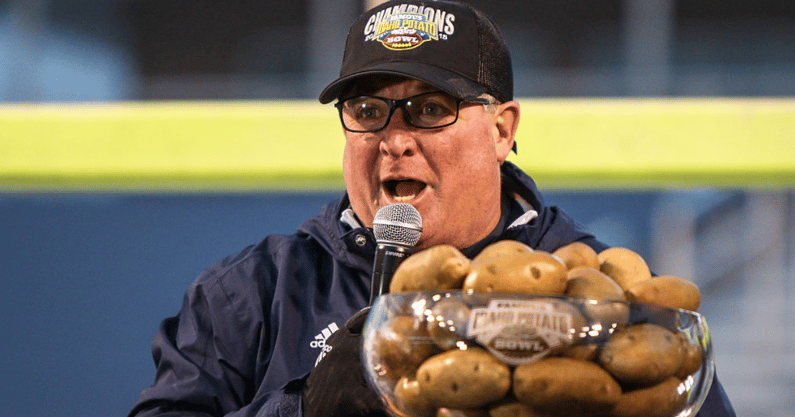 Terry Bowden has been around the game of college football for a long time. Since 1983, the 65-year-old has either been a head coach, national television analyst or working for Dabo Swinney at Clemson.
The son of the late, great Bobby Bowden is no stranger to coachspeak.
The veteran delivered that in bunches at his first game week press conference as the head football coach at ULM.
"If you're trying to ease into your season, ease into your schedule, or your new job, this is not the game that you would want," Bowden told the media on Tuesday. "This is not the Kentucky of old."
"They've got great expectations and they're a very, very good football team. If you wonder the difference in the talent level, last year they had six players drafted in the NFL, three players free agents. You might as well be talking Auburn, you might as well be talking Florida when you talk about those kind of people being drafted in the NFL."
He's not lying. Slowly and steadily under Mark Stoops, Kentucky has built one of the most stable football programs in the SEC. The Wildcats have head coach continuity to go along with a recruit and develop blueprint that has resulted in 37 wins over the last five seasons. Heading into Week 1, this could be a difficult challenge for a ULM squad coming off a winless season.
After spending the last two years as an analyst for ACC powerhouse Clemson, Bowden has taken the job at ULM to attempt a rebuild with the Warhawks. The bar is low as this program has only been to one bowl game in its history. It's sounding like the new head coach doesn't have much confidence or optimism heading into his first game.
"We have prepared ourselves to go up there and play the best we can play," said Bowden. "That's all we can do. You go up there and all your preparation is to win a football game, but we know when we go into a game like this that they're going to have to help us a little bit in that first game for things to work out our way.
"But I do know if we don't get anybody hurt in this game and we can keep from getting hurt, we got a good chance the second week against B-Y-E which is one of those teams we already play pretty well against.
You don't hear that kind of candid talk from most college football coaches. There may be some exaggeration going on in Monroe, but it's clear this is a roster in dire straits. ULM needed a talent influx and hit the transfer portal this offseason for help. However, Bowden and ULM aren't releasing a depth chart or updated roster for this first game. The Warhawks are still deciding who will start this week.
"I don't know if there's an official point in time when you have to release your roster — I don't think it's written up," said Bowden. "There's not many advantages a ULM can have going into a game with Kentucky, and if it's just to keep the score down or to keep them from knowing exactly who ya got or where your weaknesses are or where you didn't replace something that you had last year, you really don't want to go out there and just tell everybody.
"We may have a lot of slashes if we go up there and put a two-deep roster together. We're a work in progress."
The Warhawks have a lot of unknowns. All that is established is that Bowden is taking on a major rebuild.
Even with all of the newness at his new program, the college football veteran has a ton of respect for Kentucky, coachspeak or not.
"A strong, strong program," Bowden said.