Terry Wilson wins Manning Award ahead of return to Texas A&M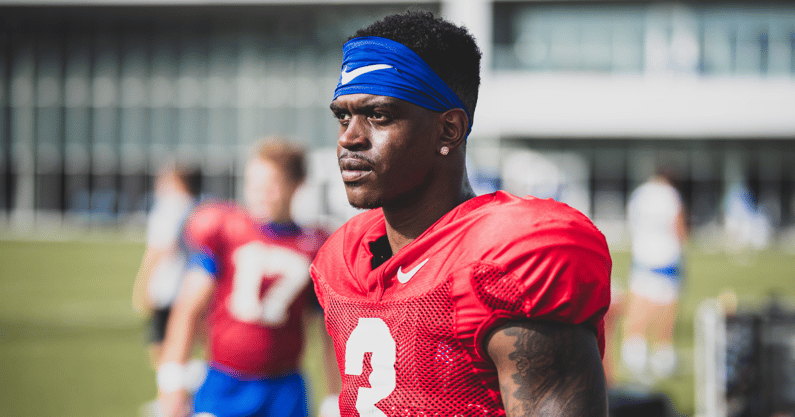 For the second straight week, a Kentucky quarterback has won the Manning Award Quarterback of the Week. After Will Levis took home the honors in week one, Terry Wilson was voted the top quarterback in college football.
Now a super senior at New Mexico, Terry Touchdown completed 26-of-37 passes for 381 yards and three touchdowns. His 58-yard fourth quarter touchdown pass propelled the Lobos to a 34-25 win over rival New Mexico State.
Wilson has completed 48-of-65 passes for 560 yards, six touchdowns and zero interceptions to help New Mexico start the season 2-0. He will face a much more difficult task this week when New Mexico travels to College Station.
Wilson's Return to Kyle Field
This will not be Wilson's first rendezvous at Kyle Field. In 2018 Kentucky was 5-0, ranked No. 13 in the country when the Wildcats fell 20-14 in overtime. It was one of Wilson's worst performances as a Wildcat; 54 of his 108 passing yards came on a pitch-pass touchdown to Lynn Bowden.
A&M had Wilson's number three years ago. This time Wilson has an even bigger chip on his shoulder. Searching for a win after an ugly victory at Colorado, a primary focus for Jimbo Fisher's team is stopping Wilson.
"First of all, we knew he was a very good athlete but the guy threw for 340, 350 yards last week and made throws all over the field," Fisher said on the SEC Teleconference. "His passing, his running, his dynamic, his competitiveness, his toughness, the guy has everything. He's going to be an extremely difficult opponent this weekend and we're going to have to play extremely well against him and do the right things."
New Mexico is a 30-point underdog in College Station. The game at Kyle Field kicks off at noon on the SEC Network.