KSR's Thanksgiving and Governor's Cup Roundtable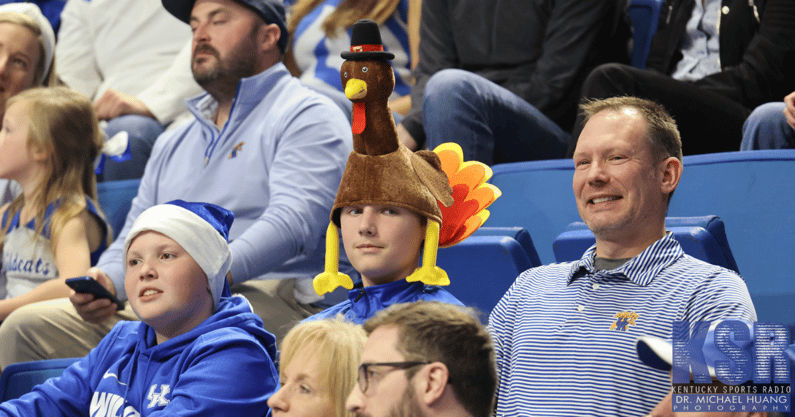 Happy Thanksgiving from the KSR family!
We are with our real families today, but before we turned out the lights at headquarters for the holiday, we gathered around the KSR roundtable for a discussion about Thanksgiving traditions.
Below you'll find how we celebrate Thanksgiving and what we think of Saturday's Governor's Cup. Give it a read in between trips to the kitchen and leave your own responses in the comments section.
Share your Thanksgiving food hot take.
Tyler: There's a reason we only cook turkeys once or twice a year. It's rarely good, almost always dry, and is better on a sandwich than a Thanksgiving plate. That said, I will still eat it.
Roush: You're wasting your time with the mac and cheese. I'll eat it every other 52 weeks of the year when I need a meal my kid is guaranteed to eat. Save the stomach real estate for dressing and other casseroles that only come once a year.
Zack: Turkey doesn't need to be the main course. Go ahead and drop a big ole ham in the middle of your dining table, or maybe a tender beef tenderloin if you're feeling extra fancy. Hell, I'm not even against a Thanksgiving salmon. All that being said, I will still side-eye anyone who doesn't at least serve turkey in some way.
Adam: What's with the stuffing? What's it even for? Why is it on the table? Stuffing, pack your bag, and go back where you came from. Stay away from my turkey and mashed potatoes.
Drew: Nobody likes turkey. We all pretend to enjoy it because it's a tradition that we were born into. It's fine. I made a pretty juicy bird last year I was pretty proud of as a first-time host. But there are several other proteins that would make a better headliner on the Thanksgiving spread. Also, as you can see from my colleagues' comments, it's not even a hot take because everyone is in agreement that turkey is overrated, so my hot take is that the people who run turkey trots and 5Ks on Thanksgiving morning are overachievers who only want the Facebook attention and don't appreciate our laziest holiday, and history will forget them. (Worth noting, my new in-laws do this so I may delete this comment. I still won't run, though.)
Jack: Look, I love pumpkin pie. I'll have a slice of it today, I'm sure. But in terms of pure enjoyment regarding holiday desserts, apple pie is my personal favorite and will always get the nod over pumpkin if it's one or the other. Sue me. Also, dressing (not stuffing) is the best side dish and nobody actually likes turkey. Ham is the better meat and a perfect complement to the other sides.
---
When do Christmas decorations go up in your house?
Tyler: I'm firmly in the "Not until after Thanksgiving" camp, but after Kentucky's losses to Michigan State and Gonzaga, put a few decorations out just to cheer myself up. We'll put some more up this weekend but will hold off on getting our tree until after we get back from cheering the Cats on across the pond in London.
Roush: Should've been weeks ago. In fact, my wife is not very happy with me right now. With Early Signing Period, Transfer Portal, holiday parties and bad weather, it's best to just get 'em up early and enjoy them.
Zack: They'll go up first thing when I get back home from visiting family. I've already got my eyes on a cheap 5-foot tree (yes, a fake one from Target) and my mom was kind enough to save all of our childhood ornaments throughout the years. The tree is my favorite part, but I'll add some stockings here and there too.
Adam: Taylor and I had a sit-down talk not too long ago. It had to do with Christmas decorations. Thanksgiving is an essential holiday in the Luckett house and it gets the respect and attention it deserves. Santa isn't going anywhere. No Christmas decorations until turkey day is complete.
Drew: I grew up in a family that always put up the Christmas tree the weekend after Thanksgiving. We ate turkey, pretended to like it, watched the Dallas Cowboys, slept it off, then Christmas tree time. Now I'm a reasonably new homeowner and recently married, so we have to get on the same page with our holiday changeovers moving forward. November is always such a busy time for KSR and UK Athletics that we'll probably just do it whenever schedules allow the free time. This year we still haven't put up Halloween decorations so we're on pace to get Christmas stuff up by April.
Jack: Psh, you kidding me? My Christmas tree went up two weeks ago. And it'll be there till February. My joy is irrationally high when the lights come on with music and a classic movie playing in the background. Why limit that happiness to a month when I could extend it to two or three? Life's too short to not be happy.
---
Why is Thanksgiving the BEST holiday?
Roush: Every other holiday we celebrate is tied to obligations you'd rather not do — go to church, write about an Independence Day football commitment, etc. This one is focused entirely on eating and drinking way too much, while casually hanging out and watching sports. Every now and then you might get NCAA Tournament games to coincide with Easter, but that brings unwanted anxiety. The NBA on Christmas is an absolute snooze-fest, almost as much as baseball on July 4. This year we get Feast Week, NFL, World Cup and Egg Bowl. That's a perfect day.
Zack: It's certainly up there with Christmas for me. The two holidays are pretty similar. Oh, you want to eat way too much, drink themed adult beverages at 11:00 AM, and watch sports from the morning to the night? (Don't let Roush convince you five straight NBA games on Christmas aren't exciting) Sign me right the hell up.
Tyler: Because it centers around food and football and nothing else (okay, I guess family and friends). You don't even have to bring a gift. Show me another holiday on which you're not only expected to eat and/or drink too much, you're encouraged to. As the others said, all the sports on TV provide the perfect excuse to park yourself on the couch and avoid any awkward family talk at the table.
Adam: Family, food, and football. Is there anything better? This is one of the best days of the year for me as I get to eat an unhealthy amount of food, do some gambling, and end a great day with the Egg Bowl at night. Thanksgiving is simply the best.
Drew: If I may get sentimental for a moment, many of my childhood memories with grandparents who are now long gone, are from Thanksgiving dinners on Main Street in Madisonville and in Central City. So Thanksgiving is special for giving us that time together that sticks with me today. That being said, Thanksgiving is the best because the last couple of years Kentucky Football beat Louisville's brains in and will hopefully carry on the tradition in a couple of days. I like food a lot, too.
Jack: You kidding me? Thanksgiving consists of eating and drinking too much while watching football all day long. And it's not just socially acceptable, it's expected of you. This year in particular, my Patriots take on the Vikings for the Sunday Night Football broadcast on Thursday, which is always a fun time. When I envision heaven, I think of a big recliner with a glass of bourbon on the rocks and a plate of Thanksgiving grub with football on my television. Today will be heaven on Earth.
Also… *Insert Pilgrim joke here*
---
Which UK athlete would be the WORST Thanksgiving guest?
Roush: Josh Allen, because all he does is eat sack lunches. NOM NOM NOM.
Zack:
Tyler: Let the record show that Roush only came up with this question so he could make that joke.
Adam: Good one, Nick. I've got nothing here.
Drew: We can still delete it.
Jack: No.
---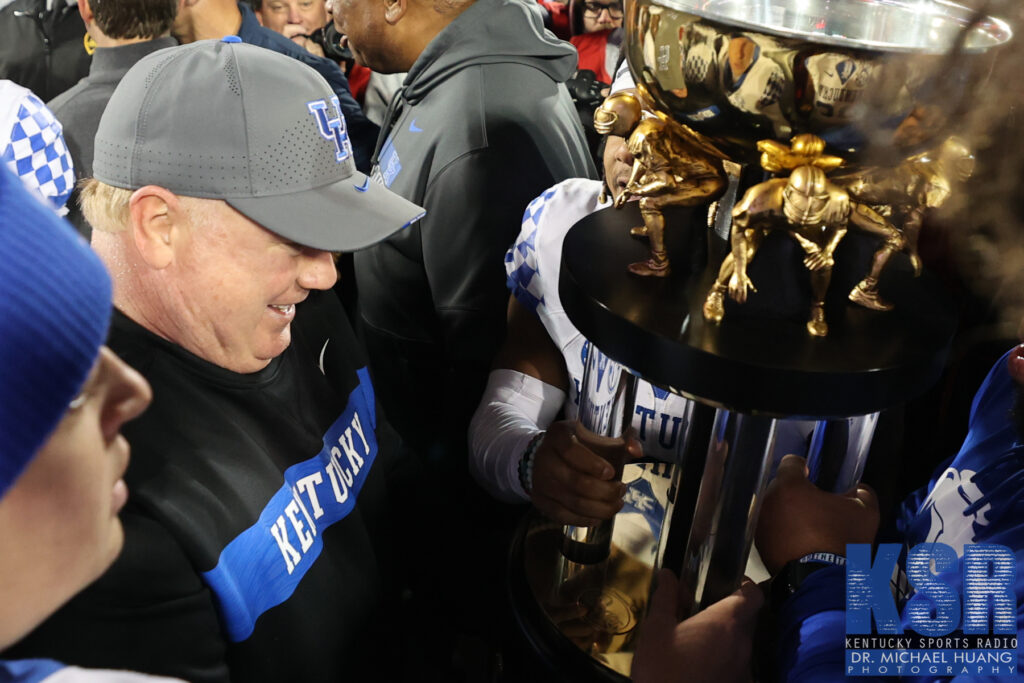 What's your Governor's Cup BOLD prediction?
Tyler: Kentucky's special teams have been horrible this season, but Matt Ruffolo will become a hero in the Commonwealth with a fourth-quarter field goal to give the Cats the victory.
Roush: A big play from Jordan Wright is going to happen. The dude is a magnet for the ball. Playing in the final game of his lengthy career at Kroger Field, he's going to change the game with a defensive touchdown that turns the game upside down, and paves the way for another big win by the Wildcats.
Zack: Am I allowed to say Kentucky loses? No? Okay, nevermind then. My bold prediction is that Chris Rodriguez Jr. trots all over the Cardinals for 200-plus yards and a pair of touchdowns.
Adam: Louisville is the team that creates all the turnovers. The Cardinals rank No. 2 nationally in takeaways, but their offense has been a bit sloppy with 16 turnovers this season. On Saturday, it will be the Kentucky defense that forces multiple turnovers as the Cats win the turnover margin against one of the best turnover teams in college football.
Drew: My prediction is Kentucky will win because Kentucky is still the better football team (SEC > ACC) no matter what the rankings say. But that's not very bold of me to predict given the recent history of the rivalry, so my bold prediction is Jordan Dingle catches two touchdown passes in yet another lopsided Governor's Cup.
Jack: Louisville football becomes halfway decent again (conveniently as the basketball team emerges as a hopeless pit of misery) and the chestiness is back. Fans continue to act like the ACC isn't terrible and the late surge isn't a product of playing in a trash conference — you're among the best of the worst, congrats. A middle-of-the-pack SEC team will always be better than a solid ACC team, and that's why Kentucky will roll by three scores, with Will Levis scoring two on the ground. He's been saving his legs for yet another curb-stomping in Lexington. One more before taking his talents to the NFL.