Thanksgiving Day Sports Viewing Guide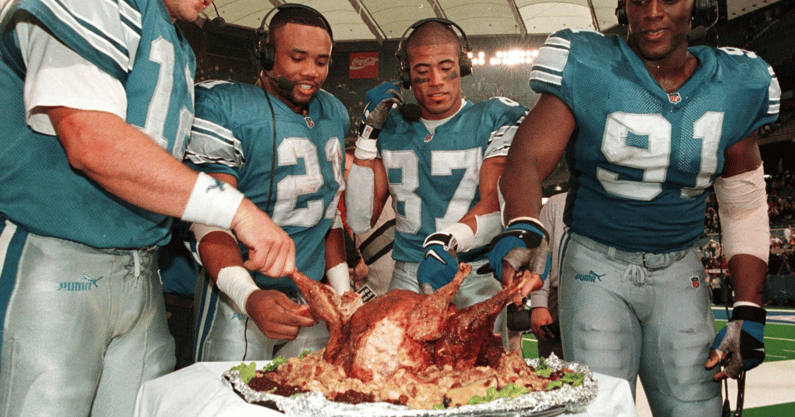 Happy Thanksgiving! It's a wonderful day to celebrate all of our blessings, eat way too much food and watch sports to distract from awkward family interactions. Before you dig into turkey, dressing and four pieces of pumpkin pie, fill up your plate with sports.
World Cup
Thursday morning Group G and Group H kick off their 2022 World Cup. Four matches are on the slate, beginning at 5:00 am EST. The most intriguing matchup is between the favorite to win it all, Brazil, and Serbia. The Serbs play an aggressive style of football, setting up what could be one of the most exciting group matches of the entire event. You can also catch Cristiana Ronaldo in what will be his final World Cup for Portugal.
5:00 am — Switzerland vs. Cameroon, FS1
8:00 am — Uruguay vs. South Korea, FS1
11:00 am — Portugal vs. Ghana, Fox
2:00 pm — Brazil vs. Serbia, Fox
Feast Week
There are multiple games underway un the Bahamas in the Battle 4 Atlantis, but this year there's an even bigger event happening on the West Coast. Four tournaments, two men's and two women's, will be played in Portland, the Phil Knight Invitational (PKI) and Phil Knight Legacy. Some of the biggest names in college basketball are filling up each field with eight men's games on the slate for today.
PKI
1:00 — North Carolina vs. Portland, ESPN
3:30 — Iowa State vs. Villanova, ESPN2
8:00 — UConn vs. Oregon, ESPN2
10:30 — Alabama vs. Michigan State, ESPN
Phil Knight Legacy
3:00 — Duke vs. Oregon State, ESPN
5:30 — Florida vs. Xavier, ESPN2
10:00 — Purdue vs. West Virginia, ESPN2
12:30 — Portland State vs. Gonzaga, ESPN
NFL Triple-Header
Bills (-10) at Lions, 12:30, CBS
Thanks to thundersnow, Buffalo will be playing back-to-back games at Ford Field. Even though it feels like the Lions lose every year on Thanksgiving, Detroit is 37-43-2 overall on the holiday. Riding a two-game winning streak, we could actually get a fun, high-scoring affair. The Bills rank second in the league in scoring (28.1 ppg.) and the Lions are sixth (25 ppg.), making the over (53.5) awfully enticing.
Giants (+9.5) at Cowboys, 4:30, Fox
The NFC East is out of the cellar and is now arguably the best division in the entire NFL. Brian Daboll is making the case for Coach of the Year after starting 7-2, but their luck is running out. Wide receiver injuries continue to pile up, most recently Wan'Dale Robinson, making this casual viewer wonder if they have enough playmakers to keep up with the Dallas offense, who are averaging more than 35 points per game since Dak Prescott's return.
Patriots (+3) at Minnesota, 8:20, NBC
The Patriots' offense is bad. They needed a walk-off punt return touchdown in the final minute to take down their divisional whipping boy, the Jets. Now Bill Belichick must prepare for one the NFL's best teams in Minnesota. Kirk Cousins has exceeded expectations, but tonight he runs into his kryptonite: primetime. This could get ugly, and not in a fun way, like the most chaotic game of the football calendar year happening at the same time on ESPN.
Egg Bowl: Mississippi State (+2.5) at Ole Miss, 7:00, ESPN
Folks, we're in for a real treat. The 2022 of the Egg Bowl has potential to be the most electric yet. That's saying a lot when you consider that a dog-pee celebration is what got both of these coaches into their current roles.
Mike Leach can't win rivalry games. Never has and maybe never will. Yet, he has been gifted the most beautiful distraction. Lane Kiffin spent his week dunking on a reporter who said he's taking the Auburn job on Friday. Despite the hilarious social media dismissal, the lingering feeling that Lane is leaving Oxford isn't going away.
In the midst of all of the off-the-field chaos, the stakes are high on the field. The winner could earn a spot in the Citrus Bowl, an exceptional accomplishment for either program. All of it is coming together to create a magical Thanksgiving night. Pour yourself a bouble dourbon, fire up ESPN and prepare to watch the world burn.