That Debate's Tuesday Morning Wakeup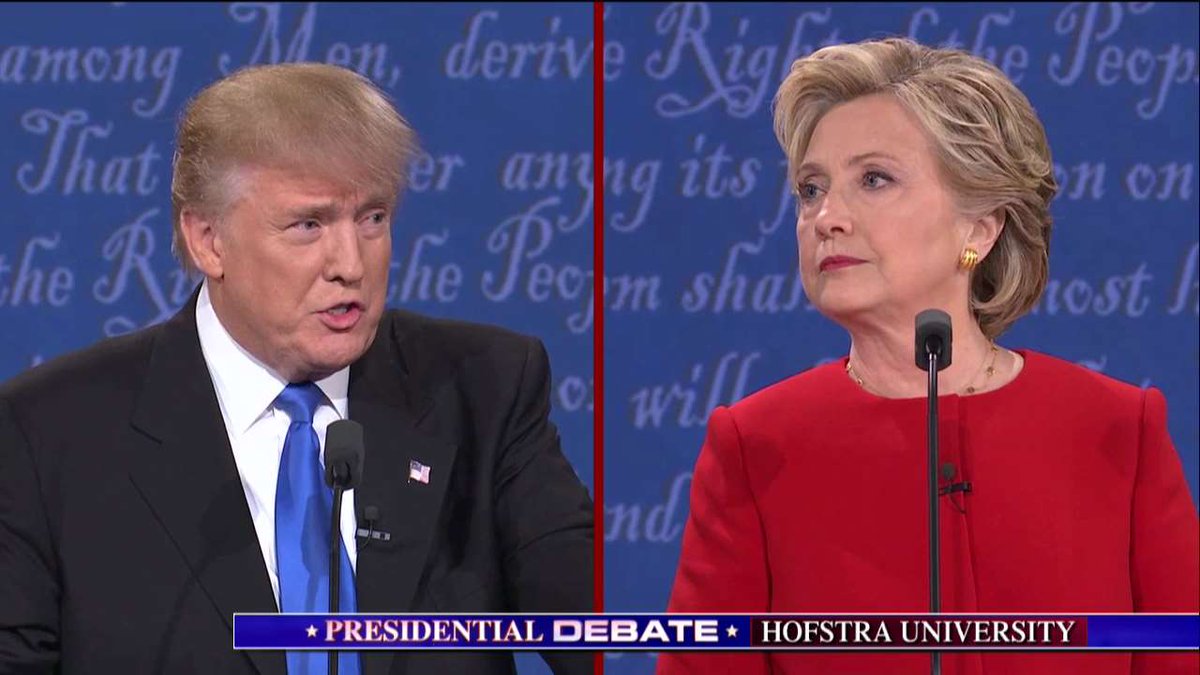 Like 100 million other Americans, I tuned in to last night's debate expecting a hot mess, but, somehow, it was even worse than I could have imagined. I might as well have watched the most gruesome parts of "The Human Centipede" on loop and it would have been more civilized than what went down on NBC. Politics have always been a nasty, dirty business, but for an hour and a half, I watched two grown people claw, bark, sniffle, and interrupt each other in an exercise that genuinely made me sad for our country. Before you tell me to STICK TA SPORTS or GET IN THE KITCHEN, I don't really care who you vote for on Election Day, and even if I did, nothing I could say would change your mind. While pundits spin and stumble to proclaim a winner, right now, all I'm certain of is the loser, and that's us, because come January, we're going to be stuck with one of these crazy people as our President. I should have taken it as a sign when my television (along with several other televisions in Nashville, it seems) simply turned itself off about 30 minutes in. Of course, I didn't, and as a result, I'm tired, I have a headache, and I just want to talk about UK sports for a while. That cool?
Things got a little bit awkward on last night's Mark Stoops radio show
Mark Stoops couldn't have been in a better mood during yesterday's press conference, telling stories about his relationship with Nick Saban, good-naturedly poking fun at the media for trying to find headlines, and even taking some veiled shots at those who spread rumors about him on Saturday; however, last night's call-in show was a different story. Stoops had to listen to callers tell him UK is the Chicago Cubs of football, Eddie Gran's offense is no good, players don't develop once they get to his program, and Tommy Tuberville should be UK's coach. Someone even called in to ask Stoops why he shouldn't take Alabama to cover the spread. By the end of it all, Stoops looked like this: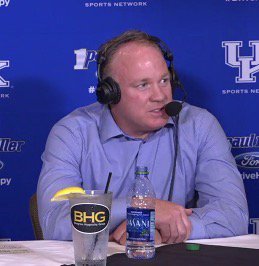 It speaks to the overwhelming frustration in the fan base that, even after a big win, some people aren't just negative, but feel the need to call in and tell Stoops they'd rather a different coach have his job. Shoutout to Stoops for calmly shouldering the criticism and not teeing off on callers, but man, what a rough night.
In positive news, Denzil Ware was named Co-SEC Defensive Lineman of the Week
Against South Carolina, Ware had five tackles, including two huge quarterback sacks at crucial moments that combined for -21 yards. We've complained about the defense a lot this season, but on Saturday, they were great, holding the Gamecocks to a season low ten points on 3 of 13 third down conversions.
The Vanderbilt game will kick off at 4 p.m. on October 8
This means that if you really, really want to, you could go to Keeneland for a few races in the early afternoon before making your way over to Commonwealth Stadium. Or, you could go to Keeneland on Friday and spend what should be a beautiful fall Saturday tailgating.
Calipari visited Romeo Langford yesterday
John Calipari has mainly focused on the 2017 class during the fall recruiting period, but last night, he went to New Albany, Indiana to check in on 2018 star Romeo Langford. The top ranked shooting guard has Kentucky in his top ten, but Duke, Louisville, North Carolina, and Indiana are in hot pursuit. Hopefully Calipari convinced him to take the short trek to Lexington for Big Blue Madness here in a few weeks.
Here's a look at Big Blue Madness Campout
Cats fans are crazy @KySportsRadio @DrewFranklinKSR @MrsTylerKSR pic.twitter.com/K6RBmFWWGb

– Will Sparks (@wwsparks) September 27, 2016
Remember: the campout itself doesn't even start until tomorrow morning. #WePeopleAreCrazy
Tickets to the Blue/White Game go on sale NOW
This year's Blue/White Game takes place Friday, October 21 at 7 p.m. at Rupp Arena and will be televised on the SEC Network, but if you want to see the new team in person, you better get on Ticketmaster because tickets JUST went on sale. Upper level seats are $5 and lower level seats are $10.
Click here
to get yours, or call Ticketmaster at
800.745.3000
 or the Rupp Arena Box Office
(859.233.3535
) between
10 a.m. and 6 p.m.
This Karl Towns vine makes me smile
https://vine.co/v/5rBveHTwpJl Radio in an hour...