That Time I Went To Fancy Farm
It's not what I typically do on one of my last free weekends of the summer, but this past Saturday I attended the Fancy Farm Picnic, one of Kentucky's biggest and most important political events. Now, me and politics go together like Rick Pitino and fidelity, but this year I made the drive to the far southwest corner of the state to support Matt Jones, who served as emcee of the event. (It was also an excuse to go to Patti's.) I had no idea what to expect, and I'm still not entirely sure what I watched, but it was a very interesting and eye-opening weekend, to say the least. So tonight I'd like to share
my takeaways from Fancy Farm 2015
, my first exploration into Kentucky politics.
*****
Fancy Farm is in the middle of nowhere.
Some would say it's in BFE. I'm a Western Kentuckian through and through; been all over the best side of the state in my lifetime. But this was my first trip to the pint-sized community that is Fancy Farm in Graves County, the former record-holder of the "World's Largest Picnic." Outside of the picnic area, you'll find a post office, church, bank, school, barber shop and fire department. That's about all I remember seeing on my drives in and out of town. Definitely no Taco Bell. I double-checked.
It's full of crazy people.
Listen, I get it: There are several Kentuckians who 
really 
get into local and statewide politics. Good for them. That's their right. Do you. But it takes a certain kind of human being to scream obscenities and other nonsense at the politicians on stage. I don't have that in me. That takes too much effort. In no scenario will I ever feel the need to scream
SCREW YOU! 
toward someone at a podium inside a barn on scalding hot Saturday afternoon. That takes next level crazy. And don't even get me started on the nutcases dressed in full-body chicken and corn on the cob costumes. That's savage life. No regard for their own well-being. It was 10,000 degrees outside and you could boil water in my underwear, and those overachievers were out there battling hyperthermia like the San Diego Padres mascot during a July doubleheader.
I couldn't stop laughing at Ryan in that stupid hat.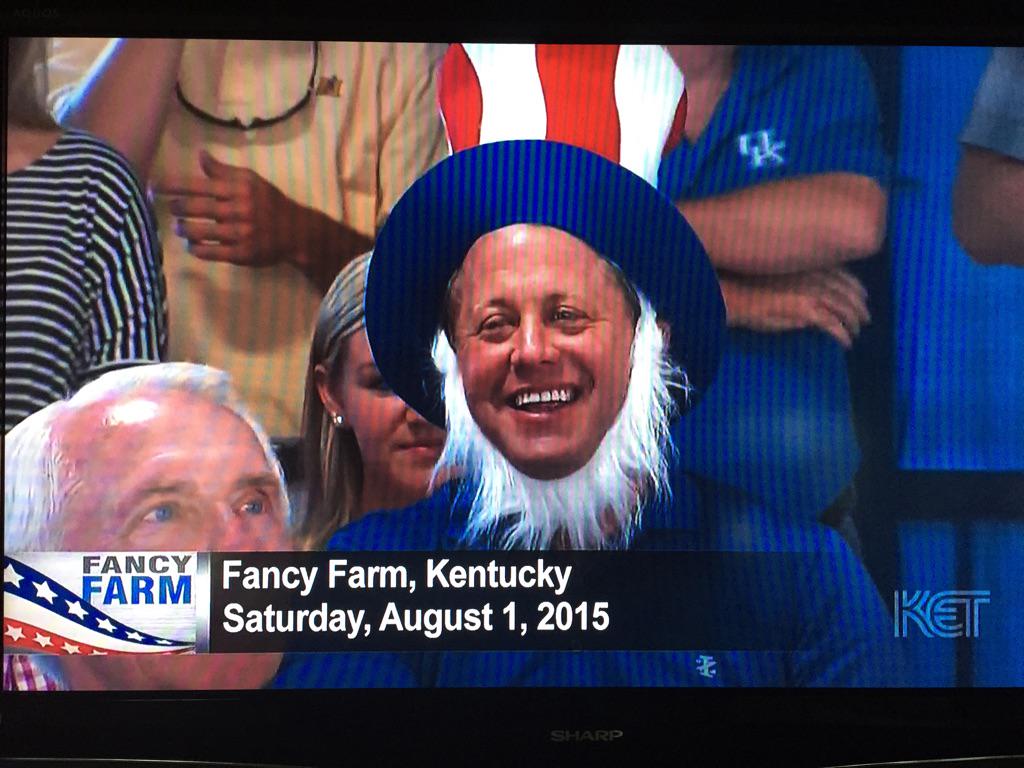 As soon as we found the Uncle Sam hat on RunSwitch PR's tour bus, we knew Ryan had to wear it while sitting behind the governor on stage. And because he's Ryan, all it took was a simple: "Hey Ryan, wear this hat on stage." https://twitter.com/DrewFranklinKSR/status/627547787350122500 It wasn't a tough sell.
Mitch McConnell and Matt Bevin looked like they wanted to kill Matt Jones.
Matt did an excellent job emceeing the event, turning his allotted five-minute introduction into ten minutes of roasting each side of the stage. Mitch McConnell and Matt Bevin seemed to get the worst of Matt's onslaught, and if looks could kill, the two Republicans would be wanted for the murder of your favorite radio host. The only person who hated the jabs worse than those two was Bevin's wife. I thought for sure she would hop up and RKO the next person who talked bad about her husband off the front of the stage. She didn't bother faking a smile at any point. She was too busy counting how many steps were between her and the podium for her attack. I'm shocked we didn't see a folded chair to the back of one of the speakers, at the very least. Mrs. Bevin showed incredible restraint to go along with her side-eye.
Shout-out to the couple with the KSR sign.
Jamie Comer isn't #TeamBevin.
Comer fell 83 votes shy of Bevin in the Republican primary and it's clear he's not over the gubernatorial defeat, nor is he on board with Bevin as his party's nominee. Comer failed to mention Bevin once in his speech and then took home the award for
Best McKayla Maroney Not Impressed Face
.
Cell service is nonexistent. 
A potentially historic SnapChat story was limited to a few photos.
Friday night's Democratic Bean Dinner was the single worst event I've ever attended in my life.
And I've been to several funerals, my little sister's piano recitals, an Indiana-Nebraska basketball game and two country music concerts. With all due respect to the Marshall County Democrats and the entire Democratic party, I would rather Pete Rose slide naked down a gravel road covered in broken glass than sit through that dinner again. Very nice people, but way too much talking on a Friday night. Trim it down a couple hours next year, guys. Those beans and cornbread though. *Insert flame emoji*
Mitch McConnell's sock game is weak.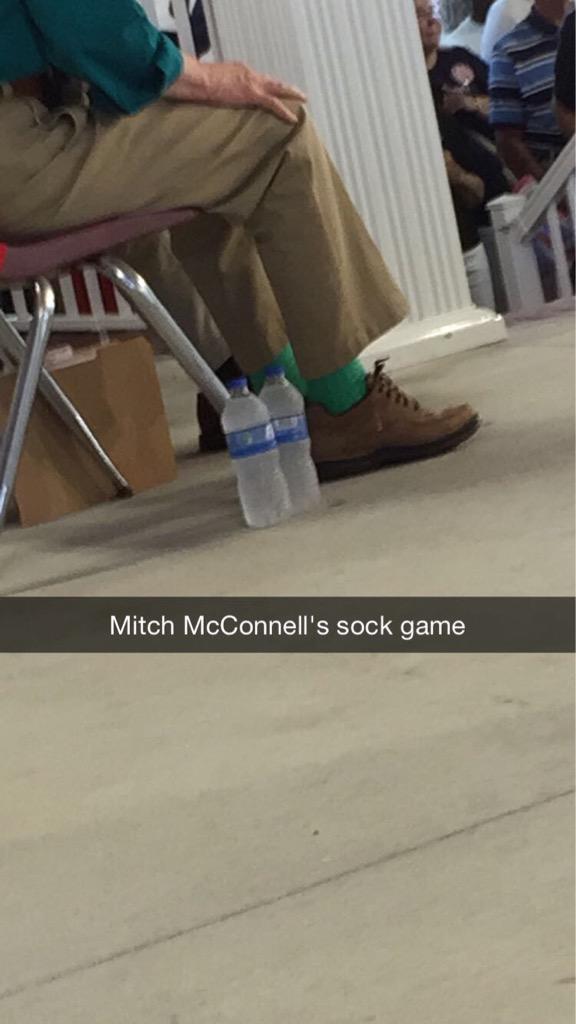 Solid green with a solid green shirt? I expected better from one of the most powerful people in America.
I sat two seats behind the governor and I still have no idea why that was a thing that was allowed.
Six or seven years ago, if you told a younger Drew Franklin that he would be sitting behind the governor and across the aisle from the Majority Leader of the Senate on one of the biggest stages in politics, he would wonder what turn he took in life that led him there. But that's what happened on Saturday when I walked all the way down the third row to the seat with my name on it. I sat there for over two hours, pretending to care, wondering if the people watching on TV at home could tell if I was playing on my phone the whole time.
I never in a million years thought I'd enjoy something like the Fancy Farm Picnic, but I had a blast listening to the candidates go at each other's throats all day. The delicious Fancy Farm barbecue didn't hurt, either. Everyone should check out the picnic at least once.