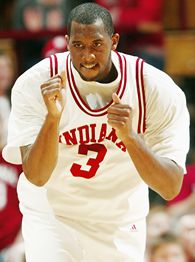 Not a lot to say about this one. It was bad.....real, real bad. The Cats looked outmanned, outclassed and outcoached in a
70-51 loss that easily could have been 40.
On play after play, the Cats were shown to be talent deficient as players who you likely didnt know existed, proceeded to dominate on both ends of the court. The Cats started the game looking lackluster, and really didnt find a spark until the last ten minutes of the game, when the intensity actually ratched up a few notches. The Hoosiers stayed in control from the opening tip and the game was really never in question. It is easy to be overly negative on this day and I will try not to be. But it was bad. With that said, some notes.....
(1)
At this point it feels unfair to pile on, but it is clear that
the talent is not there for some members of the team.
We all can debate whether guys like AJ Stewart, Perry Stevenson and Alex Legion should be getting more minutes or not, but it is clear that Billy Clyde sees reasons to go with Mark Coury and Michael Porter and so they will play. Coury gives maximum effort and can play some low post defense, but is simply overpowered by the athleticism that top teams can produce. And Michael Porter at this point seems scared to death on the court and is struggling in ways that I cant remember UK players struggling before. It is tough to watch these guys as they are both great kids and I am pulling for them....but it is tough going right now.
(2)
There was no more set certainty than the knowledge that
younger Crawford was going to outplay Joe.
Joe really cant catch a break in many ways as it pertains to his career and I found myself feeling sorry for him today. He has the weight of expectations holding with him and an inability to truly get over the hump and become the great player worthy of his potential. Then his little brother (whose attitude is awful by the way) has a great game, the crowd chants "Jordans better" and he is left having to spend 10 minutes at the point in a difficult position. Hopefully something works out for Joe this year, but this had to be a tough day.
(3)
There were some positives (I guess). I actually thought you saw some good things from
Ramon Harris
today. He can play defense well (maybe the best perimeter defender on the team) and had a couple of offensive moves. He still cant dribble, but what are you gonna do.... Patrick Patterson played well although he did look frustrated throughout. I liked Stevenson's energy, although his hands right now are dreadful....but you have to look for some bright skies.
(4)
It was tough to watch IU run
a series of fat guys on the court
and watch them just dominate us over and over. We need a fat guy....where is Brandon Stockton?
(5)
In the end, there are a lot of problems right now. The IU student section chanted "Tubby's better" at the end, which had to hurt and the atmosphere around the program isnt good. Today I heard a credible story of another potential player looking at a transfer that is very, very difficult to take (no its not Patterson). A person I respect a great deal around the program said the entire atmosphere is "really negative across the board." The individual said there is no one person or thing in particular to blame, but that things were "as low as I can remember in a while." I firmly believe this will improve....but I am VERY disappointed at how bad this team is playing and some of the stuff going on around the program. We need an injection of life for Christmas this year, that is for sure.