The Almanac tabs Oscar Tshiebwe as CBB's best player in '22-23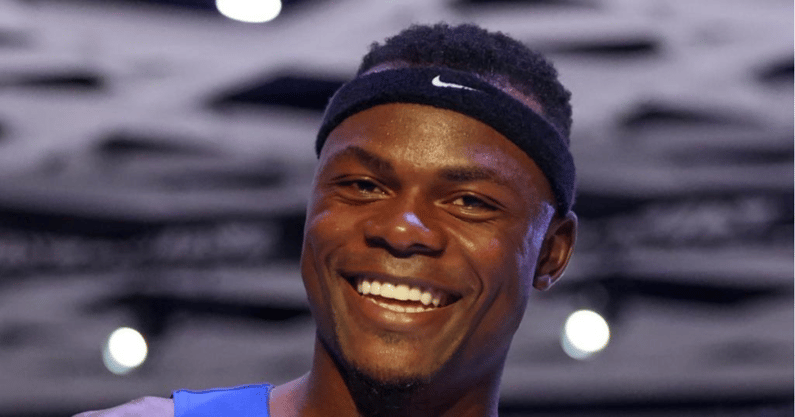 In news that doesn't shock you (but is always fun to hear), Oscar Tshiebwe is headlining this season's top college basketball players.
Earlier this week, The Almanac dropped its debut publication, tabbing Tshiebwe as the No. 1 overall player entering the 2022-23 season and the preseason SEC Player of the Year. The Kentucky Wildcats center was the unanimous national player of the year a season ago and is the first POY to return for another college season since North Carolina's Tyler Hansbrough in 2008. Additionally, Tshiebwe was named a First-Team All-American.
The Alamanac is "an exhaustive and comprehensive guide to the 2022-23 college basketball season" created by the folks over at Field of 68, Verbal Commits, Heat Check CBB, and Three Man Weave. The $20 PDF is over 800 pages long and contains 600,000-plus words covering everything you can possibly think of regarding the upcoming hoops season.
I went ahead and purchased The Almanac on Wednesday to see what the publication had to say about Tshiebwe and the rest of the 'Cats. Kentucky comes in ranked No. 5 in The Almanac's preseason Top 25 behind No. 1 Houston, No. 2 Gonzaga, No. 3 North Carolina, and No. 4 Baylor.
Tshiebwe wasn't the only Wildcat mentioned, although his name pops up more than a few times. Freshman SG Cason Wallace (No. 78) and senior PG Sahvir Wheeler (No. 87) were both ranked among the "top 100 players to watch" for the upcoming season. Wallace was also slotted as one of the "25 freshmen to watch" at No. 7 overall while his freshman teammate, SF Chris Livingston, earned an honorable mention. Senior PF Jacob Toppin was tabbed as one of the "25 breakout players to watch" following his impressive showing down in the Bahamas.
The Almanac doesn't just touch on the high-major programs, either. The publication dives deep into every Divison I program. Want to know what's going on with the likes of Western Kentucky, Eastern Kentucky, Murray State, Bellarmine, etc.? The Almanac has it all, and plenty more. You can purchase it here if you so choose.