The Big Blue Tank's Wednesday Night News and Views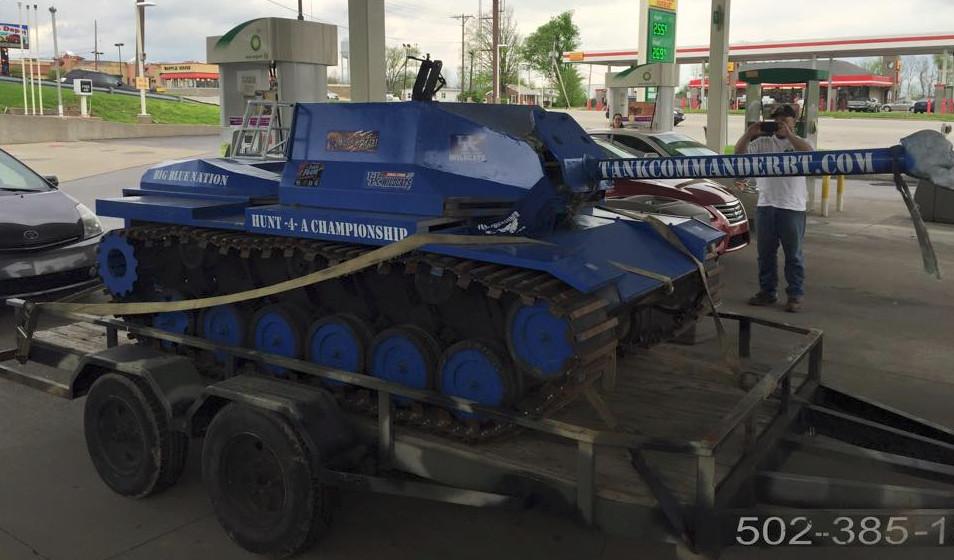 One of John Calipari's best lines this season was his description of UK's platoon system after the win over Kansas. "We kind of bum-rushed them a little bit," Cal said of the Jayhawks. "Every time they looked there were more tanks coming over the hill. It wasn't substitutes, it was reinforcements. Here they come." Two and a half weeks postmortem, I'm finally at the point where that line both stings and makes me smile. "Tanks on a hill" was an awesome theme this season, and one that really hit home for whoever created an actual Big Blue Tank. A few of you have sent me a picture of his Kentucky-themed mini tank, which is currently making the rounds in the Bluegrass. In its honor, let's go over some notes...
Pretty much everyone says Malik Newman is going to Mississippi State
Gary Parrish went so far as to call it for the Bulldogs, and even though we're all still adjusting to the shock of John Calipari not landing a top recruit, I'm okay with it. Newman is an amazing player, but he's one that might want to be "the guy" at a program, or maybe more accurately, "the point guard," and we've already got one of those. If you're like me, you're probably stuck on the fact that Newman is picking Starkville over Lexington, but his father played there in the late 90's, and it's only two hours from his home in Jackson, Mississippi. Newman and his father refuted the report that his recruitment is a "done deal" this afternoon, telling
the Clarion-Ledger's Courtney Cronin
he's still down to four schools: Ole Miss, Mississippi State, Kansas, and Kentucky. Before you get your hopes up, this was probably an attempt to salvage his big moment--and really, shame on overzealous media trying to steal it--however, it is a reminder that anything can happen between now and 1 p.m. Friday. We've seen it before and we'll see it again. If Newman does go to Mississippi State, expect Calipari and staff to continue to pursue Mychal Mulder and Jamal Murray. In fact...
Murray will be in Lexington this weekend
...for the Nike EYBL event at KBA. Murray is technically still a 2016 prospect, but it's very, very likely he'll reclassify to 2015 and having him in Lexington the day after Malik Newman's decision comes out is extremely convenient. Since his breakout performance at the Nike Hoop Summit, Murray has been the talk of the recruiting circuit, with
247 Sports' Jerry Meyer telling Kyle Tucker
 he was "asleep at the wheel" on Jamal Murray until his performance at the Summit and regardless of class, he is ready to rank him in the top ten.  Whoa. Other UK targets on the docket this weekend at the Lexington EYBL event: Harry Giles, Malik Monk, Jayson Tatum and Tyus Battle. If you're able to stomach basketball again, I suggest a trip to the KBA. As for Mulder...
There's a report Mulder will sign with Kentucky this weekend
That report comes from Justin Albers, an IU beat writer for Fox Sports/Scout.com. Albers says he's hearing Mulder will sign with the Cats during his visit to campus this weekend. Given Kentucky's dire need for an outside threat and the buzz from the Franklin family camp (Drew's cousin is the head coach at Vincennes), it's pretty likely that Albers' sources are correct.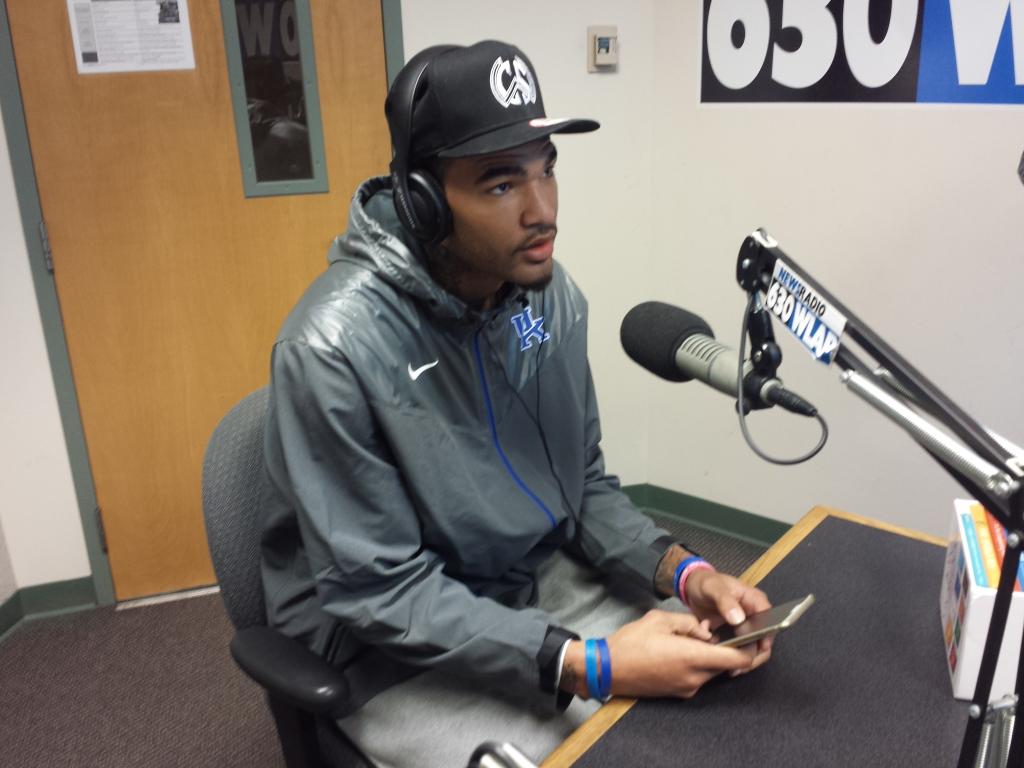 Willie Cauley-Stein was awesome on KSR
I had the morning off, but there was no way you could pry me away from the radio show, which featured Willie Cauley-Stein in the first hour and Mark Stoops in the second. It was even better than we expected. I was really happy fans got to hear the thoughtful, funny Willie that the media has grown to love over the past three years. As we knew he would, Willie knocked it out of the park, opening up about his journey at UK, his friendship with young Blake Hundley (
who needs your prayers right now
), and how much he loves Kentucky. The funniest bit came when Matt asked Willie what he thought about Chris Webber's remarks that Willie has no shot of being an elite player at the next level. "I'm going to be 200 percent honest with you," Willie said. "I didn't even know who Chris Webber was." Once his teammates told him he was part of the Fab Five, Willie realized, but for real, he didn't watch a lot of basketball growing up. "I was isolated man. I grew up in a town of like 800 people. We watched NASCAR." His favorite driver? Jeff Gordon. If you haven't yet, listen to the podcast. It's great.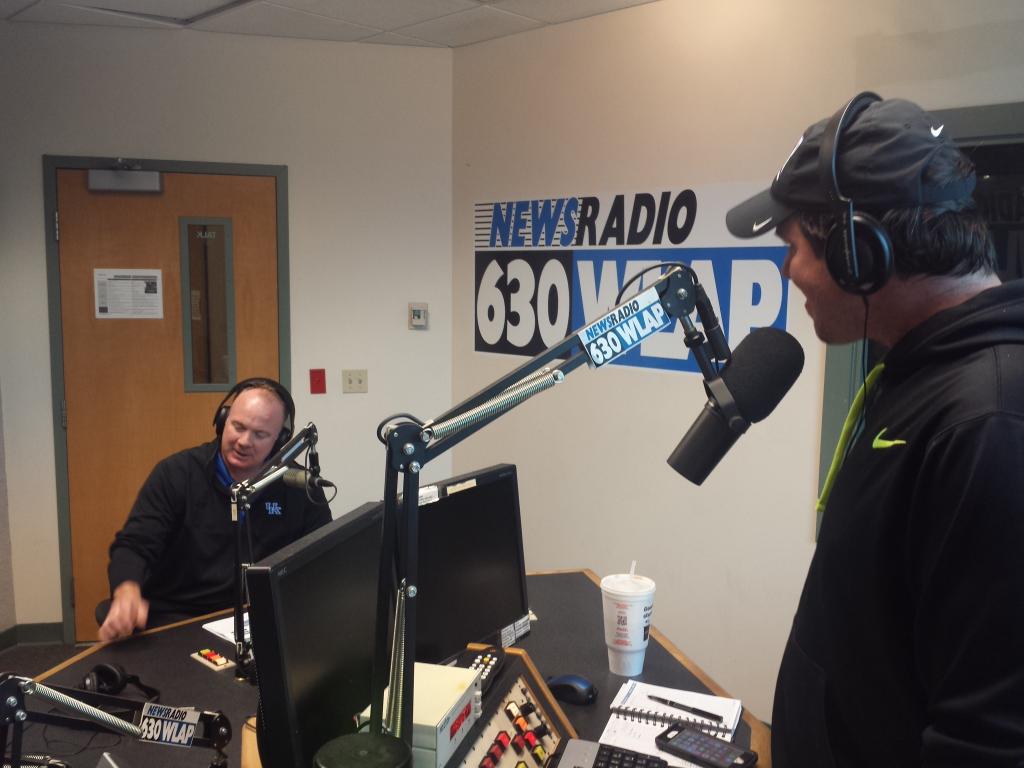 Mark Stoops was also awesome on KSR
Who could follow an act like Willie? Mark Stoops, of course. Stoops sat in on the second hour to give us all a nice refresher course in what's going on with the team after spring practice. I'll spare you an in-depth recap--
Drew did that earlier today
--but here are the highlights:
He's very pleased with wide receiver: "Absolutely seeing improvement from the wide receivers," Stoops said of one of UK's primary weaknesses last season. "You have to have wide receivers that can make plays down the field and we're starting to develop that." Stoops singled out Garrett Johnson as the team's "most prolific receiver" right now.
Pleased with QB: "I feel very good about quarterback," Stoops said, going as far to say "I feel like we have two quarterbacks that can win games for us."
Pleased with the stadium: Stoops toured the stadium on Monday and was floored. "I was really blown away by how nice the whole stadium is going to be," he said.
Really, just pleased overall: "I feel much better about things," Stoops said, reminding listeners that the program was "six feet under ground" when he took over. "We're far from perfect, but I think everybody is very united and working extremely hard to build this program."
Speaking of united...
Stoops didn't spend a lot of time talking about the Richmond incidents, but he did want to say one thing about the state of his team:
"One thing I can assure you is this team is as united as any team I've been a part of for a long time. I really feel good about the mentality of this football team. I know people might have questioned that after they saw parts of that tape, but believe me, I have no doubt because I saw the response from the rest of our team and the support that our team had."
Good. Let's move on.
CJ Conrad will have sports hernia surgery tomorrow
Stoops broke a bit of news on the show, telling Matt, Ryan, and the listeners that incoming freshman tight end CJ Conrad was headed to Philly to see a sports hernia specialist for a groin injury. Conrad was evaluated this afternoon and will have surgery tomorrow. Conrad was one of the top performers in spring practice, but don't worry: Stoops said that while Conrad will miss out on some summer prep work, he's expected to be 100% in time for fall camp. Lots of great football talk today, so here's the entire podcast:
Basketball season ticket holders received this in the mail today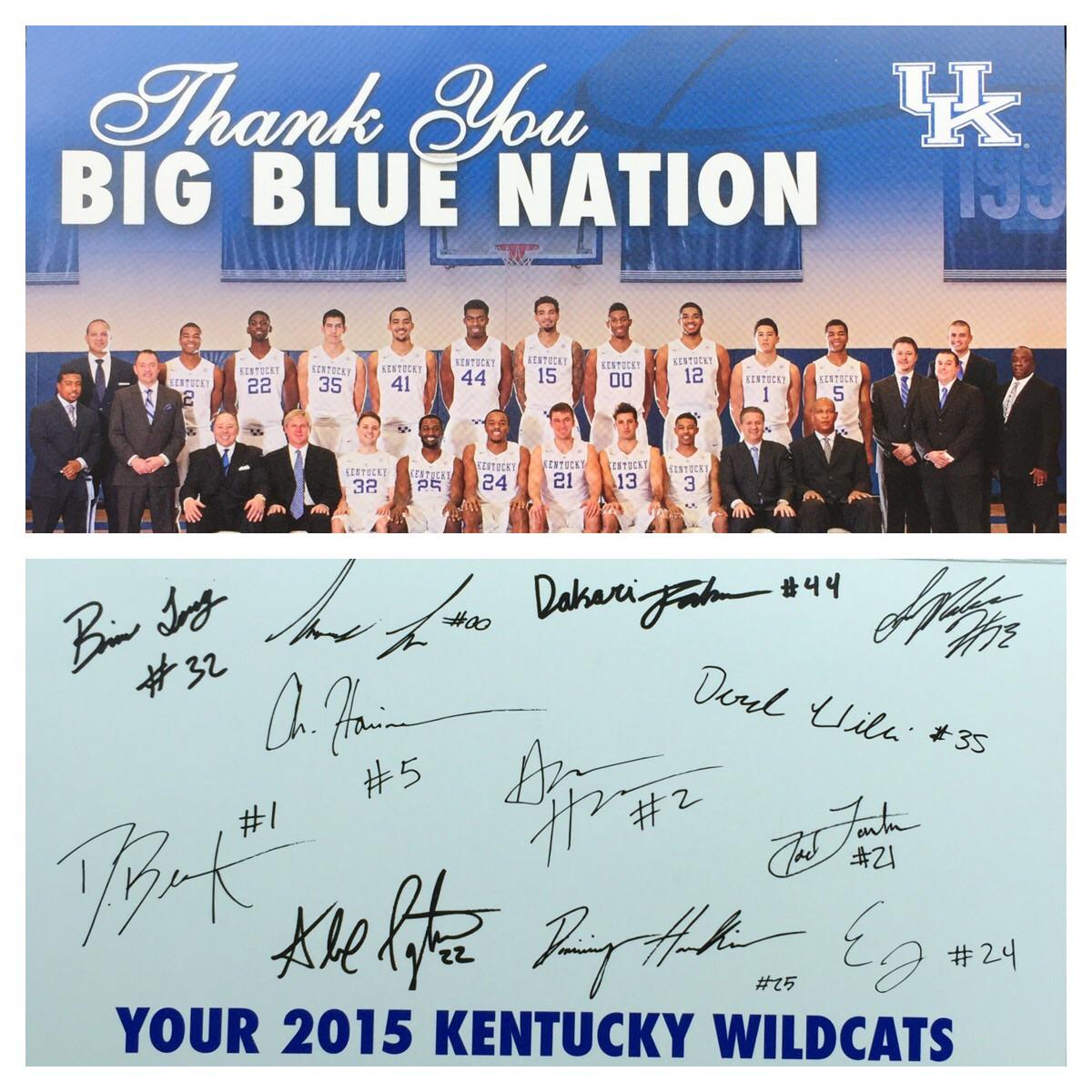 Awh. I miss them already. That'll do it. Let's get up and do it all again tomorrow, okay?