The Boom, The Dud, and The Win
[caption id="" align="alignnone" width="599"]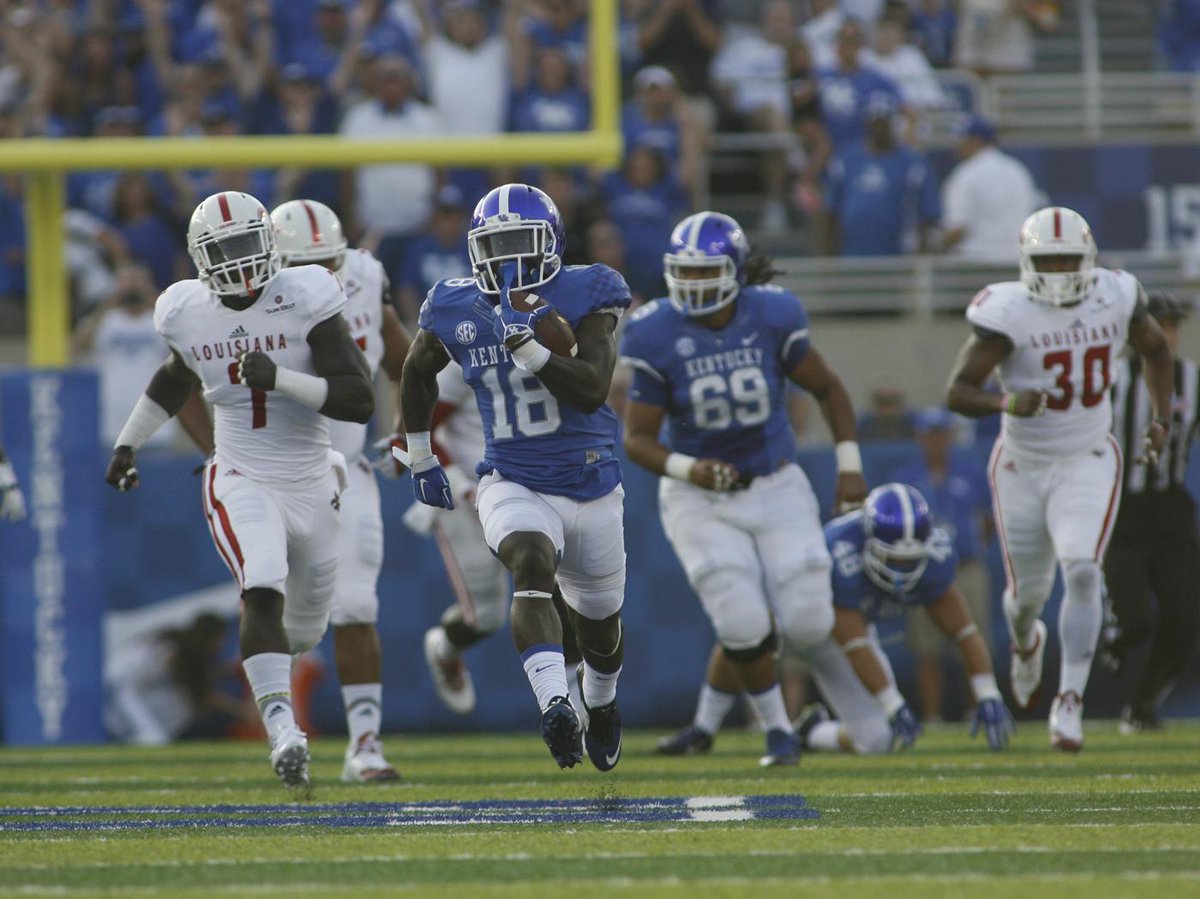 UK Athletics
[/caption] In front of 62,000 excited Big Blue Fans, the Wildcats got off to a fast start as Boom Williams jetted 75 yards to pay dirt on game's opening play. In the first half, the UK offense had two 90-yard drives and jumped out to a commanding 24-7 halftime lead. The Cat defense worked efficiently by containing the ULL playmakers and forcing the issue on the line of scrimmage. Then, the second half happened. If the game would have ended after the second quarter, the BBN would have been elated. But it didn't. Louisiana made timely halftime adjustments. This was expected from a team that has gone 36-16 over the past four years. The Ragin' Cajuns scored 23 unanswered points and eventually tied the game at 33-33. A late Mikel Horton touchdown sealed the deal. Kentucky won the football game; however, Louisiana had victories in several aspects of the game. Let's take a look:
OFFENSE
-- 
QB Patrick Towles
finished the night 16-34, 3 TD's and 1 INT. As a stated goal, 62% was deemed necessary to efficiently execute the offense. 47% is unacceptable. However, at certain times of the game, Patrick completed passes that confirmed his assumed status as an NFL prospect. There were also lapses.
At a minimum, 21 points were left on the field due to inaccurate vertical pass incompletions
. The errant throws were both over and under thrown in crucial moments of the game. With Shannon Dawson's emphasis to go vertical, this has to progress. During a period of the second half, Towles appeared unconfident. Believed and projected to be beyond that, much more was expected from the junior quarterback. Much more is required from the junior quarterback. Kentucky's 1
st
down efficiency faltered. Too many 2
nd
and long situations limited the offense's likelihood of extending drives. Another must improve prior to visiting the Head Ball Coach. -- 
Running backs are fast and have learned to be patient in reading blocks.
Their speed was exhibited early. Boom's opening 75-yard jaunt to the end zone was an historical moment for the new Commonwealth Stadium. Williams again displayed his elusiveness in a timely draw play that nearly led to another TD. For the night, Williams finished with 10 carries for 138 yards. JoJo Kemp provided a necessary spark. Mikel Horton's the obvious power back of the trio and scored the go-ahead touchdown to win the game. I left the stadium feeling like I needed to see more. Concerns were lack of consistent production between the tackles. But there is no arguing that the Cats are loaded at this position. Effectively distributing the football will need to be addressed going forward. -- 
Receivers are as good as advertised.
On too many occasions, Jeff Badet and Garrett Johnson had five step advantages on defenders and the football was under/over thrown. Missed touchdown opportunities doesn't damper the fact that WR Coach Tommy Mainord's group is vastly talented and deep. Haunted memories of dropped passes and the inability to release from the line of scrimmage are, for now, a thing of the past. Dorian Baker and Blake Bone presented outside mismatches that were under-utilized. Again, I left the stadium wanting to see more. This group is going to be fun to watch.
-- Tight ends were statistically absent.
A projected upgrade to the offense produced exactly zero catches for zero yards. Disappointing to watch. CJ Conrad and Darryl Long are both freshmen. They will eventually become offensive fixtures. But as for the opener, their lack of production was conspicuous.
-- Offensive line played good enough.
Given it started a true freshman at right tackle, 435 total yards indicates that the big guys up front sufficiently provided protection and opened running holes. It did surrender three sacks, two to LB Dominique Tovall. But, two of the three were unnecessary. Meaning, a potential throw away or a perceived coverage sack.
-- Play calling was timely. Shannon Dawson's style was what the BBN craved.
He went up top for potential big plays that led to open receivers. At times, those calls were executed as UK scored three touchdowns of 35 yards or more. 435 total yards of offense is considered a success. But as a whole, during a fifteen minute game segment, it was sloppily and imprecisely executed. Projection was the Cats left at least three scores on the field. The game could have been out of hand early, which we've stated was an intended goal. Vertical passing mishaps were a leading factor to disappointment. However, a quarterback's throw can be improved, a receiver corps that can't get open cannot. This crew can get open. Execution can be achieved, intent is a continual state of mind. Game plan was solid.
DEFENSE
First half Cats were dialed in. Second half version played on their heels. When a defense plays on their heels they get knocked over. Simple physics.
Lack of depth obstructed efficiency.
This especially pertained to linebackers. Already down two starters, there is a significant drop-off in the second team rotation. Youth is the leading influence.
Still, surrendering 479 yards cannot be viewed as anything but a point of frustration.
Especially giving up 247 rushing yards all while holding Louisiana's superstar Elijah McGuire to 92 yards on 27 carries. Another point of contention was Brooks Haack and Jalen Nixon's success. Both quarterbacks had little-to-no game experience going into the opener. But again, don't let the logo fool you. Louisiana is a good football team. -- 
Linebacker was a concern during fall camp.
Injuries and suspension created a collective cloud over this position. Josh Forrest did not disappoint. His meteoric climb from a former receiver to an All-SEC caliber inside linebacker is astounding. Fifteen tackles and the game-saving interception at the final buzzer were mere examples of the Forrest complete game. Khalid Henderson, I have doubted him throughout fall camp.
Eight tackles, one sack, and a QB hurry proved me wrong.
He stepped in and commendably replaced Ryan Flannigan at a much higher level than expected. Denzil Ware showed flashes of meeting expectation; however, moving from defensive end to linebacker is not an easy transition. He's a work in progress. Jabari Johnson was his normal solid self. Depth is where this position concerns. True freshmen Jordan Jones and Josh Allen saw their first college action. At times, the pair played like seasoned veterans. Other times, well they played like rookies. Same can be said about redshirt freshman Nico Firios. Not having Jacob Hatcher and Ryan Flannigan created a unit vulnerability. Their absence was noticeable and leads to concern going to Columbia.
-- Defensive line was led by the two nose guards, Melvin Lewis and Matt Elam.
Lewis was second in tackles with 9. Matt Elam played his best game as a Wildcat with 6 tackles and solidified the middle of the line of scrimmage. Regie Meant and the other defensive tackles played in spurts, but lacked consistency in gap responsibility. Louisiana's second half rushing attack exposed holes in the Wildcat defensive line of scrimmage. Farrington Huguennin was solid as expected, but the group's expected pass rush didn't influence the ULL's quarterbacks as both Ragin Cajun QB's had career nights. There is potential in this group. Certain personnel groupings in the rotation contributed to Louisiana's opportunistic run game success.
-- Cornerbacks were an enormous preseason concern.
Against ULL, the position played its best game in two years. True freshman Chris Westry was tested on many occasions. He held his own. Senior Cody Quinn played like an SEC senior cornerback. Reserve JD Harmon had a textbook interception by high-pointing the football while being in perfect position. I still look for Derrick Baity to make an appearance. But
JD Harmon is to be commended for maintaining a positive attitude
and making the most out of an opportunity. Safeties were solid led by AJ Stamps and Marcus McWilson. Mike Edwards and Darius West also contributed.
SPECIAL TEAMS
-- Mr. Automatic Austin MacGinnis astonishingly missed a PAT and a FG.
That's a sentence I thought I'd never type. Ryan Timmons doubled UK's punt return average from 2014. JD Harmon's explosive return was a momentum builder that wasn't taken advantage of by the offense. Landon Foster was consistent and long snapper, Kelly recovered a muffed punt. MacGinnis' missed kicks were puzzling and shocking to be quite honest. But other special team's aspects were positive. Seemed organized with a plan.
What does it all mean?
Kentucky's last win came on October 11th 2014.
A win is a win
. But as in describing much of the offense, I left the stadium wanting to see more. Same can be said of the defense. The lack of pass rush concerns as does linebacker play sans Josh Forrest. Going to Columbia, vertical route opportunities will not be as plentiful. When they do exist, a touchdown must be the outcome. Patrick Towles has to play better. No way around it. A 47% completion rate will not likely win in Columbia, South Carolina, or in Lexington, Kentucky for that fact. There are positives. Commonly, a football team's most improvements come between game one to game two. Sunday's film session will not be comfortable for the players. As it shouldn't be. What could have been a 30-point win turned into a possible home loss which would have all but destroyed bowl chances. Kentucky was fortunate to win. It beat a good football team and slowed its star, Elijah McGuire. But it was hurt by a first time starting quarterback and a reserve running back. South Carolina is a better football team than Louisiana. But not by as much as you may think. However, if UK plays as it did on Saturday, a road SEC win is highly unlikely. That's the frustration. Kentucky was constantly on the verge against Louisiana. On the verge of what is the question. The game lacked flow. Kentucky has to learn to finish. UK failed that task in week one. It had ULL on the ropes and let it come back by taking an overabundance of second half haymakers.
What's next?
Sunday's film session will be a great learning experience. It has to be. Ryan Flannigan's return is vital. Patrick Towles' frame of mind is critical. He lacked confidence and accuracy. That has to improve and improve now.
For a quarterback that has all the skills to play in the NFL, Pat's needs to settle down and trust his talented receiving corps.
Neither South Carolina nor Kentucky impressed in their opening games. UK's performance was more concerning than Carolina's due to the fact that it had several chances to blow the game open and didn't do so. Carolina was outplayed yet won the game due to opportunistic North Carolina turnovers. The two teams are a virtual wash in talent. Quarterback play will be the difference in the game's outcome. Defensively, Kentucky's ability or inability to stop the Carolina rushing attack will influence the scoreboard. A win is a win. I still left the stadium wanting to see more. The BBN needed to leave the stadium exhilarated, not relieved in an opening game victory. As for Mark Stoops, Saturday's outcome was a best case scenario. Cats got the win, but by the game being in doubt late, his young team learned to overcome adversity and win a game in the 4
th
quarter. Lessons learned.