The CATSPYs' Monday Night News and Views
[caption id="" align="alignnone" width="611"]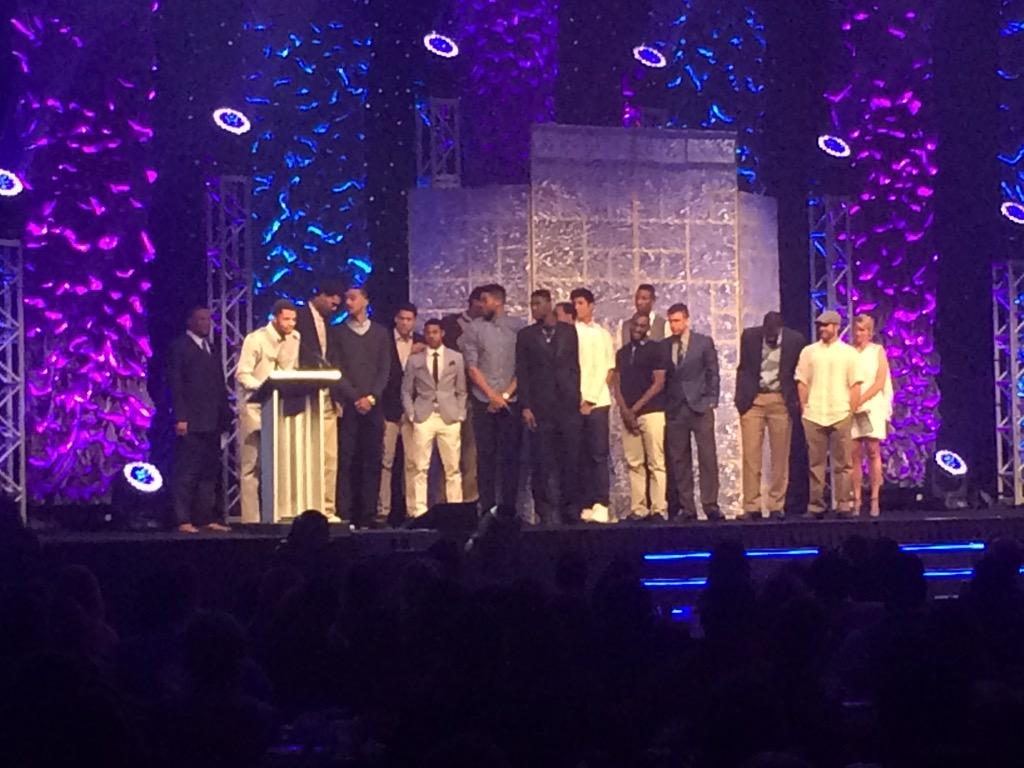 @KentuckyMBB
[/caption] The
13th annual CATSPY Awards
, UK's version of the ESPYs, was held tonight in Memorial Coliseum, saluting another academic year with tons of success in sports and in the classroom. A total of 36 honors were presented to six teams and 26 individuals. The big winner of the night was men's basketball (shocker) with Male Rookie of the Year (Karl Towns), the Blue Heart Award (Willie Cauley-Stein), Male Performance of the Year (Karl Towns vs. Notre Dame), Co-Coach of the Year (John Calipari) and Male Team of the Year honors. Male Athlete of the Year went to baseball's A.J. Reed, understandably. A complete list of the awards can be found
here
. We hope to see plenty of videos from the awards show tomorrow, but for now, stop what you're doing and watch the event's intro video.
Karl Towns' appearance at the end is fantastic
: And now for the news...  
Mychal Mulder will announce his decision tomorrow.
Four-star JUCO shooting guard Mychal Mulder will announce his decision tomorrow at 3:30 in a ceremony at Vincennes University. I'm told there will be no hats or suspense, just an official announcement followed by the signing of the paperwork. The safe money is on Kentucky, considering Mulder spent the last three days in Lexington with the team and enjoyed his stay. Something called a Hoops Hype Canada reports the Ontario native will indeed pick the Cats. https://twitter.com/MychalMulder/status/592846853655404544 If it is Kentucky for Mulder, he will most likely be next year's go-to shooter. Vincennes head coach Todd Franklin -- whose team policy prevented Mulder from signing with Wichita State in the fall -- believes Mulder is more than capable of playing the Devin Booker role for John Calipari. Don't let the JUCO route fool you. This will be a good get for Kentucky.
Cheick Diallo to announce very soon, maybe tomorrow.
Diallo is expected to announce by Wednesday at the latest and Kentucky has as good of a shot as anyone for the best available power forward in the 2015 class. Jerry Meyer of 247Sports hears it's a toss-up between Kansas and Kentucky, while Evan Daniels agrees those two are the co-favorites, along with St. John's.
Jaylen Brown trimmed his list to five.
He is down to California, Kentucky, Michigan, North Carolina and Kansas, eliminating UCLA, surprisingly. UCLA was believed to be a serious contender so it was good news for Kentucky to see him drop the Bruins. Cutting UCLA also suggests the Adidas ties may not have the impact everyone, including Brown, once believed. He said last summer we would only play for an Adidas school, but three of his remaining five are Nike or Jordan Brand schools.
Brandon Ingram picked Duke.
Therefore we no longer like Brandon Ingram.
Mark Stoops extended a new in-state scholarship offer.
Kash Daniel from Paintsville received an offer from UK football on Monday, he announced on Twitter earlier tonight. Daniel, an unranked inside linebacker in the 2016 class, has other offers from Ohio, Marshall, Ball State, Charlotte and Eastern Kentucky. He grew up loving the Cats and visited campus earlier this month.
College basketball will likely go to a 30-second shot clock next season.
"Now there's a real decent chance," NCAA rules committee chairman Rick Byrd
told ESPN.com
on Monday. "It's pretty evident a lot more coaches are leaning that way. The opinion of coaches on the shot clock has moved significantly to reducing it from 35 to 30. And all indicators are pointing toward that." I'm all for the move to 30. That's much better than the 36-second shot clock Wisconsin had in the Final Four.
John Wall and his Wizards teammates sat front row at the Caps game.
[caption id="" align="alignnone" width="599"]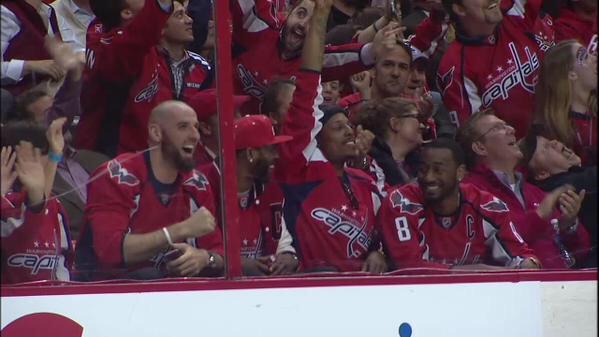 @JohnWall
[/caption] The Wizards have plenty of free time before their next series after sweeping the Raptors, so they took in a hockey game tonight. Wall's team awaits the winner of the Atlanta-Brooklyn series and it's now tied up at 2-2 with a Brooklyn overtime win tonight.   That'll do it for now. I'll leave you with a picture of Rick Pitino having a good time in Vegas over the weekend...