The Cleveland Tourism Video's Tuesday Night News And Views
The "Hastily Made Cleveland Tourism Video" is an internet treasure and, sadly, a fairly accurate depiction of the city. I'm saving my exploration of downtown for tomorrow evening, but from what I saw on the way in, that six year old video still applies today. (Although there is an
updated version
.) KSR rolled into town around 7:30ish and I've been hanging out in the hotel room watching NIT basketball and putting words on the internet. Matt and I will do the radio show from a station on the outskirts of town tomorrow morning and then it's straight to the arena for the first day of coverage from the Sweet 16. (And by straight to the arena, I mean a stop at the casino that is on the way to the arena from our hotel without having to step outside.) Until then, here's a quick rundown of the day...  
This is what the hotel bathtub looked like when we checked in.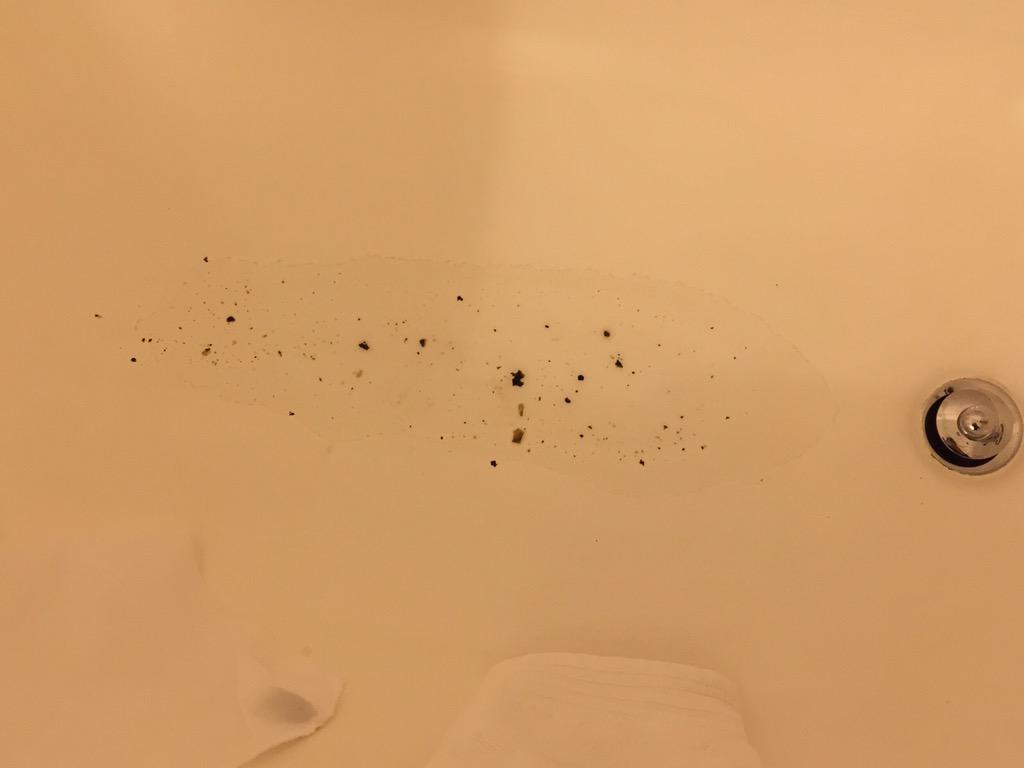 Is that the ideal look for a hotel bathtub? Of course not. But when you're in Cleveland, you're just thankful it's whatever that is and not worse.
The team landed in Cleveland today.
With Alex Poythress! Poythress and his teammates landed Tuesday night, leaving plenty of time to stay up into the wee hours of the morning playing 
Super Smash Bros.
in the team hotel before tomorrow's open practice and interviews.
The Cats have landed. #BBN #BBNGetsIn #NCAAMidwestRegional pic.twitter.com/R0MijPZL3p

— KYwildcatsTV (@KYwildcatsTV) March 24, 2015
Kentucky is set to take the open practice floor at 3:10 pm, following interviews with players and John Calipari. We'll have all of that on the site late afternoon.
ESPN ran a 30-minute "How To Beat Kentucky" special.
Dino Gaudio and other college basketball analysts weighed in on what it will take to upset the Wildcats and how worried John Calipari is about each potential matchup. Wisconsin earned a 10 out of 10 on Gaudio's "Calipari Worry Meter," while a potential title matchup with Duke got a 9/10 and Notre Dame 5/10. Of the many keys ESPN listed to upset Kentucky, all were pretty obvious and, combined, make up what would have to be a perfect game against UK.
Jay Williams, who predicted Arizona as his champion, said it will take prayer to pull off the upset.
Tony Barbee interviewed for the Nevada job, then removed himself from consideration.
It was reported early Tuesday morning that UK special assistant Tony Barbee interviewed for the head coaching vacancy at Nevada. A little later in the day, Gary Parrish reported Barbee removed his name from consideration for the job. Jeff Goodman believes Barbee was never a legitimate candidate in the first place and it was "a favor to Barbee" to include him in the search. Either way, Barbee isn't going to Nevada.
John Calipari's Coach of the Year snub was the lead story on PTI.
I did not see the show because we were somewhere in the middle of Ohio, but the show's
Twitter account tweeted this exchange from Wilbon and Kornheiser.
MW: "So do we think this is an anti-Cal agenda?"
TK: "Only 100 percent."
Anyone got video of this? (Update: Here's
the audio clip
.)
Rick Pitino said Calipari would get his vote for Coach of the Year.
Therefore, Rick Pitino would vote for anyone but John Calipari. It's the simple formula of take what Rick says and wait for the exact opposite to happen. Never fails.
Bob Huggins went on The Dan Patrick Show to explain how West Virginia can beat Kentucky.
Huggins said his Mountaineers will need to take more shots if they want any chance of pulling off the upset. He also called John Calipari a friend. Listen to the full interview below; he talked about WVU's chances Thursday night around the 7:10 mark:
Kenny Smith said going for 40-0 is "not like it's something new in this era."
Well, it kinda is. Sure, Wichita State entered the tournament 34-0 last season but they were quickly dismissed and were never the odds-on favorite to win it all. Kentucky is the first team to go 36-0 and they will be favored in every game until the final mission is accomplished or, dare I say, someone ruins the party along the way. Listen to Kenny Smith blabber his nonsense
on Doug Gottlieb's radio show
. (Or don't. Do something better with your time. Anything.)   Alrighty, that'll do it for tonight. Check back tomorrow when we're writing and posting things from Quicken Loans Arena.