The ending they didn't deserve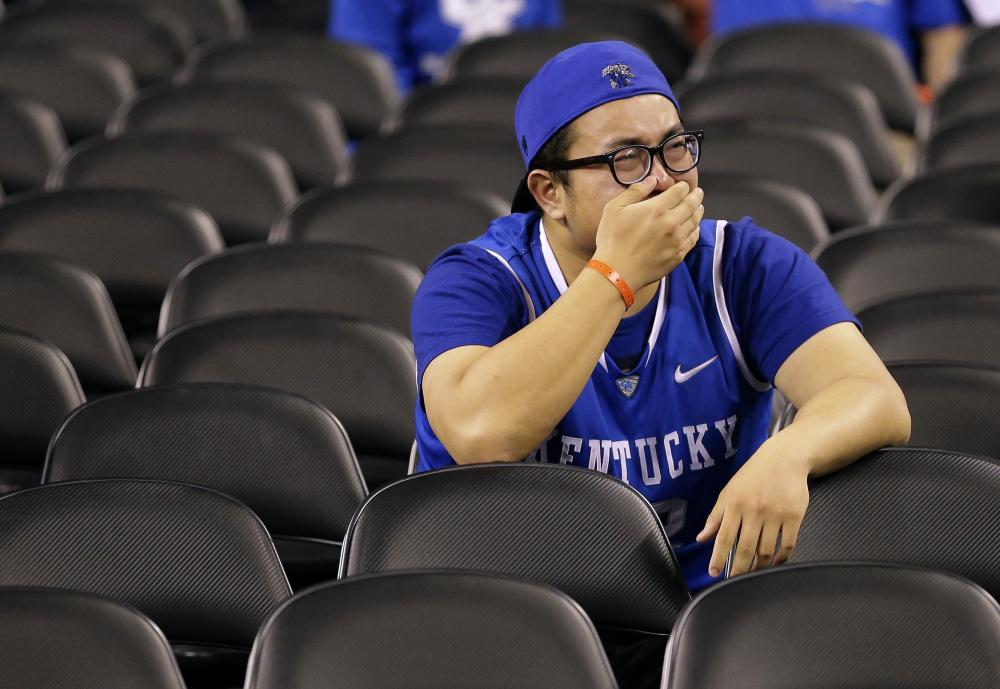 For Wisconsin, this game started one year ago. Aaron Harrison's three burned a hole in the Badgers' hearts that smoldered until the buzzer went off and roles reversed, Kentucky's players were the ones retreating to the bench in tears. We've been here before. I'll never forget watching Calipari's press conference in Dallas last year after Kentucky lost to UConn. It felt terrible then, but it feels worse now. Like most of the Big Blue Nation, I thought this run was meant to be. I thought it was written in the stars. I thought we'd be drowning in confetti on Monday instead of drowning in tears on Saturday night. But basketball is a fickle game, and even though "it's just a game," it's never just a game for Kentucky fans. Especially this season. About that game, well, you can point to three possessions that sealed Kentucky's fate. 
The Cats had three straight shot clock violations late in the game
, three wasted possessions that sucked all the momentum from an otherwise heartening run. In the locker room, the players said the plan was to get the ball to Karl to push UK's slim lead to a comfortable margin. That obviously didn't work. Aaron Harrison kept hope alive with a gutsy "and one" with 56 seconds left to get Kentucky within one, but that was Kentucky's final field goal of the game. With eight seconds left, he tried one more three, but it wasn't meant to be. No more magic left. You only get so much of that in life. It will be very hard for me to forget the looks on the players' faces as they left the locker room for the press conferences. Andrew, always the leader, had his hoodie drawn tight around his face up front, a stone cold killer with shiny eyes. Karl, always mature beyond his years, draped his arm around Willie, slumped in shock. Aaron, always the hero, couldn't handle his crash to Earth, covering his face with a towel. Reporters and photographers pounced, but you couldn't have paid me money to take a picture of that moment. The moment we need to remember from tonight is the one that happened early during the press conference.
Brothers pic.twitter.com/dwsxDrzReE – Tyler Thompson (@MrsTylerKSR) April 5, 2015
In between questions, Andrew Harrison draped his arms around Aaron and Willie, and the four huddled together in one final, awful embrace. Let this be the image you take away from tonight. Brothers in good, and brothers in bad. When asked what they will remember about this season, the players didn't focus on the negative, and neither should we. Both Willie and Aaron said they'll remember being part of a special run with a special group. "Just being around a bunch of unbelievable guys and the way we all came together like brothers," Willie said. "
You know, we'll never be on the same team like this again.
You know, that's going to set in. We got a month of school left with each other, and that's it. So, I mean, that's what you'll remember." "We had a lot of fun this season," Aaron said. "One of the best times of my life. I wouldn't trade it for anything. We didn't finish like we were supposed to. We got beat, so... They deserved the game." In fact, as the curtain falls on this team and their dream, the fact that Kentucky won't play for the National Championship isn't what stings the most; what does is the fact that we'll never see this group of guys play together again. That's enough to break your heart.