The fact that Kentucky may have to play Wichita State in the 2nd round is absurd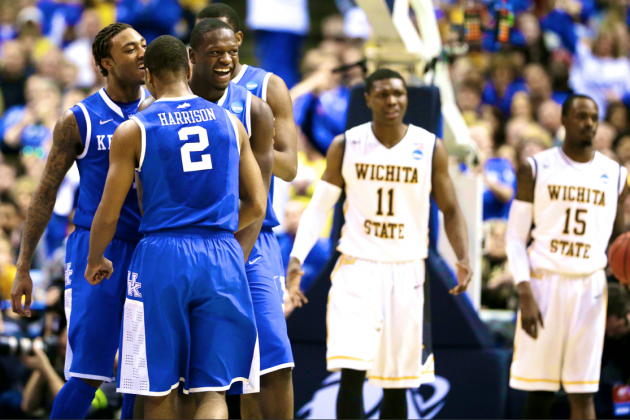 We knew the Selection Committee would probably pit Kentucky against Northern Kentucky in the opening round because, you know, hey, they're in the same state, what a story! However, if there's one surprise in Kentucky's draw,
it's a potential second round game vs. 10-seed Wichita State
. Even though Kentucky was the top overall two seed, they somehow ended up near the Shockers, who are the eighth team in the country according to KenPom. That is absurd. In a season that feels eerily similar to the 2014 year, I guess the selection committee thought it only made sense to set up a rematch of the 2014 second round classic between the Cats and the Shockers, in which Kentucky pulled off the improbable upset. Who gets to play the role of Aaron Harrison this time? Back in 2014, it was Wichita State that got screwed by the draw, but this year, it's the other way around. The Shockers are ranked 20th in the AP poll, have a 30-4 record, and are one of only ten teams in the country that rank in the top 25 in both offensive and defensive efficiency right now; however, somehow they ended up with a 10-seed? Earlier today, Jeff Goodman said that
the Shockers could end up as an 8 or 9 seed in order to set up a tough second round matchup for a one-seed
.
The Shockers have 30 wins, but the résumé doesn't look all that imposing. If Missouri Valley runner-up Illinois State doesn't get in, Gregg Marshall & Co. won't boast a single win over an at-large tourney team. Sure, they have pounded the competition for the past couple of months, but it has been Missouri Valley competition. Three of the Shockers' four losses came in November and December to Louisville, Michigan State and Oklahoma State, and the fourth was at Illinois State. Some metrics-based rankings such as KenPom have Wichita in the top 10, but others such as the RPI have them at 31. So where does the committee put this team? The Shockers have plenty of talent, and if put in the 8-9 matchup, would be a brutal opponent for a No. 1 seed in the second round.
Yet, here they are, in Kentucky's bracket as a 10-seed. Hmm. Crazy. You're telling me this didn't have any impact on the committee's decision?
🙄
Discuss This Article
Comments have moved.
Join the conversation and talk about this article and all things Kentucky Sports in the new KSR Message Board.
KSBoard