The Great Pappy Heist's Tuesday Night News and Views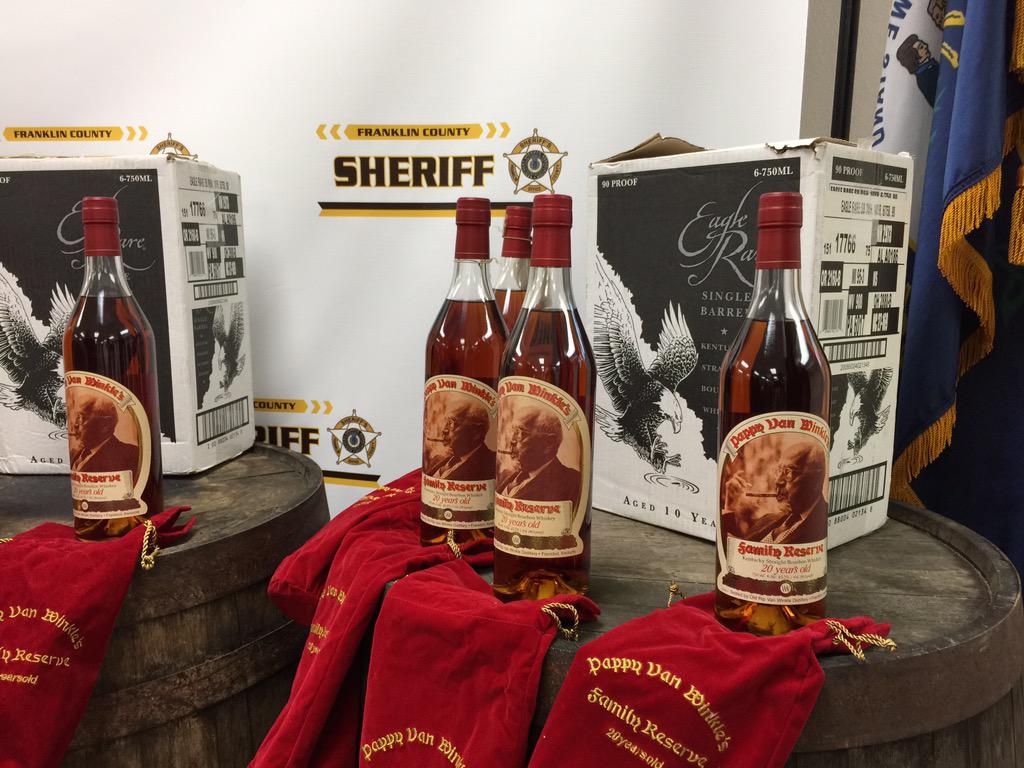 What if I told you that nine people on a softball team worked together over seven years to steal over $100,000 worth of the Bluegrass' best bourbon? Oh yeah, and steroids. Sounds like a bad movie plot, right? Well, we found out today that's the real story behind the famous 2013 Pappy Van Winkle heist and several other bourbon robberies going back to 2008. This afternoon, the Franklin County Sheriff's office announced that nine people, including an employee of Wild Turkey and two employees of Buffalo Trace, were indicted in a bourbon theft ring. Deputies said that together, the group stole over $100,000 worth of bourbon, selling the Pappy to outside buyers for $800/bottle. Seventeen barrels of bourbon were seized in total, in addition to 25 bottles of Pappy. Officials said it was more whisky than one person could drink in a lifetime. Sadly, officials also said the barrels will have to be destroyed because they may not be safe, but they hope to return the sealed bottles to the Van Winkle family. If you've got a glass of that brown water in your hand, I suggest you raise it to those seventeen barrels. God bless them. Now, the news of the day...
Malik Newman will announce his decision Friday at 1 p.m.
After a stressful few weeks, it looks like UK's 2015 class will finally become clearer very soon. This morning, we found out that five-star combo guard Malik Newman will announce his decision Friday at 1 p.m. ET. Newman is considering Kentucky, Ole Miss, Kansas, LSU, Mississippi State and N.C. State. Most think it's a two-horse race between Kentucky and Mississippi State, and the Bulldogs are currently the favorites in Newman's Crystal Ball. 247 Sports' Jerry Meyer believes Newman will pick Mississippi State, while ESPN's Recruiting Nation still believes Calipari will pull him in. All of the momentum lately has been towards Mississippi State and Ben Howland lately, and God knows why. I've been to Starkville and, well, it's named that for a reason. If Newman picks the Cats, great; if not, expect Kentucky to continue to pursue JuCo shooting guard Mychal Mulder.
Cheick Diallo will announce soon
Paul Biancardi believes Diallo will announce his decision early next week, although he believes he is "confused" and "very frustrated" by the whole process. Make that a Commonwealth of us, Cheick. Diallo shut down his recruitment last night, posting an image on Instagram thanking all the coaches and schools involved for recruiting him. The good news? That happened right after an in-home visit with John Calipari and Kenny Payne. The bad news (if you believe in the tweet leaves)? Diallo started following Kansas forward Perry Ellis on Twitter today and Biancardi still believes the Mali native will stick with his friend Slice at St. John's. If Kentucky misses on Diallo, I imagine they'll go after 3-star power forward Ebudka Izundu, a former Charlotte commit that popped up on the Kentucky radar yesterday. Also still on the table: five-star wing Brandon Ingram, who announces on Monday; and Jaylen Brown, who announces who knows when. I have a sinking feeling Ingram is headed to Duke, but if the Cats get either Newman or Diallo, I won't feel so bad about that if it happens. Especially if this happens:
Jamal Murray "likely" to reclassify to 2015
This afternoon, Jerry Meyer said he believes it's "highly likely" Jamal Murray reclassifies to 2015, and if so, he could by the key piece to Kentucky's 2015 puzzle. Cal visited the 6'4" Canadian guard over the weekend and apparently an offer is "understood." Oregon is considered the frontrunner for him right now, but if Calipari makes a big push, I doubt that will last.
Thon Maker down to four, may enroll in the second semester
Maker's still working on reclassifying to 2015, but it looks like if he does, he won't be available until the second semester. Maker narrowed his list to Kentucky, Kansas, Indiana, and Arizona State this afternoon, and seems committed to going the college route as opposed to playing overseas for a year. We're not done with recruiting news just yet...
John Calipari saw Kobi Simmons and Jayson Tatum today
Simmons is a top ten combo guard in the 2016 class and hosted John Calipari this evening, according to Ben Roberts. Earlier today, Cal was in St. Louis to see Jayson Tatum, the top small forward in the 2016 class. While Cal was in Atlanta, Evan Daniels speculated... https://twitter.com/EvanDaniels/status/590667720787632128 Just saying.
Your "are these kids for real" good deed of the day
It seems like every day, we're treated to an example of the quality of men who pass through this program. Today's comes from Katie Mimnaugh, the sister of Shaun Mimnaugh, a young fan with autism. Shaun and Katie are huge Devin Booker fans, but Shaun can't handle the crowds at Devin's signings because of his autism, so the family traveled to Lexington in hopes of meeting their hero. Last night, Katie sent Devin Booker a tweet asking if she could give him a t-shirt for Shaun to promote autism awareness. The t-shirt--made presumably for an autism walk--reads "Team Booker #1, Shaun's Wildcats." Devin got in touch with Katie and he and Tyler Ulis met up with Shaun and the family at their hotel: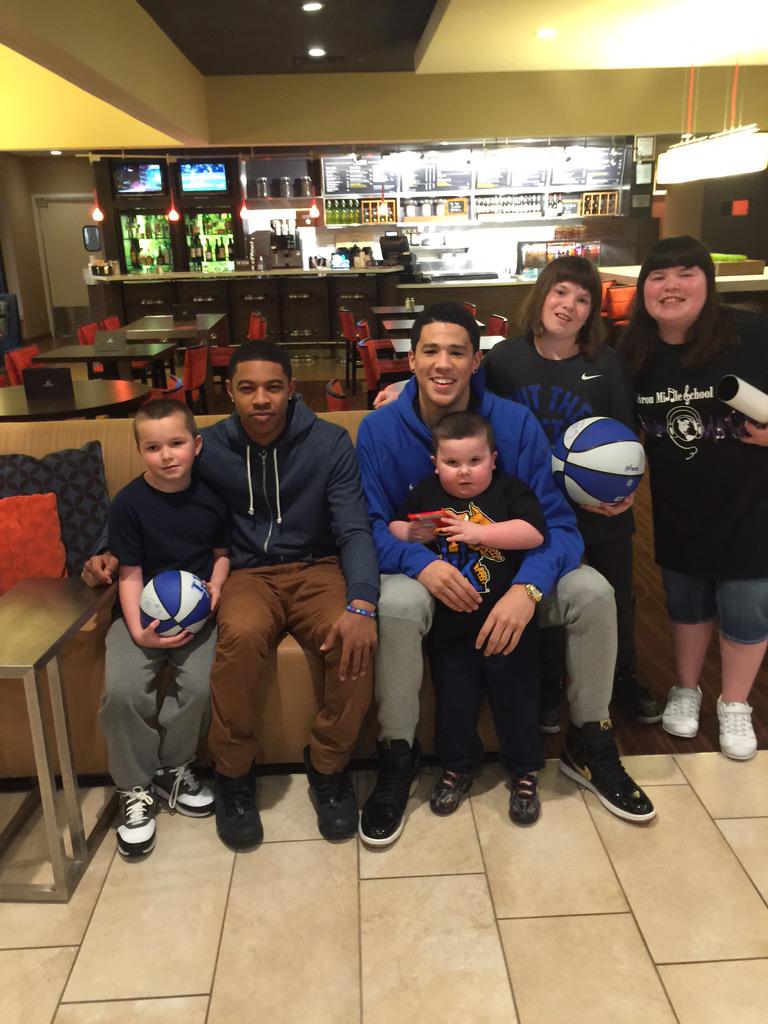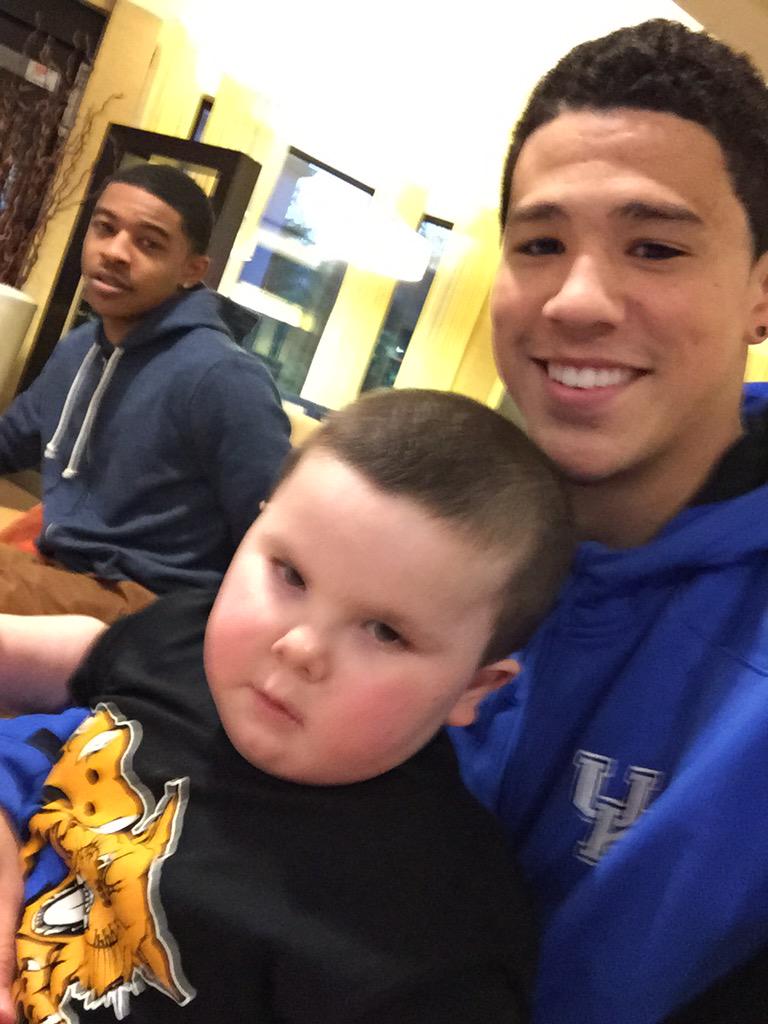 Awesome. Good on ya, boys.
John Wall had quite a night
After scoring ten points against the Raptors in Game 1, John Wall turned it up tonight in Game 2, scoring 26 points and dishing 17 assists in Washington's 117-106 win. Good grief.
Willie Cauley-Stein AND Mark Stoops will both be in studio tomorrow
What's the recipe for the best KSR show ever? An hour of Willie Cauley-Stein and an hour of Mark Stoops if you ask me. Both Willie and Stoops will be in studio tomorrow, so clear your schedule in the morning and get ready for one hell of a show.