The Harrison Twins' Thursday News and Views
We're just under
18 hours away
from news that will certainly rock the Commonwealth, when
Andrew and Aaron Harrison announce their college destination on ESPNU
. Will it be Kentucky? If so, Calipari will be well on his way to the hauling in the best recruiting class in the history of offering athletic scholarships to high school students. The Cats will instantly
jump to the No. 1 ranking in 2013
, with James Young, Julius Randle, Andrew Wiggins, Aaron Gordon, and Marcus Lee still out there licking their chops at the idea of wearing Kentucky blue. If the pieces fall the way Cal hopes, the 2013-14 season could potentially be even better than the one we just saw. It's hard to believe, I know, but with the twins and the addition of a few others, it's not crazy to think that way. Or will it be Maryland? If so, an entire state will boycott the sale of Under Armour, but Big Blue Nation will be okay. It'll just take us a month or two to get over it. Prediction: I see it like this... Calipari was on a recruiting trip up north on Wednesday, 24 hours before the announcement, while Mark Turgeon was making an in-home visit. To me, and this is just my uninformed opinion, that says Cal isn't sweating it and Turgeon is scrambling to sway the decision. If Cal was worried, he wouldn't be on the other side of the country watching a Top 50 talent from the class of 2014. Throw in
CatsIllustrated.com's "source" saying it's Kentucky
and I think it's going to be a great Thursday evening for fans of Kentucky basketball. 18 hours.  
 Basketball is on everyone's mind but we'll lead off with football talk this evening. The remainder of UK's season rests on the arms of two freshmen,
Jalen Whitlow and Patrick Towles
, and both quarterbacks took the field on Wednesday to compete for snaps. "Physically they look good," Phillips said of his two quarterbacks. "They
both can throw the ball and they both had bright eyes today
. Those guys are excited about having an opportunity. We will put them out there and see what they can do." Whitlow has seen action in two conference games now, but Towles has yet to see a down of real game acton. Is he ready to face an SEC defense? We'll know soon enough. Joker thinks
the hurry-up, shotgun offense will help his progression
; it's just a matter of getting him out there and letting him go. "He has pretty good control of the ball and knows where it is going," Phillips said about Towles. "The thing is getting him in the game and seeing what he can do and how accurate he can be in a game. A game is a lot faster than practice. We are going against scouts right now and he does get a few reps with ones-against-ones but we are mostly going against scouts. The
game will be a lot faster on Saturday
and we will get to see what he can do and go from there." Regardless of what you think about the new quarterback situation, it's never good to have your No. 3 and 4 quarterbacks sharing the starting job in the fifth game of the season. It's never good to have 
any 
quarterbacks sharing a job, in my opinion. Ask the New York Jets.
 As we reported Wednesday afternoon,
CoShik Williams is out for the season with a torn labrum in his hip
, thus ending his career at the University of Kentucky.  CoShik came to Lexington as a walk-on in 2008 and worked his way up the rotation, eventually making it to the top, where he played in 25 games as a Wildcat, including seven starts.  He rushed for 738 yards over his career at UK, averaging 4.3 per carry with seven touchdowns. His final touchdown as a Wildcat was the game-winning touchdown in the historic win over Tennessee to conclude his junior year. This season, he was named Kentucky's starting back to start the year, but only saw action against Louisville and in 14 plays against Western. "I feel
heartbroken for him because the guy has worked so hard
," Phillips said. "Everybody knows his story. The guy came here as a non-scholarship guy and worked his tail off to be a starter and is now out for the rest of the season. The reason why he was the starter is because the starter was already out in Josh Clemons. The next guy has to be up." That next guy is Jonathan George or Raymond Sanders.
 To basketball news...
Coach Cal was in Massachusetts on Wednesday afternoon to see Goodluck Okonoboh. 
Okonoboh is a 6-foot-9 center from Boston, ranked No. 8 at his position in the class of 2014. He's also a former AAU and high school teammate of Nerlens Noel. According to The Herald-Leader, Okonoboh is the one who told Nerlens he should grow a flattop. If that's true, UK should offer him right now.
 Cal hurried back from seeing Goodluck in Massachuesetts to make it back to Lexington for the
UK Women's Clinic
. Our own Tyler Thompson went through the camp and she'll have a full report on the site Thursday night. Here's a picture to hold you over: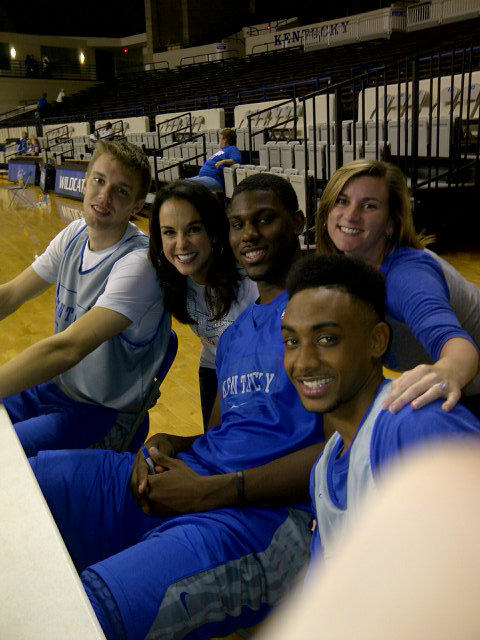 THIS JUST IN:
AXE BODY SPRAY ATTRACTS BED BUGS
. University of Louisville students received a campus-wide email warning them of a bed bug outbreak in the resident halls. The email included bed bug statistics and tips for bed bug prevention.
 Frank Martin is holding
walk-on tryouts at South Carolina next week:
The Carolina Men's Basketball team is holding walk-on tryouts on Wednesday, October 10th at 7:00 pm at the Basketball Practice Facility. Tryouts are for male students interested in potentially becoming a member of the Men's Basketball team.
All potential students interested in trying out must be enrolled full-time at the University of South Carolina for the current term and school year. There are several documents and forms that must be completed PRIOR to tryouts.
Paperwork includes: Clearance from University of South Carolina Compliance Services, Pre-Participation Physical, Sickle Cell Testing, Proof of Insurance, Signed Waiver
To obtain the necessary paperwork, please stop by the Men's Basketball Office located next to the Carolina Coliseum and Basketball Practice Facility.
All players must meet the following requirements:
2.5 Cumulative GPA / No Student Conduct Violations / Must be available for all practices M-F 3:30-7:00 pm and on weekends
Dammit. I forgot my sickle cell testing form.
It's 18 hours away....
Come on down?