The Haunting at Grove Park Inn: A Survivor's Story and Hotel Review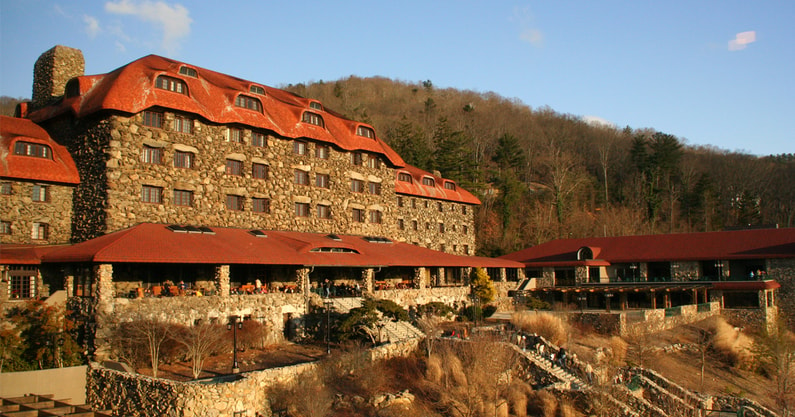 We break from your regularly scheduled sports programming for a hotel review of the Grove Park Inn. KSR Travel, we'll call it, with a plot twist.
---
This past weekend my fiancée and I made a very last-minute trip out of town to enjoy one final Saturday without work for the year and to celebrate the anniversary of our engagement. We had a free room at an Omni Hotels property set to expire at the end of the month, so we based our location around Omni availability to save a buck and to not let the free night certificate go to waste.
Our first choice was a weekend in Louisville, but no rooms were available for Saturday by the time we decided to get out of town. Same for Nashville, our second option for an overnight within reasonable driving distance. One last try, we lucked into a one-night stay at the Omni Grove Park Inn in Asheville, North Carolina; a historic resort in the Blue Ridge Mountains on the higher end of hotel stays with rooms typically around $400 and up. We were very excited to secure a room for free on two days' notice at such a popular destination.
Saturday morning we woke up hours before we planned to get on the road, so we got a head start on the drive and arrived by 11 a.m. that morning, five hours before the 4 p.m. check-in. Grove Park Inn is a huge property with lots to explore and poolside Cabana service, so there was plenty to do before accessing the room later that afternoon. However, we were surprised to learn that our room was already cleaned and available when we arrived. That never happens, especially mid-weekend. Everything was off to a great start.
By the time we expected to check in late that afternoon, we had already unpacked, roamed the entire property, enjoyed a couple of hours of pool time, and had lunch on the Sunset Terrace overlooking the Blue Ridge Mountains (there was one reservation left, we got it).
I won't bore you with more details of our one-day Asheville experience because you probably don't care, so let's skip forward to why we're here.
The Haunting
Laying in bed after the live music and party in the main lobby had ended, I decided to finally look up more about the history of the hotel because I found the whole place fascinating, almost like we were in another country. Turns out, 10 U.S. Presidents stayed there. How cool? Thomas Edison, Henry Ford, Harry Houdini, F. Scott Fitzgerald, and Jerry Seinfield too.
Oh, and it is haunted. 
A lot of old hotels claim a good ghost story, so I didn't think anything of it until I kept reading about this 'Pink Lady' who jumped, or was thrown, from a fifth-floor balcony in the 1920s. The story gave me a sinking feeling because earlier in the day I had seen a teenage girl (a real girl, not a ghost girl) with her legs dangling out of a window on the fifth floor in the middle of a rainstorm. She had a cell phone in her hand so I knew it wasn't a ghost because ghosts don't have cell phones, but I mentioned this window girl and her potential fall to the Sunset Terrace restaurant below a couple of times throughout the night. The teenage girl never fell, which was great news for everyone, and hopefully enjoyed the rest of her family vacation at Grove Park Inn.
But seeing her and then reading about the Pink Lady who fell from a fifth-floor balcony, was weird.
Now dialed into this Pink Lady ghost simply because I had seen some kid who was probably just TikToking earlier in the day, I kept reading and learned the Pink Lady haunts one specific room of the 510 rooms at the Grove Park Inn. It's the room where she was staying as a mistress to a married man before she jumped, or was thrown, to her death.
Room 545.
WE WERE IN ROOM 545.
I yelled words I can't write on the internet. My heart sank a little bit—a lotta bit, truthfully. Not one to be afraid of ghosts or things of that nature, I couldn't believe we were staying in THE room the internet warns people about. Stories of 545 are all over the place. Some say some employees refuse to step into that room after having paranormal experiences with the Pink Lady. There are photos of guests standing outside the room and pointing to the room number like it's a haunted exhibit. It is a haunted exhibit!
And there I was, tucked in bed in Room 545 at midnight, oblivious to the tales and dark forces of my surroundings until it was too late.
Abby, my fiancee, suggested we stand up and walk straight to the car. I was willing to leave the bags, toothbrushes, new coffee mug, everything; then we remembered the $16 cocktails from the lobby bar. We weren't driving anywhere.
I called down to the front desk to ask how they could do this to us–two innocent people from Kentucky celebrating the anniversary of a special day in their lives–and if there were any available rooms without ghosts in them that I would happily pay real money for.
No answer.
So I kept reading.
"The Pink Lady loves to tickle the feet of guests when they sleep." 
OK, I think I can handle that. It's a little weird and in my personal space, but better than cutting off an ear or pinning our bodies against the ceiling. We did a lot of walking anyway so I could use a good foot-tickling; my dogs were barking. 
I tucked my feet under the blanket and double-wrapped it with a sheet to be safe.
They say she is also a prankster and will rearrange the room or turn off/on lights and electronics. 
A debate ensued over whether we should leave the light on or turn it off. I insisted the light stay on so I could better defend the family against evil, but Abby made a good point that the Pink Lady is more likely to turn the light off than to turn one on. It made sense in a time of panic.
We shut the lights off and I spent the next four to five hours watching the Omni's welcome channel on a loop (couldn't find the remote, couldn't risk being grabbed from beneath the bed) while thinking back to every employee who charged something to my room, or helped us to the room, or asked what room, or said, "oh yes, your room is available right now, here is the key to your room, Room 545"—and never mentioned Room 545 is a gateway to the dead.
I thought about those people for hours, and how our blood will be on their hands if anything nefarious happens. Have they no heart? No compassion for the unsuspecting guests who could soon be preyed upon while they slept? I was a good tipper! Yet, no warning from all who knew us as Room 545.
When the sun came up, I was already wide awake; limbs still intact, thankfully. We made it through the night with only one moment where it felt like someone was pressed up against my back behind me in bed; but I probably made it up in my head, a combination of fear, sleep deprivation, an Old Fashioned or four, and more fear.
Abby slept peacefully because apparently she is tougher than I am in haunted environments (good to know), but someone had to stay awake to fight the darkness.
We hurried out of the room that morning like we had just survived a horror movie plot, which is exactly what the entire situation felt like once I learned of this Pink Lady. A 545 survivor, it is important for me to tell this story to raise awareness of the haunted Grove Park Inn room, and how the Omni will happily give it to the cheapskate cashing in a free night certificate on a Saturday in a heartbeat.
Final Omni Grove Park Inn Review
Hotel: Big "White Lotus" vibes upon arrival, we even joked all day about which guest would turn up missing (little did we know); the gigantic 36-foot stone fireplaces are amazing; really an unbelievable place unlike anywhere around
Sunset Terrace: Good food, would dine again; loved open-air, outdoor environment and view of the mountains; very romantic
Pool: Quiet, not too crowded; fish tacos were a delight; the live musician (Mike Cash, I believe) was awesome, particularly his Neon Moon and Pirate Looks At 40 covers
Staff: Friendly; could've done a better job telling us the f****** room is possessed by spirits; compliments to the elevator attendant for nailing a Grayson Allen joke
Room: Small, very dated; way too haunted; the gingerbread house story on the welcome channel will be etched into my brain forever; great water pressure though
The Pink Lady: Not overbearing or intrusive; solely responsible for me being tired all day Sunday and on into Monday; pretty sure she pushed the shower door into my back when I was leaving the bathroom Sunday morning; it's sad what happened to her
Overall: 4.3/5; would stay again in one of the other 509 rooms