The Idiocy of Fans Booing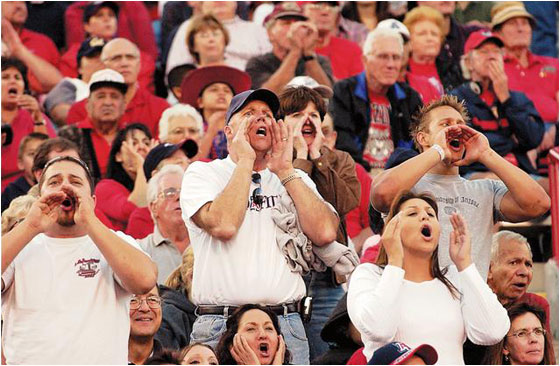 Last night was supposed to be one of those heartwarming nights at Commonwealth Stadium. With the team having just won their second straight against the evil Cards, a fun opponent in the dancing Norfolk State Spartans and an audience filled with our military soldiers, nothing would have been forseen to ruin the spirit of the day. And then out of nowhere, at the start of the second half,
a few UK fans ruined the fun with a booing display.
The impetus for the boos was Coach Brooks's decision to go with Michael Hartline to begin the second half....a perfectly reasonable decision considering (a) that it was planned before the game and (b) that keeping Hartline's confidence high could be key to the remainder of the season. However all the mini-Vince Lombardis in the stands didnt like the call and exercised their god-given right to act a fool and a small chorus of boos rained down on the field. From the field, the sound was loud. While I suspect it was only a small number of people actually leading the boos, those sounds magnify and in a stadium filled with 70,000 people, it sounded like quite a few were expressing displeasure. After the game,
Coach Brooks was livid at the display
at rightfully so. After turning this program around, beating its biggest rival and putting on a recruiting display like none other, fans still were not happy and the internet age tradition of expressing displeasure, no matter how minute the issue, took over. The players expressed a similar feeling, with most having a "you just have to ignore the fans" attitude towards the display. Yeah that is a great thing for the players to have to think about their own fans.....lets just ignore them. But its understandable as these young men (and they are young) have no other choice when those that should be behind them 100% turn on a dime. And Michael Hartline, the object of the booing handled the questions well in the post-game press conference and said he tried to block out the calls. However you know it had to hurt and make a kid wonder how a fan base that he helped give so much joy last week, could turn so cruel this week. More than anything else,
I have no idea what fans think they are accomplishing by booing.
Do they think they will change the coach's mind about the decision? Hardly....ask yourself if a person not qualified in your job came and harassed you at your workplace....would you change what you were doing or become more resolved in the moronic nature of the critic? Do fans think they will somehow make the player play better? Fans booing of Sheray Thomas in his last year took whatever confidence he had left and made it disappear, taking a good kid and potentially forever alienating him from the program he gave four years to. No at its core,
fans boo because they think they have a right to express displeasure.
(And to those who say they were "booing the decision not the player"....let me just say that if true, that piece of booing subtlety does not register on the players or coaches radar....they just hear your fat ass booing). Normally it comes from the "I paid for a ticket so I can boo" argument that is the go-to trump card of all who act obnoxious. This argument, which seems to have expanded in the internet, polling and constant opinionated culture era that we now live in, may be technically true. But it doesnt make the act any more foolish. You are a fan....not a coach. You have a right to disagree with the coach, but does that mean that disagreement needs to be aired in front of the masses? Kentucky was up 21-3 and had virtually no chance of losing the game. After playing two opponents to a total score of 48-5 at the time, did you really need to express displeasure at the QB decision at that very moment? Why not say to your partner sitting next to you, "wow I am surprised he is going with Hartline here....but what do I know....and pass the nachos!" I wonder
how many people who booed would have done it to Rich Brooks or Hartline's face?
In the same way that many "internet tough guys" who come on message boards and say really awful things to writers on this site then meet me or others in public and say, "awww I am just messing around", people who boo at games behind the wall of anonymity of a 70,000 seat stadium are really, at their core, weaklings. UK4LIFE36 and random fan in Section 124 are not taking a stand.....they are acting tough with no possibility of a repurcussion. Rather than thinking about the damage they might be doing to a young man's psyche by their ignorant yelping, they express displeasure in a way that will never come back on them, but will only hurt the recipient of their taunts. To me that is a chickens*** way to act and says a lot more about you than the person you are booing. Take the advice your mother should have given you when you were young. If you wouldnt stand right next to Michael Hartline and boo him or Rich Brooks to his face,
then sit your ass down
, shut your mouth and watch the game. Remember any fool can yell, but it takes a man (or woman) to act with class.