The KSR P.H.B. - Round One - Coach K vs. Francisco Garcia
(2) Mike Krzyzewski -
Ah, Coach K. The orchestrator of the longest parade of chumps to ever call one university home. There are a number of reasons to hate Coach K. I think the number is somewhere around 463,785. Whether it's seeing the cheese-eater's face all over the NCAA tournament in commercials about leadership and credit cards (actually that's the same commercial) or listening to hypocrisy after hypocrisy come spewing out of the guy's mouth, the mere acknowledgment of his existence makes me nauseous. I mean, according to him, people should be nice to the Dookies when they go on the road, because JJ Redick got it too hard from opposing fans. But Duke fans making fun of people for being stupid is totally cool. They're the best fans in America, baby! And who better to learn leadership from than someone whose example of on-court leadership is one of the foulest mouths we see roaming the sidelines today? I'm going to stop, because if I don't I'll sit here spouting haterisms about the K all day. I need to save some for you all.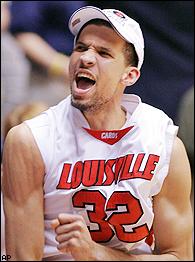 (7) Francisco Garcia -
In the words of the patron saint of hate, Silky Johnson, "What can we say about Francisco Garcia that hasn't already been said about Afghanistan?" Garcia and his band of merry men signaled the return to the national stage of the Louisville program, which is reason enough for me to hate him. He also led those Cards to the Final Four, meaning Louisville was there more recently than us, which just pisses me off in general. Admittedly, though, Garcia is a classic case of a guy I hated when he was playing that just doesn't irritate me quite as much now. Actually, scratch that. I just looked at the picture of him with the Final Four hat on again. This guy still sucks. ---As expected, yesterday Christian Laettner defeated Edgar Sosa handily to move on to the second round. Also, starting today,
the best comment from each day's matchup will be featured
in the hater post the next day
. I didn't do it yesterday because I didn't think of it and because I think people hate Laettner so much it clouds their humorous creativity, so there weren't any great ones. But from now on, put on your comedy caps and see if you can be today's top hater from the comments. You're probably better at it than I am, anyway.
VOTE IN THE POLL TO THE RIGHT