The Latest on Kentucky Football Commit Kiyaunta Goodwin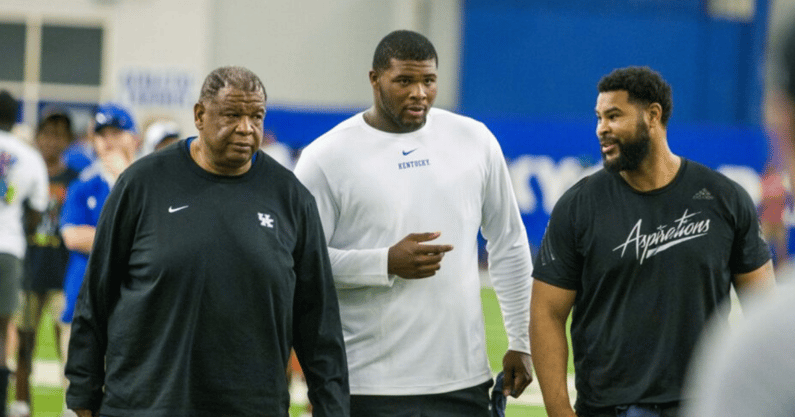 Kiyaunta Goodwin's official visit circuit has created some concern among Kentucky football fans. With less than a month until the start of the Early Signing Period, the Cats are in better shape to hang onto the top-ranked offensive tackle in the country than you might think.
Kiyaunta Official Visit Tracker
Kiyaunta Goodwin unofficially visited Lexington for every home game of the 2021 season. He will miss the season finale at Kroger Field to officially visit Texas A&M. The trip to College Station comes a week after he officially visited Tallahassee to watch Florida State defeat Miami.
The initial news sounds bad, but the visits to FSU and A&M might actually be a good sign for Kentucky. The Seminoles and the Aggies have not been considered top contenders throughout his recruitment, like Alabama and (previously) Ohio State. Instead of a significant threat, the trips to Texas A&M and Florida State feel more like enjoyable excursions. Obviously, that can change this weekend in College Station, but I am not the only one sharing this sentiment.
On3's Chad Simmons acknowledged that others are pushing for Kiyaunta to flip. However, he writes, "This one still looks like an Alabama-Kentucky battle entering this weekend. "
An Emphatic LOL
There is one more official visit tentatively scheduled. Kiyaunta is expected to end the regular season watching Michigan vs. Ohio State at the Big House. Other programs are clamoring for Goodwin, but On3's Flip Forecast is only at 30%. It may feel higher than you'd like, but it appears UK is still in the driver's seat.
If you need any inclination how Kentucky feels about its chances of securing a signature from Kiyaunta on Dec. 15, look no further than Twitter. Former Rivals scoop-man Dave Lackford laughed at the notion of Goodwin flipping to Florida State, a sentiment Vince Marrow echoed in a Tweet that has since been deleted.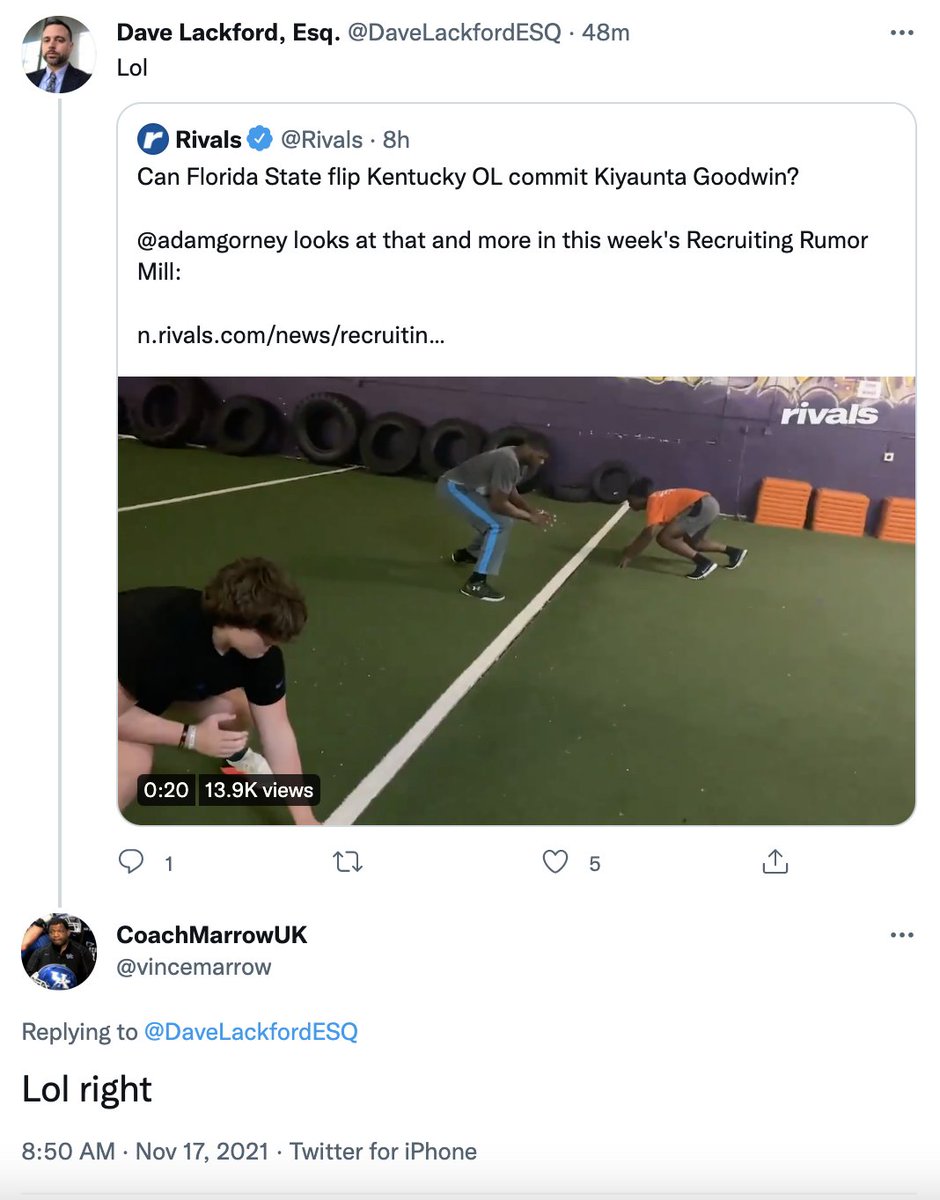 Get Goodwin Back on Campus
Kiyaunta's nationwide tour will reach a conclusion after Thanksgiving weekend. Then there are only two weekends remaining before he reaches a final decision. He'll spend one of those weekends on a college campus hanging out with other recruits. If he's in Tuscaloosa, the writing may be on the wall for the Cats. If Kentucky can keep him in Lexington, all signs point to Kiyaunta signing on the dotted line with the Wildcats on Dec. 15.