The latest on Kentucky's chances with 2022 five-star center Adem Bona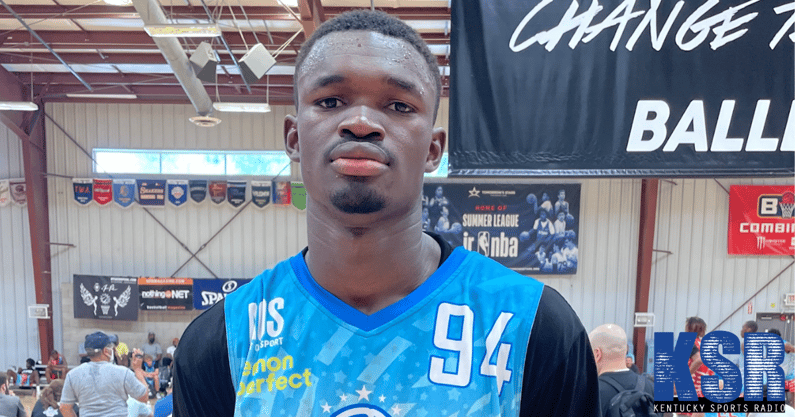 While the city of Lexington was rushing the field and burning couches to celebrate Kentucky football's victory over Florida on Saturday, the men's basketball staff was hard at work on the recruiting trail. Five-star center Adem Bona made his way to Lexington for an official visit, exploring the ins and outs of the program from Oct. 1-3. He was joined by UK commit Chris Livingston, who announced his pledge back in September.
It was an opportunity for Kentucky to regain some momentum with Bona after things shifted in favor of other programs – namely UCLA and Kansas – in recent weeks.
Did they take advantage of that opportunity? Certainly. UK absolutely made up ground and positioned itself well going down the home stretch of Bona's recruitment.
Kentucky visit is an overwhelming success
The five-star center explored campus and the basketball facilities, sat in on a class, watched practice, enjoyed a meal at one of Lexington's finest steakhouses, attended the football game, and most importantly, talked over his potential role and fit within the offense with John Calipari. It was a visit that exceeded all expectations Bona had going into the visit.
"They were able to ease a lot of the concerns he had about being used in the offense," a source close to Bona told KSR following the visit. "… Overall, it was a great visit. He really enjoyed it."
It wasn't the NBA-quality facilities, fancy steak dinner, or the football game that wowed him, necessarily. In fact, he left after the first quarter of the game to grab a bite to eat and didn't even get to see the madness unfold following the upset. He saw videos of the field storming and excitement on State Street — Bona liked seeing the passion of the fanbase and its support in big moments for the school — but the game wasn't the highlight of the trip.
Instead, the highlight for Bona was his meeting with the coaching staff and the vision they laid out for him. He received the blueprint he was looking for, and then got to watch it all come to life in a Calipari-led practice where he watched the upcoming 2021-22 team in action for the first time.
"There's a precedent for it and Adem finds comfort there."
Kentucky is moving toward a four-out offense that puts an emphasis on speed, versatility, tempo and shooting, similar to the style of play we saw in 2016-17 with the likes of De'Aaron Fox, Malik Monk, Isaiah Briscoe and Bam Adebayo. And with Bona modeling his game after Adebayo, it's a pitch that certainly intrigues the 6-foot-10 center.
At the end of the day, he wants to be able to showcase his versatility on both ends of the floor, not find himself limited to screens, rebounds and clean-up dunks. Kentucky showed him that blueprint.
"There's precedent for it and Adem finds comfort there. He feels good," a source close to Bona told KSR. "Ultimately he wants to go to a school with a vision for him that's bigger than just as a screener and as a rebounder. The precedent is there and Kentucky did a good job selling what exactly his involvement would be. He feels good about everything right now."
Bona knows the Adebayo we see now is not the Adebayo we saw in high school or in his lone season at Kentucky. He's not asking to come in and run point forward or demand the offense run through him; he just wants to go to a school that will allow him to develop some of those skills to prepare him for the next level.
"In a perfect world, he'd love to play a similar game to what Bam plays now, a short-roll (style of) basketball," a source told KSR. "… He wants to start transitioning to a game that's a bit further from the basket, but he knows where he's dangerous right now. … He just wants to go to a system that's going to enable him to get better at the things he wants to get better at. Kentucky has the precedent there and they've shown him a pathway to get to that."
UCLA remains firmly in the hunt
Kentucky did its part, but it's no lock he winds up in Lexington for good. As KSR discussed thoroughly back in September, the five-star center felt UCLA and Kansas had gone out of their way to prioritize him in the frontcourt, while Kentucky was pushing all its chips in on Dereck Lively II. When Lively committed to Duke, Bona didn't want to be a rebound target for the Wildcats.
As a result, the playing field was leveled, with UCLA standing out among the other top contenders.
"UCLA has made him feel prioritized from day one," a source told KSR. "They'd done a lot of things to show it's not all talk. He loves Mick (Cronin's) coaching style, it's one he responds to really well. … The ability to come in, play with good guards, and have an unbridled ability to be that guy at the five position (is intriguing)."
Beyond UCLA and Kentucky, Kansas and the NBL are the remaining finalists. Conversations with the NBL have been put on hold, as the league offered Bona a two-year contract that would allow him to begin his professional career now, a deal he ultimately declined. Bona was impressed by Kansas on his official visit and the Jayhawks may have briefly surpassed the Wildcats on his list leading up to his trip to Lexington, but Kentucky did enough to reclaim its position in the top two alongside the Bruins this weekend.
Decision coming soon
As for what's next, Bona will take an official visit to UCLA on Oct. 22, with a decision expected to come the following week, per source. The current target date is Monday, Oct. 25, with that potentially being finalized as early as this week.
Kentucky's visit was wildly successful and put the Wildcats in strong contention coming down the home stretch of his recruitment. Bona had concerns going into the visit, and the UK coaching staff made sure to clear those up before he left Lexington.
Was it enough to retake the lead and come out on top when he announces his commitment later this month? That remains to be seen. No final decision has been made internally and there is a sense nationally this will be a neck-and-neck race between the Wildcats and Bruins over the course of the next three weeks.