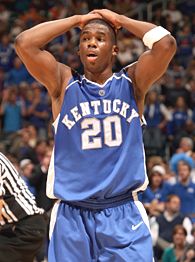 Well it doesnt get a lot worse than that.....at least we hope not. The Cats
fell tonight to Houston 83-69
in a game that was only a Joe Crawford "I am not passing the ball to anyone because we arent losing by more than 20" performance from being a truly embarrassing score. For 12 minutes, the Cats not only played well, but looked like a rejuvenated team with Jodie Meeks on the floor. Even missing Patrick Patterson, Kentucky came out and moved the ball, broke the 1-3-1 defense (showing that Billy Clyde did make adjustments) and producing a better offensive flow than we have seen all year. But then the wheels fell completely off, especially on the defensive end. No rebounding to speak of, no rotation on defense.....and the result was an embarrassing display of wide open three after wide open three that busted the game open and was followed by a loud click of the Commonwealth state's collective turning off of its televisions. It says a bit about how bad the performance was, that one cant even really go into all that went wrong. But a few things tonight stood out....
(1)
This game may have
perfectly summed up Joe Crawford.
For most of the game he played ok....scoring on offense, missing assignments on defense and looking a bit selfish, but still giving effort. Then at the end, he turned into "Super Joe", the best "down by 23 points" player in America.....showcasing a number of moves, three point plays and keeping the Cats from producing an all-time stinker. Add to that the fact that Joe shaved his head (that aint the look for you Joe) and he once again became the story of the night. But someone please tell Hubert Davis that his name is not "Joey."
(2)
Story #2 of the night:
the unleashing of Jared Carter.
This game also perfectly encapsulated all that is Jared C and showcased why it is so difficult to figure out what to do with him. He scored 6 points, showcased a few offensive moves and produced (according to the Turkey Hunter), a patented "Triple Single." However he got no real rebounds that didnt fall in his lap, was beaten on defense nearly every time and showed rotation skills that made Shagari shake his head. Jared did show improvement....but he simply cant play in games where the other team pushes it on offense.
(3)
Great to see
Jodie Meeks back.
Even though he was hot early, you could also tell he was rusty....as seen by the fact that he missed a number of free throws....something Jodie just doesnt do. However he played a classic Meeks game, checking his man on defense, throwing himself onto the floor after loose balls and being in the right spot on offense. While the offense in the second half looked bizarre (did we bring back the 3 man weave from the Globetrotters?), Meeks showed that he is a HUGE improvement when on the court.
(4)
As for
the other guys....whatcha gonna do.
Perry Stevenson still looks like he is trying to catch the ball with iron gloves, Ramon Harris cant dribble to save his life, Michael Porter was better but still is a turnover machine and Mark Coury played a typical Mark Coury game. These guys give it their all and you cant really complain....they are what they are.
(5)
Every Cat fan's heart took a nose dive when we heard that
Patrick Patterson wouldnt play.
Simply put, this team without Patrick Patterson cannot beat anyone, anywhere. He would have made a big difference on the boards, would have limited second-chance points and would have helped a team desperately in need of an inside presence. He needs to get well soon, or it will get ugly.... So yes,
that was really bad.
Houston is not a great team and was a game the Cats needed to win. Absent a huge turnaround, worrying about the NCAA Tournament is really secondary at this point.....it likely wont happen. What needs to happen is some positive momentum around the program. It was great seeing Chuck Hayes and Keith Bogans at the game in their Kentucky Blue hats.....the Cats need that positivity. Tonight was so bad that if not for the decision by the Turkey Hunter and Mosley and I to simply make jokes throughout the game (feel free to guess the topics), it would have been unwatchable. I am not sure where this team goes from here.....but lets hope this is the nadir and everything else is a slow rise.