The Mongolian Wrestling Coaches' Monday Morning Wakeup
[caption id="" align="alignnone" width="800"]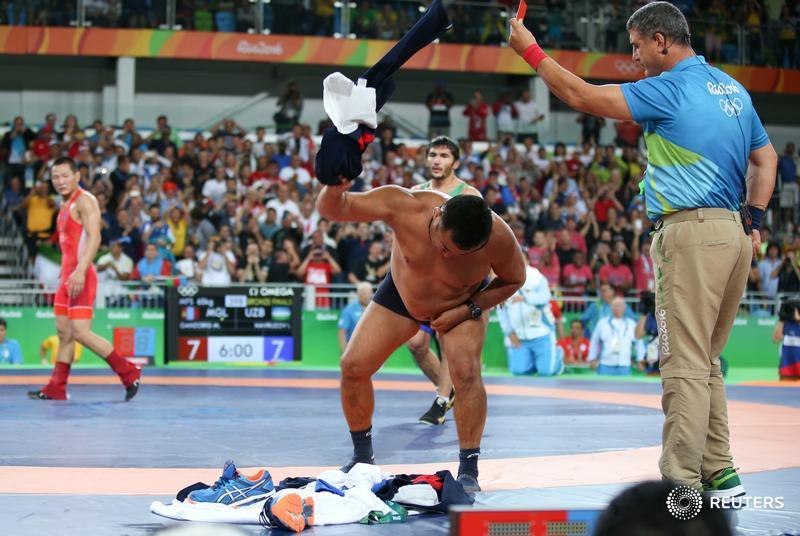 ‏@CassLGarrison
[/caption] Ever have a day that's so bad you just want to strip down to your skivvies and scream? Well,
two Mongolian wrestling coaches did just that yesterday, taking off their clothes in protest 
when their athlete, Ganzorigiin Mandakhnaran, lost the bronze medal match to Uzbekistan's Ikhtiyor Navruzov. With one second left in the match, it appeared that Mandakhnaran had won, prompting his coaches to run onto the mat to celebrate, only to find out a few seconds later that he had been penalized a point for celebrating too soon. From there, the bronze medal was awarded to Navruzov, and the Mongolians had none of it, throwing out the challenge flag, and when told they couldn't challenge the call, stripping down in protest:
#MGL Mongolia's #wrestling coaches are not thrilled about their #bronze medal loss to #UZB Uzbekistan #Rio2016 pic.twitter.com/MFrpr30BRu

– Copper Pepper (@CopperPepp) August 21, 2016
If you feel a case of the Mondays coming on today, I encourage you to try this at work. Let us know how it goes.
UK is letting the media watch part of practice
We are 12 days away from kickoff, and to celebrate, UK is letting media members observe the beginning of practice this morning. Check back in around lunchtime for videos, pictures, and observations, along with Mark Stoops, DJ Eliot, and select defensive players' remarks. Saturday's scrimmage summed up pretty much what we've been hearing throughout camp: the offense looks good, and the defensive front seven looks...well, worrisome. As Freddie Maggard noted yesterday, we all knew the front seven was the team's weak spot, but over the weekend, that vulnerability became concerning.
Click here
to read more of Freddie's take on it.
Yesterday, the players had a photo shoot with ESPNU
[caption id="" align="alignnone" width="1560"]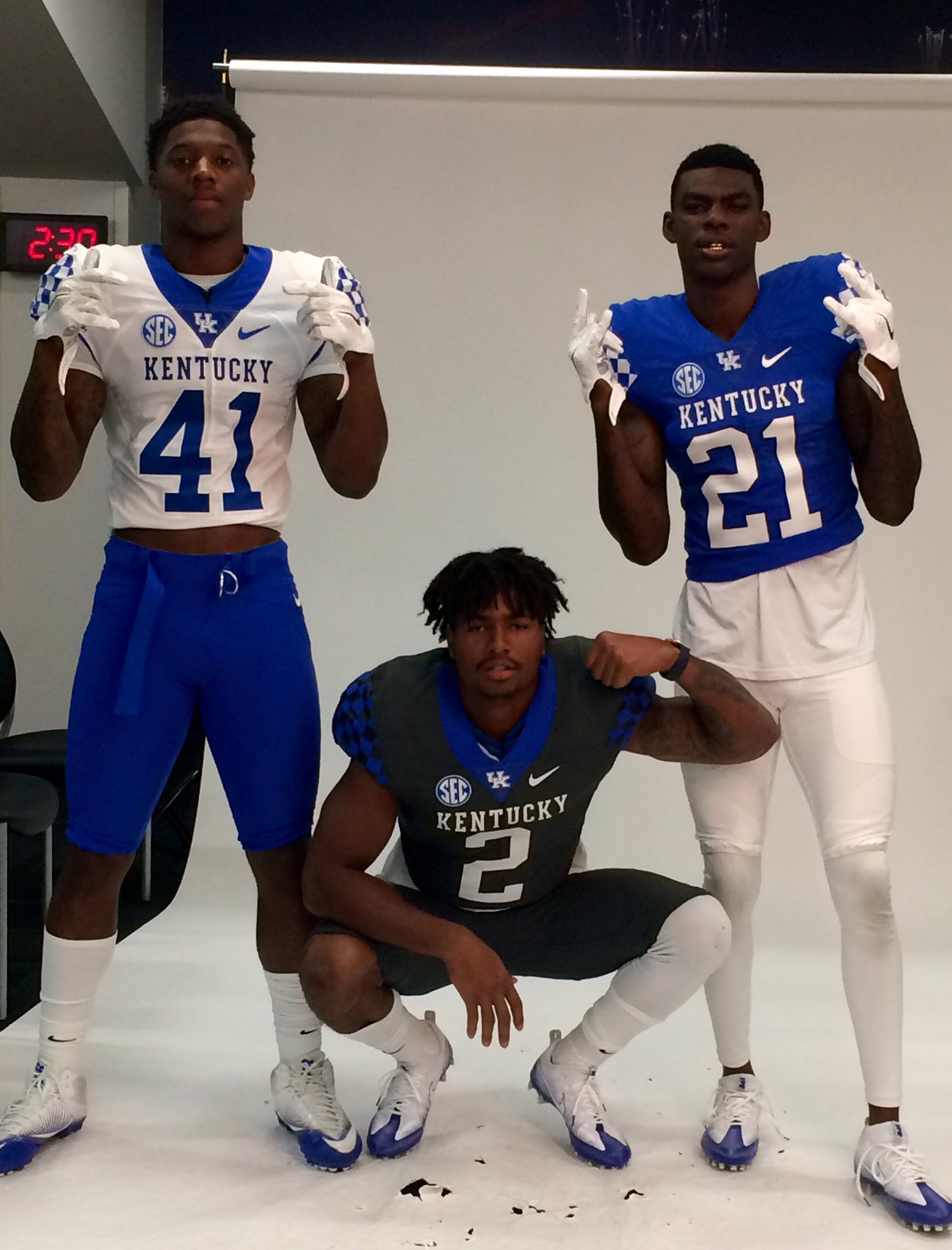 @The1stTheory[/caption] ESPNU is broadcasting UK's season opener vs. Southern Miss, and photographed Josh Allen, Dorian Baker, Chris Westry, and others for the promo packages. Looking good, fellas.
Will Tom Collins and Tanner Fink also got scholarships
Shoutout to senior fullback Will Tom Collins, aka "Taco Meat," and senior tight end Tanner Fink, who were awarded scholarships yesterday after practice. Very cool moment for them both, and CJ Conrad paid tribute Sunday night: https://twitter.com/cjconrad1/status/767518247264673793
Basketball players report back to campus
News has been few and far between when it comes to basketball this summer, but hopefully, that drought is about to come to an end. With classes starting on Wednesday, the basketball team is reporting back to campus after some time off, which means more news should start trickling out from the Joe Craft Center. Prior to the break, here's what we had heard:
Isaiah Briscoe has assumed the role of leader as Tyler Ulis did last season
Malik Monk, De'Aaron Fox, and Bam Adebayo are the freshmen who are the most "far ahead," with Monk turning heads in pickup games with former players
Isaac Humphries has made a considerable jump since last season, and is in really good shape
So far, this group has had an amazing work ethic, on par or even surpassing the 2011-2012 group
With the Calipari Fantasy Camp coming up this weekend, I'm hoping that list of insider tidbits grows.
Boogie got gold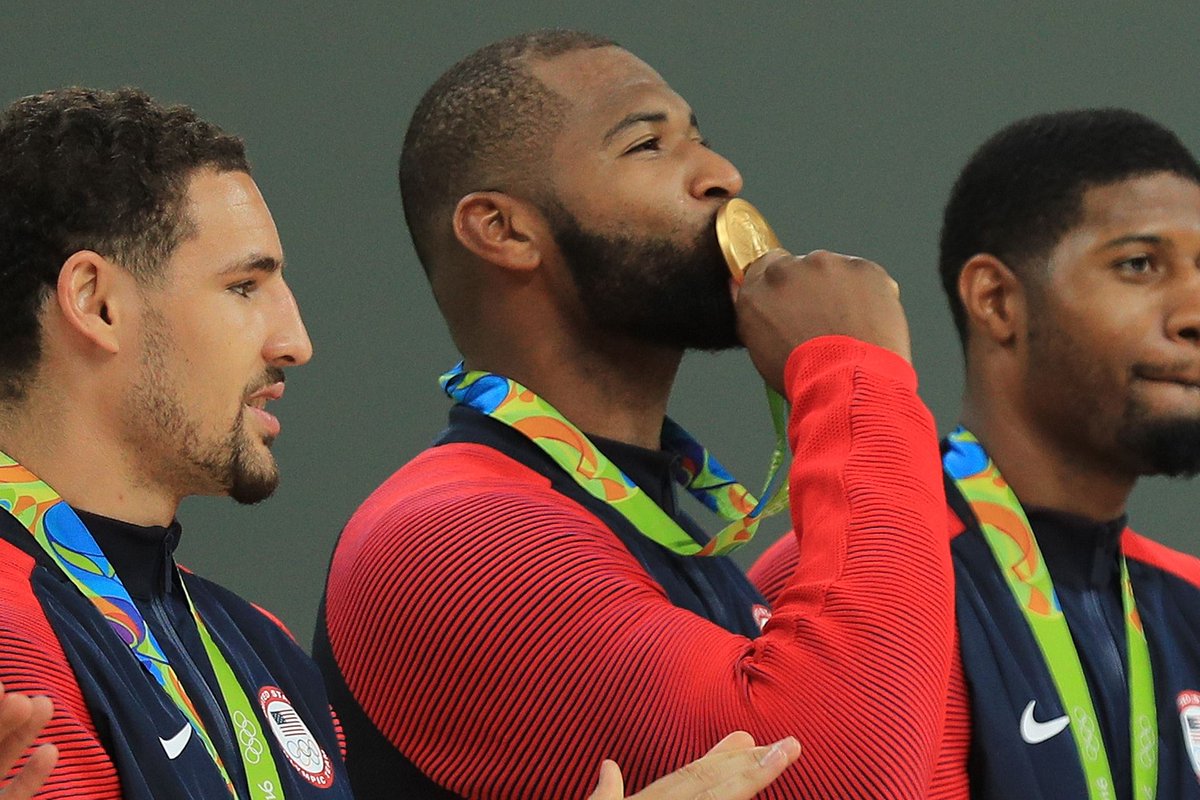 It wasn't exactly surprising, but Team USA beat Serbia 96-66 yesterday afternoon for the gold medal. DeMarcus Cousins chipped in 13 points and a game-high 15 rebounds during his final performance with Team USA, an assertive outing after a few lackluster games in Rio. Afterwards,
Boogie told reporters that winning gold was "the best feeling ever."
"It's an incredible feeling," he said. "It's all worth it in the end. All the B.S., everything we went through, everybody kind of went through their own type of adversity. We all overcame it. This is the best feeling ever. Honestly, it's the best feeling ever." Well done, Boogs.
Did you hear my podcast with Last Chance U's Brittany Wagner?
If not, you've got just enough time to listen to it before Matt, Ryan, and Shannon discuss the show on KSR this morning. Brittany was kind enough to sit down with me for an hour to talk about the show, how she came in to her line of work, and how emotionally exhausting her job can be at times. If you like the show, you'll love this podcast, so please check it out, and send Brittany a thank you note on Twitter 
@Brittany_MSgirl
. She told me she's been overwhelmed by the support from the BBN thus far. To listen, just subscribe to "
Kentucky Sports Radio
" on iTunes or stream 
on Podbay
.
KSR is in Pikeville
But where? Find out in an hour...