The New Orleans Block Party's Friday Draft News and Draft Views
Big Blue Nation's NBA interest was at an all-time high for about eight minutes Thursday night when
the New Orleans Pelicans selected Nerlens Noel with the sixth overall pick in the draft
. The one-time projected No. 1 pick shockingly found himself outside the top five selections, but that didn't matter anymore once the opportunity to play with Anthony Davis swooped in and saved draft night for Nerlens, and for Kentucky fans. Two Kentucky Wildcats, two of the best shot blockers to ever play college basketball, on the same team at the next level? Hell yes. Hell. Yes. But it was too good to be true. Shortly after donning the Pelicans hat and shaking hands with the commish, Nerlens Noel was
dealt to Philadelphia for Jrue Holiday
. The 'shot blocking party' Noel spoke of in his post-draft interview, it never happened. The Pelicans didn't even have time to print the invitations. Coach Cal did his best to sell the possibility of Noel and Davis playing together during his interview in the green room, but management wasn't listening. They were too busy negotiating the deal that
broke the hearts of Big Blue Nation
. But we'll always have those eight minutes. The Pelicans can't take those away from us. That excitement we felt, it was real. Those visions of Anthony Davis and Nerlens Noel meeting each other at the rim to block a shot together, they were real. And, man, it was exciting. New Orleans shot blocking party, we hardly even knew you. But we loved you. Let's talk about whatever just happened on ESPN...
After weeks of hearing the "experts" debate Alex Len and Nerlens Noel at the top spot, the Cleveland Cavaliers did exactly what no one said and
drafted UNLV's Anthony Bennett first overall
. Bennett became the first Canadian born player to hear his name called first -- there will be another next year -- and he fills a need at power forward that Cleveland doesn't have. Bennett said he was just as surprised as anyone else when David Stern called his name. Dan Gilbert, y'all. Dan Gilbert.
 I think we can all agree that
the look on Nerlens' face
as David Stern introduced Bennett was tough to watch: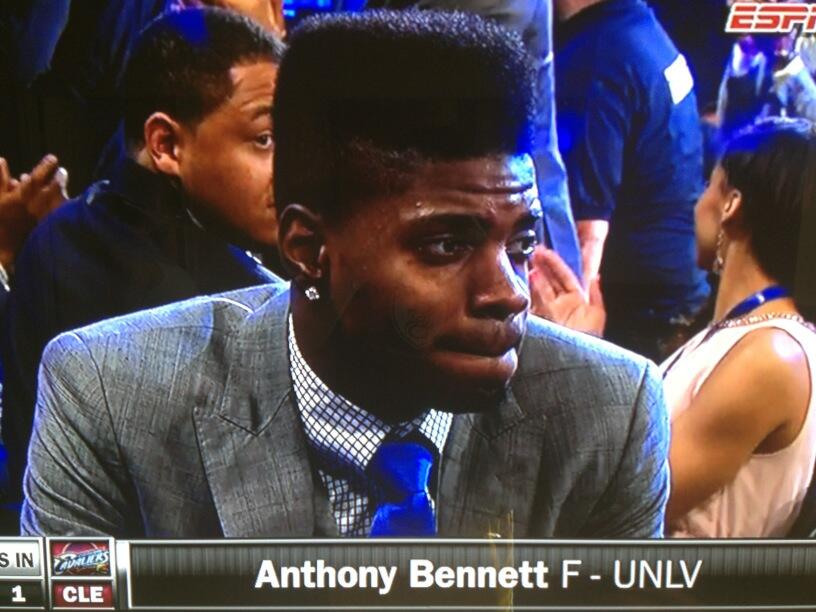 It tugged on our heart strings a little bit.
Cleveland's unexpected top selection was only the beginning of Nerlens Noel's plunge from the spot once believed to be his. Orlando took Victor Oladipo with the second pick; Washington drafted Otto Porter Jr. at No. 3; and then
the Charlotte Bobcats did the most Charlotte Bobcats thing ever and took Cody Zeller
with both Alex Len and Nerlens Noel still on the board. Bobcats fans didn't find it as humorous as the rest of America: At this point you'll have a difficult time convincing me Michael Jordan isn't intentionally sabotaging the Bobcats organization. That is the only explanation I can come up with for drafting Cody Zeller over Noel, Len and Ben McLemore. Jordan is either doing this on purpose, or he lost a poker game to Cody Zeller's father. Or he's high. One of those three scenarios led to Cody Zeller going to Charlotte, maybe all of them.
 By the way,
does SheridanHoops.com even bother reporting NBA news anymore?
It was a rough week for the website. The report that Charlotte was trying to trade Michael Kidd-Gilchrist was refuted by everyone, so Sheridan went all-in on Thursday by saying Alex Len will go to Cleveland, barring a trade. Good luck finding that credibility any time soon, guys.
 Once we all gathered ourselves and tuned back in following the Zeller comedy, Nerlens Noel went sixth overall to New Orleans and was shipped to Philadelphia, as I wrote above. Philly then took Michael Carter-Williams with the 11th pick,
pairing Noel with his former AAU teammate
. Carter-Williams told Shane Battier that he and Nerlens are best friends and have always talked about one day playing in the NBA together. They never imagined playing on the same team, though.
#ThrowbackThursday
 Noel learned of the trade when a reporter told him in the interview room. He said he
had no contact with the 76ers organization prior to the draft
. Noel only met with Cleveland, Orlando and Washington because he didn't expect to fall out of the top three. That could've hurt him with Charlotte and Phoenix, but now that it's over with, he should be satisfied with where he ended up.
 While Philadelphia is an ideal spot for Noel, the financial hit he'll take by slipping to sixth is going to sting a little bit. 
Noel will lose about $4.4 million over the first two years by going sixth instead of first
, according to Darren Rovell. Ouch.
 And what about that 
surprise for Big Blue Nation
, you ask? It was inside his jacket...
Noel flashed a Kentucky jersey sewn inside his suit jacket when he finally heard his name called. It would've been much cooler had he gone first overall, but still cool nonetheless.
 He had to sweat it out til the very end, but
Archie Goodwin is a first round draft pick
. That means the 18-year-old from Arkansas is getting guaranteed money at the next level.
Burrrrrrrr!
Archie was drafted 29th, the second to last pick in the first round, by the Oklahoma City Thunder on behalf of  the Golden State Warriors who traded Archie to the Phoenix Suns. Phoenix was the only team he worked out for twice. Goodwin gets a guaranteed two-year deal worth around $1.1 million in his first season.
 I watched every minute of the NBA draft coverage and still don't have the slightest clue as to what happened through most of it. I'll wrap up tonight's very late night post (my apologies) with quick hitters, otherwise known as
 the first things that come to mind as I replay the five hours in my head
. Buckle up, we're going fast... -- Coach Cal was the only coach interviewed in the green room. #KentuckyEffect -- Indiana had two players selected in the top five but couldn't make the Elite 8 last season. #CreanEffect -- Michael Jordan is going to be pissed when he wakes up and reads that he drafted Cody Zeller. -- How the hell did that hat stay on BeBe's afro? And who the hell told Adidas those hats were OK? -- Did we just watch Coming To America 2? -- Hakeem Olajuwon surprising David Stern was awesome. Very cool moment for NBA fans. -- Good luck fitting Antetokounmpo (yeah, I Googled it) on the back of a Bucks jersey. -- Happy to see Shabazz Muhammad get his moment on stage, all draftees deserve it, but it was uncomfortable to watch. So awkward. -- All draft experts, gurus, specialists, analysts and mock draft writers are overpaid. Even the ones who don't get paid anything. They're overpaid, too. -- Fran Fraschilla doesn't have a clue, but neither do we so he can tell us whatever he wants about the international players. -- It was a great night for the D-league. -- I do not envy whoever oversees NBA trades but I hope they get overtime pay. -- Not many people would've been as bad as Shane Battier at interviewing players as they came off the stage. Maybe Paula Deen, but that's about it.   Good night, folks. Sleep tight. Don't let the bed bugs bite. Watch your backside, Aaron Hernandez.