The Old Kentucky Football tried to rear its ugly head, but failed
[caption id="" align="alignnone" width="600"]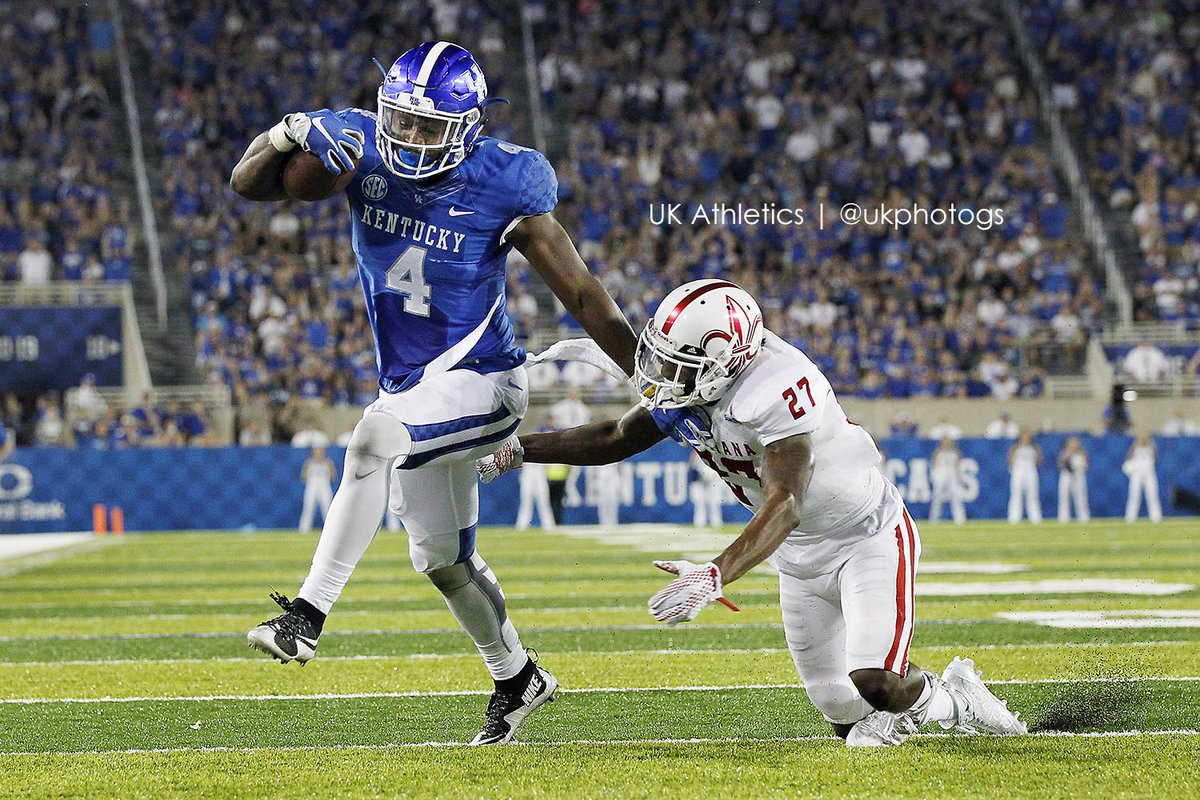 Photo by UK Athletics[/caption] For a minute there, the script seemed all too familiar. After the grand opening of the new -- and beautiful -- Commonwealth Stadium, 
old Kentucky football tried to make a comeback
. After the Cats squandered a 21-point lead to let Louisiana Lafayette tie it up with 7:36 left, it felt like the ghosts of old were rising up from the ancient burial grounds beneath Commonwealth Stadium to have the last laugh. With the team on their heels and the much-ballyhooed youth trembling in their cleats, admit it: part of you thought they were going to lose. Part of you was ready to throw your hands up to the football gods in defeat. Not Mikel Horton. With 57 seconds left, the sophomore running back ran 12 yards into the end zone, putting the nail on the coffin of a devastating season-opening loss. From the fans still left in the stands, one might say Horton heard a "phew." "Losing didn't cross my mind," Horton said afterwards. "It was about executing. We worked so hard through the summer and spring and now we have the opportunity to show what we have worked for. That was the frustrating part for us." A win is a win, but there were a lot of frustrating parts. After moving the ball well in the first half, Patrick Towles was completely out of it in the second, completing only 6-of-16 passes for 38 yards and throwing an interception. The normally poised veteran was so rattled, he even fumbled a snap. Then there were the freshmen, four of which got their first collegiate start. Their talent has been hyped, but after the energy of a big start wore off and Louisiana Lafayette refused to go away, the nerves kicked in. With the score tied at 33 late in the fourth quarter,
senior linebacker Josh Forrest sensed panic on the sidelines and stepped up
. "I think a few heads were down, but some of the vocal leaders got the younger guys together," Forrest said. "Telling the young guys that if they make mistakes to keep their heads up. Denzil (Ware) lost an edge on one play and came to the sideline with his head down. I said, 'It's alright. We got this. We're going to be OK. (The) offense is going to get it done, and we're going to come out and make the last stop.' I think last year I would have argued and been frustrated, but I know that people mess up. We play better when we're calm. When we're arguing and are uptight and upset, we don't play so good." Forrest was pleased to notice Ware took his words to heart. "I watched Denzil after I told him to keep his head up. He plays so much better when he's calm and I watched him and said 'you're alright, you're alright.'" Forrest's fellow Paducah Tilghman alum JD Harmon also stood tall. After spending part of last season in Stoops' doghouse, the junior corner had a career night, with six tackles, a forced fumble, a pick, and a kickoff returned inside the 20-yard-line. More importantly, he helped keep his teammates calm and focused when the game was on the line. "Just keeping our composure. That's the one thing we were screaming on the sideline. 'Stay calm, stay calm! We've got time. Don't get too emotional, keep your composure.' That was the main thing that we had to do. We did that and I think we showed a good sign of character. Games like this, I think they're going to help us out in the long run, being in a pressured situation like this, to finish the game strong. I feel like we did a good job with that." Harmon said once he and other vocal leaders on the team got their younger counterparts focused on the positive and not the negative, the fog cleared. "Everyone was screaming the same thing, 'Composure, composure. Let's go!' Make sure who's on the field was getting those guys fired up. The offense, defense. I feel like that helped a lot. We were rooting for offense. 'Come on, let's do that! Take it in, take it in!' Next thing you know, Mikel, he gets a nice run and gets in the end zone. Then we come on special teams, we get riled up before we take the field and we stop them. Defense, we get those guys ready and we come up with a good stop. All in all, we did a good job of keeping each other composed." Whether it be first-game jitters, the remnants of Kentucky football's losing mentality stirring in the drywall dust, or just one hell of a Louisiana Lafayette team, the Cats survived a scare. For a minute, the glitz and glamor of the new stadium, Boom Williams' incredible opening run, and deep pass after deep pass connecting had us believing the most optimistic of season predictions; however, after the shine wore off, flaws were exposed. Where there is talent, there is youth. Thankfully, when that youth faltered, there was veteran leadership to hold it steady. The biggest sign the old Kentucky football is gone and buried? They won.