THE PLAYERS' Thursday Morning Wakeup
Big day for golf fans as THE PLAYERS Championship gets underway down at lovely TPC Sawgrass. Golf's only all-caps tournament is considered the fifth major on tour, and has the highest prize fund of any tournament in the sport. The first-round teed off a little earlier this morning and it will be on all televisions in the KSR office all day long and throughout the weekend. A few fun facts to preview the tournament:
-- Rickie Fowler is the defending champion.
-- It's Jordan Spieth's first tournament since his Masters collapse.
-- The field includes 46 of the top 50 in the World Golf Rankings.
-- Spieth and Jason Day missed the cut last year.
-- Hideki Matsuyama is my pick to win it. If not him: Rory McIlroy.
Now to the non-golf stuff...  
ESPN2 will televise the NBA combine today and tomorrow.
The Deuce will go live from Chicago later today and tomorrow for four hours of NBA combine coverage each day. The telecast begins at 3 pm and will feature live looks from the two scheduled five-on-five scrimmages, in addition to the regular set of drills: max vertical leap, no-step vertical leap, court sprint, shuttle drill, bench press and shooting drills. The broadcast crew will be led by Mark Jones and will include Jay Bilas, Jay Williams, Fran Fraschilla, Tom Penn, Andy Katz and Caron Butler. Tune in or check KSR for complete coverage of the four participating Wildcats.
John Calipari spoke to the media for almost 40 minutes yesterday.
Coach Cal had way too much to say in his offseason press conference for me to rehash it all here, so follow these links from yesterday's stories to get completely caught up:
-- Calipari expects Marcus Lee to stay in the Draft; Alex Poythress' knee not fully recovered
-- Calipari denies recent comments have been targeted directly at Duke
-- Calipari delivers a final message to Marques Bolden
-- All five signees will be on campus this summer
-- 7 leftovers from Calipari's offseason press conference
-- Everything John Calipari said at Today's Press Conference
Watch it all for yourself: Lots of good stuff in there. We'll discuss it all further throughout the day.
Mark Stoops found his new assistant.
Stoops has replaced Andy Buh with Matt House, formerly the defensive coordinator at FIU, to coach positions to be named later. Look for a formal announcement from the football program sometime today or tomorrow. For more on House, check out Roush's research on him 
here
.
Devin Booker invited to join Team USA select team.
Booker's big year continues with an invitation to Las Vegas to play with the USA select team this summer. Players on the select team do not participate in international play, but they do scrimmage against the national team in preparation for the upcoming Olympic games. The select team also provides the opportunity for young players to showcase their talents for consideration of a national team spot in the future. It is a great opportunity for Booker.
UK announced basketball exhibition schedule and Big Blue Madness.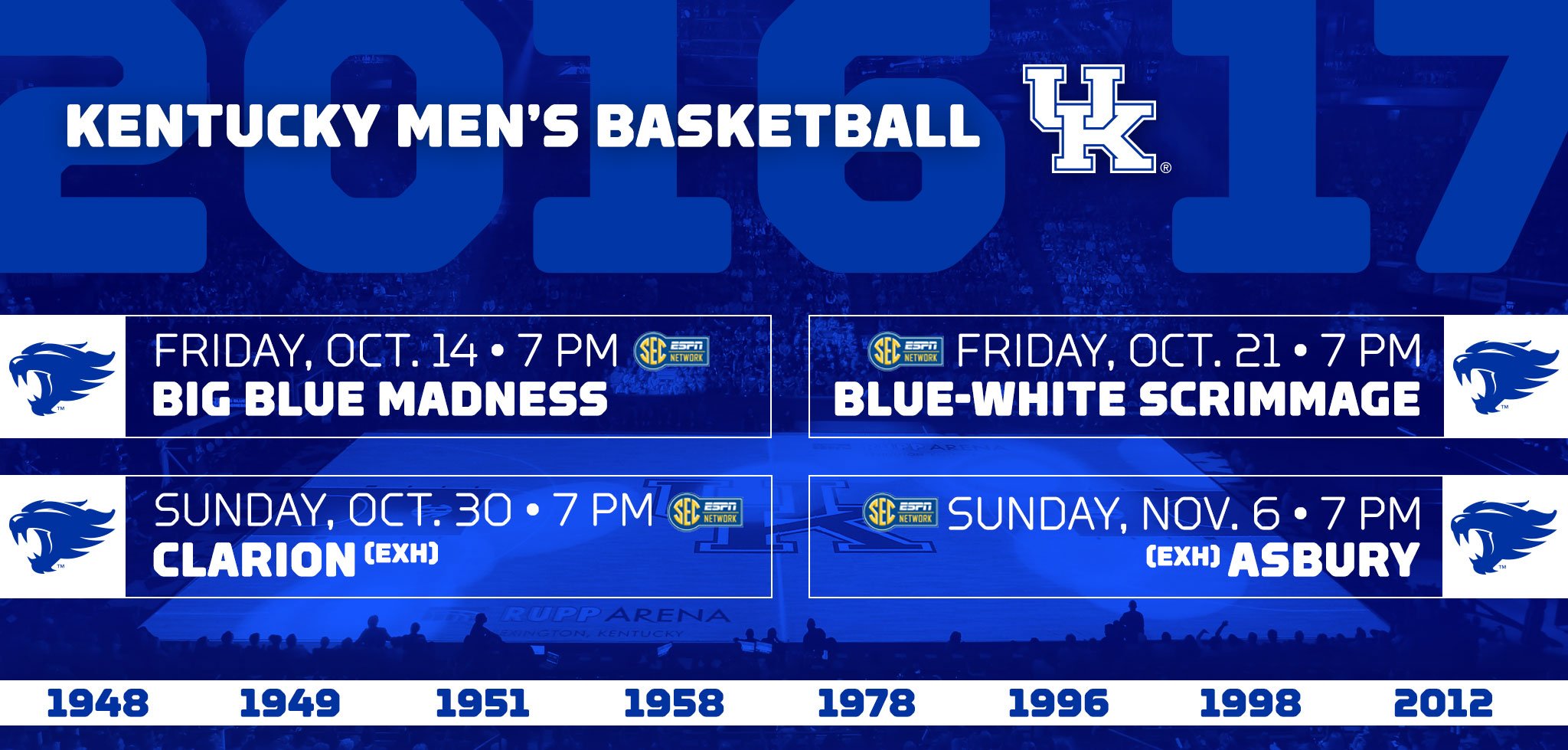 UK announced on Wednesday that the Cats will host Clarion, John Calipari's alma mater, for a second time during the Calipari era. That will be the first of the upcoming season's two exhibition games, with the second being against Asbury, a first-time opponent for Kentucky.
| | | | |
| --- | --- | --- | --- |
| Date | Event/Opponent | Time | TV Network |
| Oct. 14 | Big Blue Madness | 7 p.m. | SEC Network |
| Oct. 21 | Blue-White Scrimmage | 7 p.m. | SEC Network |
| Oct. 30 | vs. Clarion | 7 p.m. | SEC Network |
| Nov. 6 | vs. Asbury | 7 p.m. | SEC Network |
We also learned Big Blue Madness will be held on Friday, October 14, which is an off-weekend for Kentucky football.
Steph Curry isn't human.
The MVP Steph Curry puts his team ahead at the end of the third quarter! https://t.co/Jjf2Ly1GOh

— NBA TV (@NBATV) May 12, 2016
HOW DOES HE DO IT