The Rock's Diet's Wednesday News and Views
Dwayne "The Rock" Johnson, that guy from all those promos for "The Hero" on TNT, was cast as Hercules in the upcoming film
Hercules: The Thracian Wars 
due out next summer. To bulk up for the role, because he was clearly too small before landing the part, The Rock is on an insane diet of
seven meals per day including of over 320 grams of protein.
Here's the menu... ****** Meal 1: 10 oz. filet, 4 egg whites, 5 oz. oatmeal or cream of wheat Meal 2: 8 oz. chicken, 2 cups white rice, 1 cup broccoli Meal 3: 8 oz. halibut, 2 cups white rice, 1 cup asparagus Meal 4: 8 oz. chicken, 12 oz. baked potato, 1 cup broccoli Meal 5: 8 oz. halibut, 1.5 cups white rice, 1 cup asparagus Meal 6: 8 oz. filet, 9 oz. baked potato with salad Meal 7: 30 grams casein protein, 10 egg whites scrambled with onions, pepper and mushrooms ****** That's more protein than most people eat in a week and he's washing it down with water every single day for 22 straight weeks. I guess if we were getting paid millions of dollars to flex our bones, we could probably do it too. But probably not. Not me. I don't see a Beefy Crunch Burrito anywhere on that list. I'll pass. News and Views? Let's go...  
 The first full day of Wiltjer Watch is in the books and the future of the former McDonald's All-American from Portland is still unknown. Andy Katz of ESPN.com heard at least six schools -- Gonzaga, Portland, Texas, Stanford, Oregon and Oregon State --  reached out to Wiltjer about the possibility of transferring, but Wiltjer is still weighing his options for the time being. Those options, we believe, do not include returning to the University of Kentucky for a junior season. As we mentioned on the site last night and on the radio show Tuesday morning, KSR thinks
it will take a drastic change of heart for Wiltjer to return to Lexington this fall
. He was unhappy last season and next year won't be any better, as you can imagine. Calipari wants him to stick around and work on his body and improve athletically for a breakthrough season in 2014-15, but Kyle would rather play somewhere that works around him the way he already is with a new scheme. Those programs are out there; Kentucky is not one of them.
 A reporter for Portland-based CSN Northwest reported Tuesday evening that two sources
told him Wiltjer will soon become a Gonzaga Bulldog
. Those sources told Greg Crawford they would be really surprised if Wiltjer ended up anywhere else. That coincides with all the rumors Kentucky fans have been hearing since March, back when 247 Sports' Jerry Meyer tweeted he was hearing rumblings of a Wiltjer-to-Gonzaga transfer. Where there is smoke, there is fire. And where there is Gonzaga basketball, there are plenty of Kyle Wiltjers.
 Has anyone gotten over
how bizarre
the way this has been handled? Coach breaks transfer news on website but suggests there's a chance player could return, followed by letter from player saying goodbye without officially saying goodbye. It was a very unusual way to handle it, but Kentucky's the gold standard, I guess.
 There are very few things more nerve-racking than
scouring the internet for a clue as to what Cleveland will do with the first pick Thursday night
. It's a good thing the internet isn't making the pick for Cleveland, or Nerlens would end up going first, second, third, fourth, fifth and getting traded to Sacramento for Jimmer Fredette and Kevin Johnson's Suns uniform from the 1995 Playoffs. Draft gurus are all over the place with their projections, so I'm sticking by Chad Ford at ESPN with his prediction that Nerlens will go first overall. Why is Chad Ford right on this one? Because I'm in no position to tell him he's wrong and ESPN has a lot of money. Go Chad Ford. Go Nerlens Noel. Go Cleveland. Everyone else is wrong. Alex Len is a bust.
 Also from the NBA,
Charlotte is looking to move Michael Kidd-Gilchrist 
to make room for Otto Porter at the small forward position. Charlotte believes Porter will still be available when it's on the clock at No. 4, so shipping MKG off now is the best move. This is how I imagine Michael Jordan looks before he makes every decision for the Charlotte Bobcats:
The G.O.A.T. should hand the Charlotte Bobcats reins over to someone else. If he wants. Who am I to tell Michael Jordan what to do?
 American learned a valuable lesson on Tuesday:
Don't spit on Scottie Pippen and use Paula Deen language while he's holding his 4-year-old daughter outside a restaurant. 
And if you ever find yourself in that situation, crawl into the fetal postion and, whatever you do, don't press charges and take the incident public after he puts a '96 World Champions' indention on your forehead.
 Kentucky Wildcats TV posted
an interview with receivers coach Tommy Mainord
on Tuesday. Mainord said
Big Blue Nation and Twitter are really helping out in recruiting
. Pat yourself on the back, Twittering Cats fans.
 On the basketball side of recruiting,
Karl Towns dropped two spots in the Scout.com Top 100 for the 2014 class
. Towns is now No. 10 overall and the fourth-ranked center in the class. Jahlil Okafor is still No. 1 in the rankings, ahead of point guards Tyus Jones and Emmanuel Mudiay.
John Wall will pose nude for ESPN: The Body Issue.
The magazine hits shelves next month. I was really hoping it'd be Marc Gasol or Jeremy Lin.
 Congratulations to
UCLA
for winning whatever it is they won on ESPN. I lost focus at some point during the broadca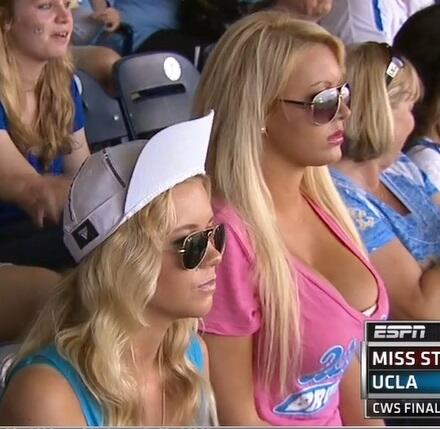 What were we talking about?   KSR will be coming to you
live from Arby's in Paintsville tomorrow morning
. That means Ryan Lemond will be on an apple turnover sugar high when Drew Barker calls into the show to discuss 2014 recruiting. It'll be a fun one.