The SEC Trailblazers' Friday Morning Wakeup
[caption id="" align="alignnone" width="2048"]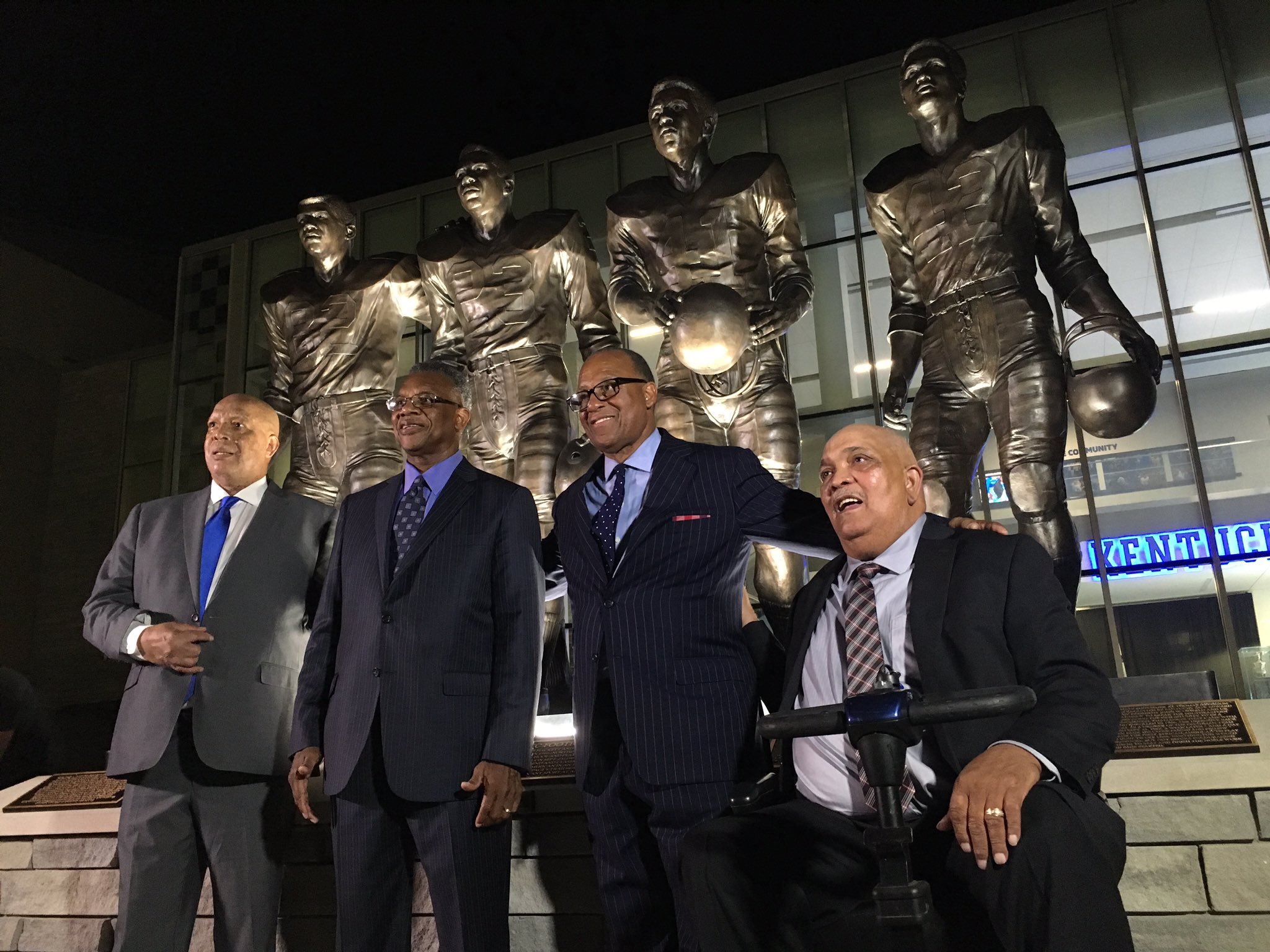 @UKStoopsTroops
[/caption] Every day, it seems like there's a new story about the racial tension gripping this country. From the riots in Charlotte to the shooting in Tulsa and protests at sporting events, there's no denying we're living in a racially charged time, which is why last night was so important.
Last night, Kentucky unveiled a statue honoring Nate Northington, Greg Page, Houston Hogg, and Wilbur Hackett Jr.
, four UK football players who broke the color barrier in SEC Football. By now, you've hopefully heard their story, which for too long went untold. Not anymore. In front of an audience of friends, family, and fans, Northington, Hogg, Hackett, and Page's brother Melvin were honored by the school they so bravely represented. I wasn't able to be there, but could feel the moment's importance even through the live stream. Here's a video recap of the event courtesy of KyWildcatsTV: https://youtu.be/xQXzpjhlrBM As fans, it's easy to get wrapped up in things like wins and losses; however, last night reminded us why sports really matter. Not only do they give us a platform to have fun and use our God given talents, they provide an even playing field that highlights injustice in a way that words and rhetoric just can't. When those four men gave blood, sweat, tears -- and in Page's case, his life -- to play the sport they loved, I'd like to think a message was sent across the South. Even if their story got lost in the shuffle over the years, that message resonates just as powerfully today. And, as fans, how lucky are we that they were wearing Kentucky across their chests when they did it. With that healthy dose of perspective, let's move on to today's agenda.
I'm already nervous about tomorrow night
Kentucky takes on South Carolina tomorrow night in a crucial, crucial showdown. Not only do both teams need a win if they want to even dream of a bowl, it's starting to feel more and more like it's a make-or-break situation for Mark Stoops. It's been a rocky season so far for Stoops and staff, and honestly, this week has been worrisome for me. Oddly enough, it's not Stephen Johnson taking over for Drew Barker that scares me; I have more faith in UK's offense than I have all year. I'm more concerned with Stoops' comments about how his defense is struggling to grasp the staff's schemes. In year four, isn't it time to stop blaming the players for not getting it and take some responsibility for the issues yourself? Before I go off too much on this, I just really, really hope they win. If not, well, things could get pretty interesting.
Kentucky is still a 2.5-point favorite
The game opened as a pick'em and Kentucky's home field advantage is giving them a bump thus far. Honestly, I have no idea what to expect tomorrow, so don't look to me for betting advice.
It's UK Athletics Hall of Fame Weekend
Rich Brooks, Wesley Woodyard, and Chuck Hayes are among the six new inductees to the UK Athletics Hall of Fame, along with James Johnson (wrestling), Molly Johnson-Belcher (softball), and Bernadette Madigan-Dugan (cross country/track and field). The six will be honored tonight in a reception and will be introduced tomorrow during the game. I can't wait to hear the ovation for Brooks, Woodyard, and Hayes. Any chance the refs would notice if Woodyard put on some pads and went out on the field?? NOBODY TELL.
Kevin Knox will take his official visit in January for the Kansas game
John Calipari has been zeroing in on the 6'8" small forward in recent weeks, and last night, Knox announced he will take his official visit to Kentucky for the Kansas game on January 28. He'll go to Duke first (October 28-30), followed by Florida State (January 7-9), Kentucky, and North Carolina (February 4-6). Duke's been the favorite for Knox so far, but there's been a lot of buzz in the Cats' direction recently. I can't think of a better atmosphere than the one in Lexington that weekend, so bring it on.
Check out this old picture of Kenny Walker, Rex Chapman, and Rock Oliver
Dwayne Peevy shared this gem last night. I know Oliver played at Cincinnati and worked for Rick Pitino when he came to Kentucky, but I didn't realize the three overlapped enough to take this great picture. Regardless, it's reason enough to use one of the best GIFs in UK Basketball history:
Rob Harris has taken over for Oliver as the head strength coach, but Rock's still on staff as the Student Engagement & Development Director.
Listen to the latest episode of The OTT
WKYT's Jennifer Palumbo joined me this week to talk about what's going on with the football team, next month's UK Basketball Clinic, and the tight-knit fraternity that is the Lexington media. There's a lot of opinions and scoop in this one, so be sure to check it out as you move through your Friday. While you're at it, check out the latest KSR Football Podcast and The Depth Chart podcast, all of which are on the Kentucky Sports Radio feed on
iTunes
 or 
Podbay
.
KSR is at Newks on Richmond Road
Still time to get down there to hear the big Chester vs. Darryl debate about UK Football. Are you Team Chester (eternal optimism) or Team Darryl (rational pessimism)?