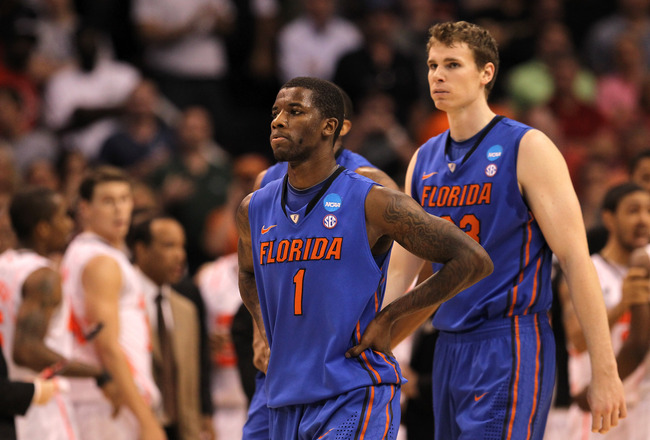 The seventh-ranked Florida Gators will welcome your University of Kentucky Wildcats into the friendly and often empty confines of the Stephen C. O'Connell Center this evening for a showdown between the conference's top two teams.  Florida is 11-0 at home this season and looking to maintain first place in the SEC.  Kentucky is hungry. Here are the projected starters for Billy Donovan's squad:  
G - MIKE ROSARIO, #3
6-3 | 183 lb. | Senior
(12.5 ppg, 2.5 rpg, 2.2 apg)
Rosario transferred to Florida after two seasons at Rutgers, where he was named Freshman All-American as a top five freshman scorer nationally.  He's led Florida in scoring each of the last two games, and he only lives once:
Yes, that's a YOLO tattoo on his hand.  
G - KENNY BOYNTON, #1
6-2 | 190 lb. | Senior
(13.1 ppg, 3.3 rpg, 3.4 apg)
Boynton is Florida's leading scorer and a terrific shooter; he hit 8-of-10 three-pointers in a game earlier this season. He is one of just 13 active players nationally with over 1,850 career points and the only one who has played exclusively in one of the six BCS conferences. Boynton ranks well ahead of any other player who has played solely in one of these traditional power conferences, 247 points ahead of Christian Watford.  
G - SCOTTIE WILBEKIN, #5
6-2 | 176 lb. | Junior
(9.3 ppg, 3.0 rpg, 5.1 apg)
Wilbekin was named SEC Player of the Week for the first time in his career on January 28 following a career-high-tying 17-point scoring night at Georgia, followed by 13 points and nine assists at Mississippi State.  He is the SEC's second-leading assist man with 5.1 per game. He said yesterday that losing to Kentucky three times last season was embarrassing.  
F - ERIK MURPHY, #33
6-10 | 238 lb. | Senior
(12.9 ppg, 4.8 rpg, 1.6 apg)
Murphy, a former Florida teammate, and a team manager were arrested in 2011 for breaking into a car that belonged to an employee of a bar they were just asked to leave from. He was charged with one felony count of third-degree burglary and booked at the St. Johns County Jail. While sitting in the back of the squad car, Murphy and the team manager made phone calls to the third member of the their crew and
the calls were recorded
.  Idiots. "We're getting off, bro." Not quite.  
F - PATRIC YOUNG, #4
6-9 | 249 lb. | Junior
(10.8 ppg, 6.6 rpg, 0.9 apg)
Patric Young terrifies me.