The Thursday Night East Mississippi Community College Football Experience in Scooba
You can watch "Last Chance U" on Netflix, but to understand East Mississippi Community College football, you must receive a firsthand experience of a Thursday night under the bright lights in Scooba, Mississippi.
Nowhere Near Nothing
To say that Scooba is in "the sticks" is a gross misrepresentation.  Even though road signs point to Scooba as a significant stop,
there is nothing there
.  Near the highway that bypasses the "town" are two gas stations.  One of them serves fried chicken and has an attached Subway.  That's the only place you can eat in town when Slim's burger joint is shut down on gameday. Scooba is called Scooba only because it has a post office and water tower with the namesake.  The town is the junior college.  That's it. The football stadium dominates the landscape.  The campus buildings are a hodgepodge of classroom buildings with crappy 70s architecture, houses that the Big Bad Wolf could blow over that host administrators and dorms that appear to be designed after motels you would never sleep in. Even though there's nothing in Scooba, people flock to the football stadium, filling almost every seat for an entertaining brand of football.
A Blend of Football Styles
"Last Chance U" highlights the program's pedigree, they tell the dramatic tales from each game but they fail to capture the unique brand of JUCO football. It rests
in-between the spectrum of high school and college football
.  They throw it around much more than high school in exotic offenses, but the rudimentary parts of the game (kicking, punting) are just as bad, if not worse, than high school.  It's physical in the trenches, dominated by athletic defensive linemen.
Lions on the Prowl pic.twitter.com/YiwuUCu1wl

– Nick Roush (@RoushKSR) September 1, 2017
The athletes are impressive.  Wide receiver Kirk Merritt, formerly of Texas A&M, made two of the most athletic plays I've ever seen.  After muffing a punt, he picked it up and returned it for a touchdown, only for it to get called back thanks to an offsides penalty.  On third and long, he caught a comeback route just beyond the sticks.  The corner anticipated him to release to the outside.  Instead Merritt went inside, outran that corner and four others who were ahead of him with proper pursuit angles to go 60 yards for a touchdown.  It was spectacular. Defensively, the schemes were rudimentary.  The gameplan for Jones County Community College was simple: pressure the QB into bad decisions by blitzing all day long.  They didn't just send an extra rusher; they went man-to-man zero coverage.  Playing without one person deep is a gamble taken rarely, but they did it on almost every play.  The gamble worked for a half, until the EMCC running back figured out how to pick up a blitz.  Then, the Lions were off to the races. EMCC's uptempo offense was fast-paced and fun.  They were only slowed down by themselves. https://twitter.com/RoushKSR/status/903623259505217536
Zero Discipline
The lack of discipline in JUCO should be expected, but I did not believe it would be to this degree.  I've already shared two examples of penalties holding the team back, but that's just a small sample size. Bullet points must be used to highlight the many mistakes:
Three pre-snap penalties on both teams in the first seven plays.
The returner didn't catch a punt, the team got pinned on their own one, only to commit another pre-snap penalty.  They got out of trouble when the opponent was flagged for a facemask.
A late hit on the EMCC QB on the sideline almost caused a brawl.
EMCC drove the length of the field before half in 45 seconds to get to the one, only to botch the hold on a go-ahead field goal.
EMCC blocked an extra point and returned it for two points, the turning point of the game.
The person who almost cost EMCC a victory was a cornerback.  I still feel bad for this player who will remain nameless.  The corner was picked on by Jones.  Their first three touchdowns were thrown right at this guy.  He stopped a few fades, but finally surrendered a score.  After he got absolutely torched on a double-move for a long touchdown, Jones scored the next time they touched the ball on a flea-flicker that went right to the same guy for another score. Buddy Stephens kept his cool for almost the entire game, but had to chew this corner out in front of the entire defense.  I can't blame Buddy; it was
that
bad.  After that, he got his stuff together and didn't get beat deep again.
The lack of discipline didn't create "good" football, but it did create extremely entertaining football.  When one guy makes a mistake, the excellent athletes turn it into points.  Coaches will have field days in the film room, but fans love seeing a lot of points, including myself.
The Characters 
It's difficult for a documentary crew to capture the essence of the football game, but they perfectly highlighted the people in the stands.  Those highlighted in "Last Chance U" are even more entertaining in person.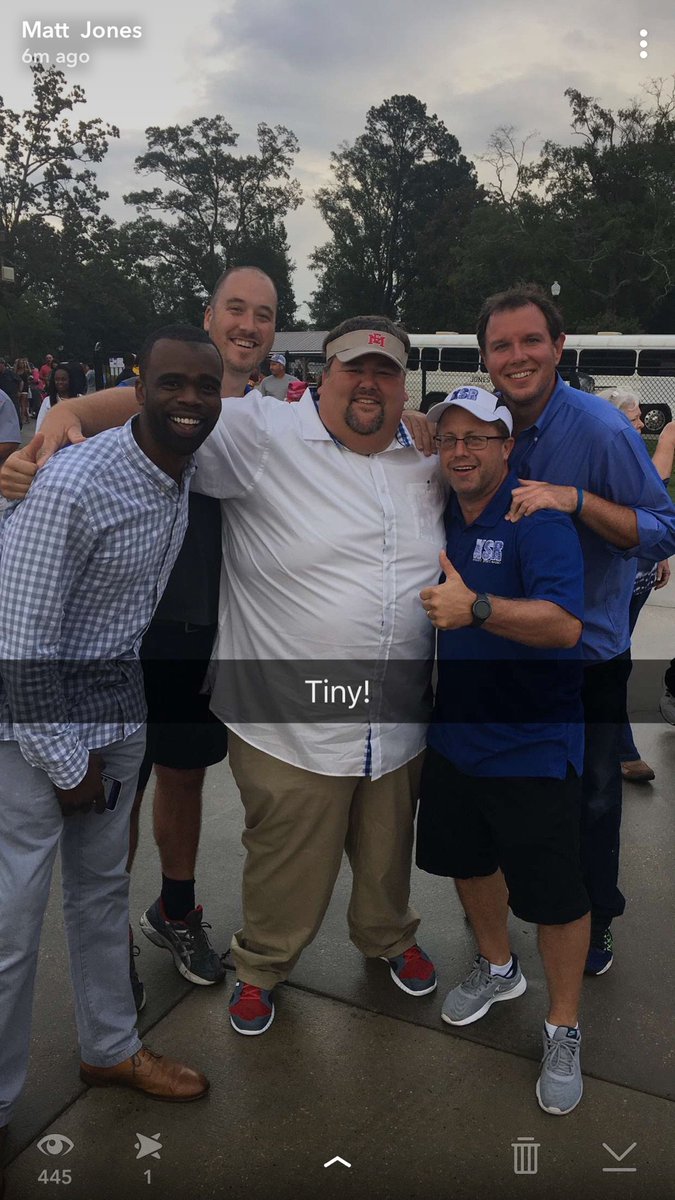 The Lion Guy only stopped roaring to dance.
This may be one of my favorite things ever on a KSR road trip #LastChanceU pic.twitter.com/qdNRCcS2PQ

– Ryan Lemond (@ryanlemond) August 31, 2017
Watching "Last Chance U" is entertaining, but it's incomparable to the show put on each Thursday night in Scooba.  There's no precedent for the East Mississippi Community College football experience, you just have to see it yourself.