The Top 10 Games to Come in 2015
With the non-conference basketball schedule pretty well set we can all take a look at the full Kentucky fall slate and see what is in store for the back half of 2015. The remainder of the year has shaped up to be on of Lexington's best filled with marquee action on both the hardwood and the gridiron. What are the best games to look forward to next season? Here are my picks for the top 10.
10. Kentucky Vs EKU, October 3, 2015
Need some bulletin board material to get the teams ready for this game? Both teams handled that earlier this year with the big incident in Richmond. This one should be pretty chippy in the early goings but the Cats are just too much for their FCS opponent.
9. Kentucky Vs Louisiana, September 5, 2015
The Ragin' Cajuns are winners of four straight New Orleans Bowls which allowed them to post several 9 win years. The opening game is not going to be easy but  with a brand new Commonwealth Stadium the home crowd should be rocking. September needs to hurry up and get here.
8. Kentucky Vs Ohio St, December 19, 2015
Remember the last time Kentucky and Ohio State played?
The result was one of the best NCAA tournament games Kentucky has ever been a part of.
Since then Ohio State hasn't been a major player on the national stage but the game in Brooklyn should be worthy of the trip.
7. Kentucky Vs UCLA, December 3, 2015
Next year Kentucky will play Duke, Kansas, and UCLA which are the four teams that are arguably the most storied in NCAA history. UCLA is coming off a trip to the Sweet 16 and will be looking for some vengeance for the embarrassment in Indy last season. Kentucky should win but with a young team early in the season you never know what could happen.
6. Kentucky Vs Tennessee, October 31, 2015
Josh Dobbs has lit Kentucky up in two starts against the Cats. Kentucky will have to find a way to contain the dual threat rocket scientist if they are going to have any shot at winning this game. Still the potential showdown between the East's best quarterbacks is too good not to include on this list.
5. Kentucky Vs Auburn, October 15, 2015
Thursday night in the new Commonwealth Stadium against the top team in the SEC. What's not to love about this game?
4. Kentucky Vs Louisville, December 26??
The Cards are a team in flux as the only remaining player on the roster that was also on their national championship team is Mangok Mathiang. Louisville has a good recruiting class coming in but
Pitino has never and will never beat Cal inside Rupp Arena.
3. Kentucky Vs Florida, September 19, 2015
Kentucky doesn't have time to rest as the season begins with two tough games against Louisiana and South Carolina and then Florida comes to visit. The Gators survived the delay of game penalty last season in Gainesville to make it 28 straight wins over the Cats. This year we get them at home with a new coach, a depleted roster, and a team mad about last year's finish. Could be the year the streak finally comes to an end? I think so.
2. Kentucky Vs Duke, November 17, 2015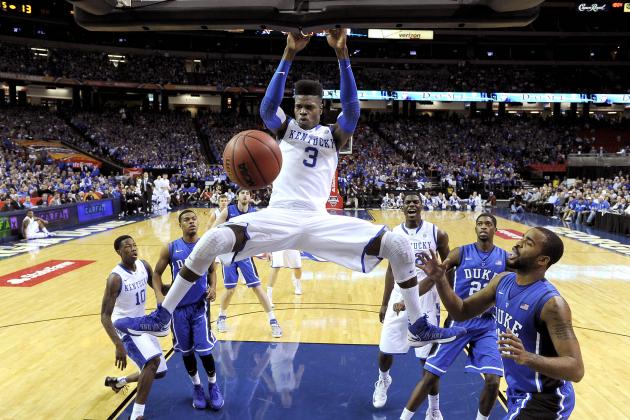 The game that many had penciled in as a rematch of the national championship. Alas, that storyline isn't coming into play but it is still a match-up of the two most dominant teams of this decade. Both rosters will be rebuilt from the ground up as the two blue-bloods square off in Chi-town. Duke won the last match-up in Brooklyn, this year we get even.
1. Kentucky Vs Louisville, November 28, 2015
If you look at Kentucky's football schedule four games are probable wins, Louisiana, EKU, @Vandy, and Charlotte. Then you have three games that will be hard for the Cats to win, Auburn, @Georgia, @Mississippi State. So that leaves the remaining 5 as games Kentucky could win but most likely will not be favored in. They would need two wins to make a bowl game. Bottom line it could be a repeat of last year where Kentucky must beat Louisville in order to go bowling. The UK-UL game is always huge but this year it could make or break Year 3 under Stoops. Which games are you most looking forward to?