The Weirdest Fan Traditions in Sports
As Kentucky fans, we're used to it, but when you think about it, Big Blue Madness Campout is a weird tradition. Fans camping out for tickets to a game happens at other schools, but camping out for tickets to a practice? Only at Kentucky. It was Joe B. Hall that started Midnight Madness -- then called "Midnight Special" -- back in 1982, but the tradition of camping out for seats started in the Rick Pitino era. Back when the event was held at Memorial Coliseum, there weren't really tickets; UK used to just open the doors and let as many fans in as they could. Over the years, fans started forming the line earlier and earlier, and in 1995, Wally Clark was determined to be the first person there, so he arrived 17 days early and camped out, sparking a tradition that has stuck ever since. Even when the event moved to Rupp Arena in 2005, fans continued to line up in front of the ticket office at Memorial Coliseum for days on end. Like the program, the event was given new life under John Calipari, and in 2014, a record 760 tents were set up in "Tent City," one of many memorable moments in an unforgettable season. Although this year's crowd is less than years past due to limited camping space, it's still one of the coolest fan traditions in sports; however, it's far from the weirdest. Here are some that top it.
(Note: There are tons of weird traditions in sports, so I limited this list to just those started by fans.)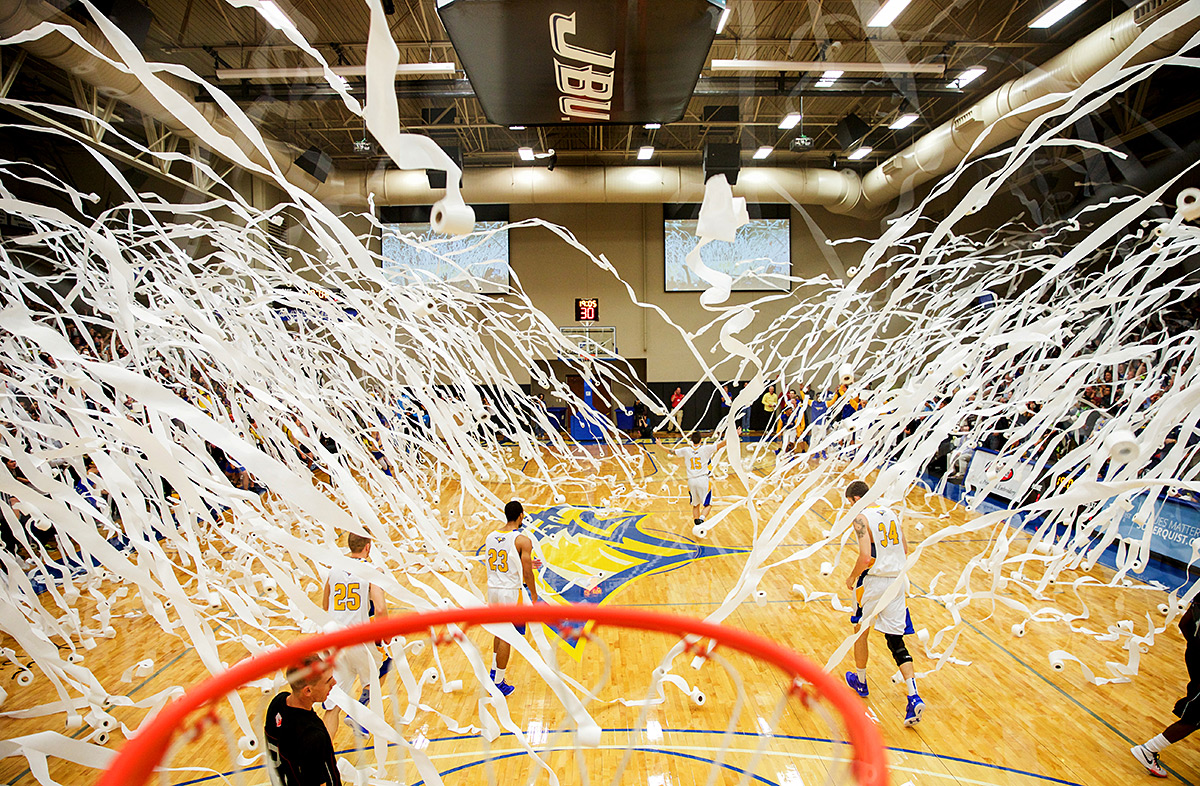 John Brown University: Throwing toilet paper on the court after the first basket
In the late 1970's, a couple of students at John Brown University, a liberal arts college in Arkansas, started throwing toilet paper on the court during basketball games, which quickly turned into a tradition. Now, students throw rolls of TP onto the court after the John Brown scores its first basket, which results in a technical foul. Naturally, you don't want to pick up a technical for this reason every game, so the fans reserve the tradition for one game of the year, the aptly named Toilet Paper Game. It's even sponsored by Charmin now because of course. https://youtu.be/thk8B_JIyKs
---
Auburn: Rolling Toomer's Corner
The tradition of throwing toilet paper rolls onto the oaks at Toomer's Corner in Auburn started in 1972. The ritual became such a part of Auburn football that in 2011, Harvey Updyke, an Alabama fan, poisoned the oak trees after the Tigers beat the Crimson Tide. The trees eventually died off, but were replaced and the tradition rolls on, even though one of the threes caught on fire after Auburn's win over LSU last weekend: https://youtu.be/54mvOLCS6gk Don't worry: police caught the guy who started the fire, and he now faces a felony charge of 1st degree criminal mischief.
---
Detroit Red Wings: Throwing octopi on the ice
This is by far the grossest tradition in sports. In 1952, two brothers threw a dead octopus on the ice during the Red Wings' Stanley Cup playoff run. Each tentacle of the animal represented a win in the playoffs (back then, you only needed to win eight), and when the Red Wings swept the series, the octopus became a good luck charm. Now, fans throw octopi on the ice during home playoff games, and the guy who goes out to clean it up twirls it around his head, which is just disgusting. https://youtu.be/xkTB9cuoVf8
---

Florida Panthers: Rat Trick
In a similar tradition, fans of the Florida Panthers NHL team throw rats (both real and plastic) onto the ice to celebrate goals. The practice started in 1995, when Panthers captain Scott Mellanby killed a rat with a hockey stick in the locker room by smacking it into the wall before a game. During the game, he scored two goals, leading Panthers goalie Jon Vanbiesbrouck to quip, "He scored a rat trick." The next night, a fan threw a plastic rat on the ice after a goal, and the tradition picked up steam. In 1996, the NHL started allowing refs to penalize the home team if objects were thrown on the ice, but it still happens from time to time, especially when the Panthers are in the playoffs. https://youtu.be/OnHpaVW53SM
---
Penn: Toast Toss
Penn's fight song includes the line, "Here's a toast to dear old Penn," which used to prompt fans at football games to toast the team with highballs of booze when the song was played between the third and fourth quarters. When alcohol was banned from the stadium in the 1970's, students started throwing actual toast, or sometimes bagels and muffins. During each game, approximately 20,000-30,000 pieces of toast a thrown. https://youtu.be/xbDcrH-j3Pg
---
Taylor University: Silent Night
For the past 20 years, every Friday night before exams, students at Taylor University dress up in costumes for to the annual "Silent Night" game. Fans don't make a sound until the team scores its tenth point, after which they scream and let loose. Here's a SportsCenter feature on it from last season: https://youtu.be/YSiumKaPnyc
---
Wisconsin: "Jump Around"
For obvious reasons, I'm not a Wisconsin fan, but even I have to admit it's awesome when they play "Jump Around" between the third and fourth quarters: https://youtu.be/tODlPxhbGF8?t=40s The 80,000 person mosh pit gets so crazy that it actually registered on the Richter Scale in 2008. This tradition isn't exactly weird, but I like it so much I had to include it.
---

West Virginia (and Kentucky): Couch Burning
If Kentucky goes to the Final Four this season (hell, if they beat Alabama tomorrow), inevitably, someone will burn a couch in Lexington. While the act has become a symbol of Kentucky's success in basketball during the Calipari era, it actually originated in West Virginia in the 1970's. Couch burning became even more popular in Morgantown about 20 years ago when trash pick-up companies starting slacking on their contracts, leading trash to pile up in the streets, especially in student neighborhoods. Over a 15-year period, 1,799 street fires and 633 dumpster fires were set by West Virginia students, making the happenings on State Street in Lexington look like tiddlywinks. The student government even put together a PSA to discourage students from burning couches: https://youtu.be/7KgktXpPobE I doubt it worked.