There are problems brewing in Washington, and they're centered around John Wall
[caption id="attachment_229574" align="alignnone" width="963"]
Photo by Michael Huang[/caption] Back on January 31, former Kentucky star John Wall underwent an arthroscopic debridement procedure to repair his left knee, an injury he suffered back in November. With his expected timetable to return listed as six-to-eight weeks, and the NBA Playoffs set to begin on April 11, we could see the Wizard point guard sit out until postseason action. So how could Wall be the center of attention while going through rehab? Before last night's loss to Philadelphia, the Wizards had won five straight games since Wall's surgery, and both the team and fans are saying the ball is moving better with the franchise star on the bench. Following their third consecutive win, Washington center Marcin Gortat tweeted about it being a great "team" victory, with Wall responding "Lol."
Then, star shooting guard and former Gator Bradley Beal told reporters that "everybody eats" when they keep the ball moving like they did during their winning streak.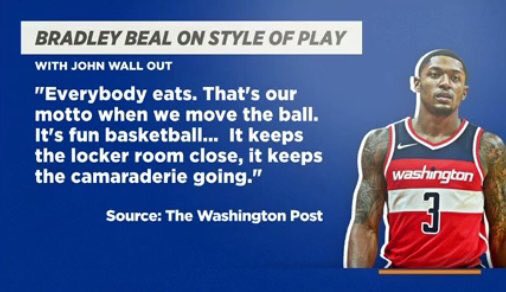 According to StatMuse, a sports analytics website, the Wizards averaged 32.2 assists per contest during their five-game winning streak, which would be the best mark by any team this season. With the ball supposedly moving better, and players being outspoken about the team's success without Wall, trade rumors immediately came to light. Oddly enough, some Washington fans were all for a potential trade. https://twitter.com/pgreissing/status/960700384359649281 https://twitter.com/RadonRandelll/status/961346826485075970 John Wall then went on NBC Sports Wizards to talk about his teammates and Washington fans criticizing him, and the outcome wasn't pretty.
John Wall's heard what people are saying about him ? pic.twitter.com/2cRmOKZmw2

— NBC Sports Wizards (@NBCSWizards) February 6, 2018
On SportsCenter, Wall called out Gortat's comments by saying the Wizard big man gets "the most spoon-fed baskets" because of him.
John Wall on ESPN just said "funny hearing Gortat talking when he gets the most spoon-fed easiest baskets cause of him" pic.twitter.com/U3zOdCCu2x

— Sigh (@Groovy_Ky) February 6, 2018
Washington fans better be careful what they wish for... A trade demand to New Orleans for a Wall/Davis/Cousins big three looks pretty spectacular...