Third Nike EYBL session heads to Louisville this weekend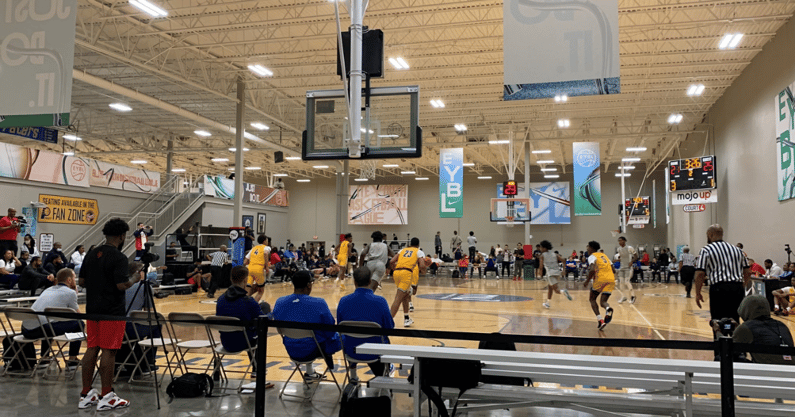 The AAU circuit is coming to the Bluegrass State this weekend.
Starting on Saturday, May 28, and running through Monday, May 30, Louisville will be the home of the third Nike EYBL session of the 2022 season. The previous event sessions were held in Orlando and Indianapolis. The fourth and final session is scheduled for July 7-10 in Kansas City. The annual Peach Jam Tournament is set for July 17-24 in Augusta, GA.
But before we start looking too far down the road, let's talk about what's going down in Louisville this weekend.
The event will tip off bright and early on Saturday morning at 9:30 a.m. EST inside the Kentucky Exposition Center, which is where all three days worth of games will be played. Games will continue throughout each day, tipping off roughly every 90 minutes across six courts.
Saturday is easily the biggest day and the one you'll need an extra cup of coffee for if you plan to attend. Four games will begin at 9:30 in the morning with the final game of the night between NJ Scholars (DJ Wagner and Aaron Bradshaw) and Strive For Greatness (Bronny James) closing out the opening day with a 9:00 p.m. EST tip-time.
Sunday won't be nearly as long, with games beginning at 9:30 a.m. once again but the final games of the day tipping off at 6:30 p.m. The conclusion of the third session will take place on Monday with games starting at 8:00 a.m. and continuing up until 12:30 p.m.
Keep in mind that this weekend is not an evaluation period, so college coaches will not be attending.
But KSR sure will be! Both Jack Pilgrim and I will be there all weekend long to scout and interview Kentucky's top class of 2023 prospects. Feel free to say hello if you see us. We enjoy talking basketball. Tickets can be purchased at the link here and will also be available for purchase at the door. All games will be live-streamed on the Nike EYBL website.
Speaking of those top Kentucky prospects, here's a rundown of the Wildcat recruits to keep an eye on this weekend. A full weekend schedule can be found here.
*Editor's note: This article was originally published on May 23 but is being republished ahead of this weekend's event.*
Class of 2023 Kentucky targets
*All rankings are courtesy of the On3 Consensus*
Dajuan Wagner Jr. (NJ Scholars) 6-3, 165-pound CG
5-star, No. 1 overall; No. 1 CG
Schools in the mix: Louisville, Memphis, Temple, Michigan
What more can be said about DJ Wagner's recruitment at this point? Kentucky and Louisville are the two clear frontrunners and there might not be another school even close to third. Wagner has solidified himself as one of the premier prospects in the class through the first two EYBL sessions. Considering the venue, NJ Scholar games will be tough to get a clean look at, so make sure to arrive early for those.
Visited UK: Oct. 15; offered
Kwame Evans Jr. (Team Durant) 6-10, 190-pound PF
5-star, No. 2 overall; No. 1 PF
Schools in the mix: Oregon, Indiana, Auburn, UCLA, Arizona
Unlike Wagner, KJ Evans has struggled a bit throughout his first two EYBL sessions. His motor has been inconsistent, but the flashes of his potential show up enough to make him a still-tantalizing recruit. Oregon, which watched all four of his games in Indianapolis, appears to have taken the lead in his recruitment, too. Evans visited Eugene in late April and has an official visit scheduled to Arizona in early June.
Visited UK: Nov. 5; offered
Robert Dillingham (Team CP3) 6-2, 165-pound PG
5-star, No. 4 overall; No. 1 PG
Schools in the mix: Arkansas, Memphis, NC State, USC
Rob Dillingham is a bit of a polarizing prospect. He's one of the top bucket-getters in the '23 class, but his score-first attitude produces some mixed results at times. Kentucky is still heavily intrigued though, as is NC State, which he initially committed to before backing off that decision in March. Arkansas is getting in on the action, too. Dillingham isn't the typical John Calipari point guard, but there's no denying his scoring abilities.
Visited UK: Oct. 22; offered
Ronald Holland (Drive Nation) 6-8, 195-pound PF
5-star, No. 8 overall; No. 3 PF
Schools in the mix: Arkansas, UCLA, Houston, Auburn, Texas, Memphis, G League
It's becoming more and more clear that Ron Holland would like to visit Kentucky and hopefully earn an offer, but it's also becoming just as clear that the 'Cats might not be all that interested. UK made his top eight, but still no official visit to Lexington has been scheduled. Arkansas, Texas, UCLA, and Auburn have all made a push in recent months. Holland has been up and down through the first two EYBL sessions.
Visited UK: No
Matas Buzelis (Expressions Elite) 6-10, 185-pound SF
5-star, No. 11 overall; No. 3 SF
Schools in the mix: Florida State, Arizona, North Carolina, Michigan
There has been a tight seal covering Matas Buzelis' recruitment, but we do know that Kentucky is one of the schools heavily involved. Florida State has been the perceived frontrunner and head coach Leonard Hamilton has been constant in watching his EYBL games. That being said, he holds offers from the likes of North Carolina, Duke, Arizona, UCLA, and plenty of other big-name programs. Buzelis is arguably the most unique prospect in the class and one with a very high ceiling.
Visited UK: Dec. 21; offered
JJ Taylor (Mac Irvin Fire) 6-8, 180-pound SF
5-star, No. 12 overall; No. 4 SF
Schools in the mix: Illinois
We might as well wrap a giant question mark around JJ Taylor's recruitment at this point. Last summer, Kentucky was seen as the early favorite with Illinois also making a push. Then a move to Kanye West's Donda Academy ahead of the previous season clouded his recruitment. UK and Illinois are still seen as schools to look out for in Taylor's services, but otherwise, not much is known. Watch out for the professional route as a possibility.
Visited UK: Oct. 22; offered
Justin Edwards (Team Final) 6-7, 180-pound SF
5-star, No. 13 overall; No. 5 SF
Schools in the mix: Tennessee, Auburn, Maryland, Kansas, Villanova, G League
Kentucky appears to have lost some steam with the recruitment of Justin Edwards, who is hearing more and more from the likes of Tennessee and Auburn, especially from the Volunteers. He might be the best perimeter defender in the class and has played like it through the opening two EYBL sessions. Edwards' offense has taken a step forward too despite playing on a limited Team Final roster. Kentucky has some work to do on this end.
Visited UK: Nov. 19; offered
Aaron Bradshaw (NJ Scholars) 7-1, 210-pound C
4-star, No. 20 overall; No. 2 C
Schools in the mix: Louisville, Maryland, Oklahoma State, Michigan, UCLA, G League
One of the biggest risers through the first two EYBL sessions, Aaron Bradshaw will look to keep building momentum heading into the summer. He's been a top performer in both sessions playing alongside DJ Wagner. Louisville and Kentucky are also seen as the two frontrunners to land the New Jersey product, but there might be a bit more competition compared to Wagner's recruitment. Even still, Bradshaw has proven he's worthy of playing at Kentucky, regardless of whether or not the staff lands Wagner.
Visited UK: No; offered
Milan Momcilovic (Team Herro) 6-8, 190-pound PF
Unranked
Schools in the mix: Iowa State, Minnesota, Marquette, UCLA, Virginia
Don't be fooled by the lack of a star rating for Milan Momcilovic — he'll have one by the next rankings update. The stretch forward has quickly made a name for himself throughout the first two EYBL sessions and his recruitment is picking up speed with it. Playing for Team Herro, which is coached by Tyler Herro's father Chris, sure doesn't hurt UK's chances, either. John Calipari watched Momcilovic plenty a few weekends ago in Indianapolis. The rising senior is far and away the best player on Team Herro and will have plenty of eyes on him this weekend.
Visited UK: No
Class of 2024 prospects to watch
Naasir Cunningham (NY Rens) 6-7, 180-pound SF
4-star, No. 1 overall; No. 1 SF
Elliot Cadeau (NH Lightning) 6-2, 165-pound PG
4-star, No. 8 overall; No. 1 PG
Trentyn Flowers (Team Durant) 6-8, 180-pound SF
4-star, No. 11 overall; No. 4 SF
John Bol (MOKAN Elite) 7-2, 190-pound C
4-star, No. 15 overall; No. 1 C
Amier Ali (Houston Hoops) 6-8, 175-pound SF
4-star, No. 24 overall; No. 7 SF
Discuss This Article
Comments have moved.
Join the conversation and talk about this article and all things Kentucky Sports in the new KSR Message Board.
KSBoard