This Week in Kentucky Basketball: Preparing for Saturday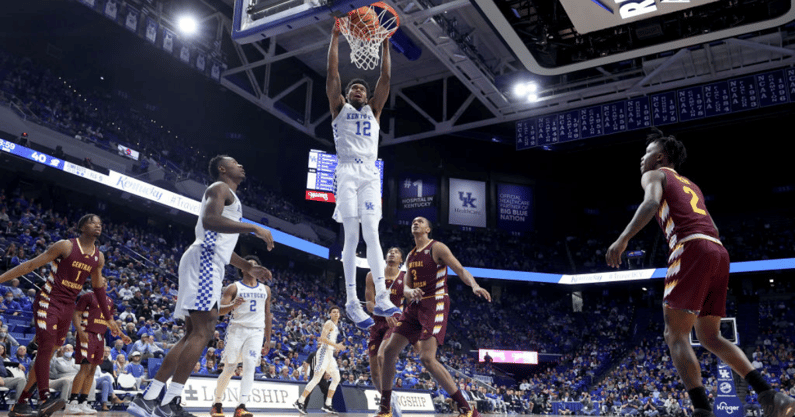 If you are one of those people that doesn't like the Kentucky Basketball non-conference schedule, things will improve this week. The Wildcats will finish off a string of seven home games on Tuesday against admittedly lesser competition before heading to Notre Dame on Saturday. It will be Kentucky's first true road game of the season.
Saturday's game in South Bend will be the first of three in a row versus top 50 teams per KenPom. Kentucky has had a week off from games and hopefully had time to recover from injury and illness. Tomorrow night's final tuneup will be important for some game reps before the schedule gets tougher.
As always, along with taking a look at this week in Kentucky Basketball, we will provide an update on the Southeastern Conference as a whole and highlight the top games to watch nationally. Let's begin with the biggest storyline in Kentucky Basketball this week.
Top Kentucky Basketball Storyline: One Final Tuneup
Calling any game a "tuneup" is dangerous and probably too dismissive of the opponent. However, Tuesday night will feature the fifth opponent in seven games ranked outside of the KenPom top 300. For Kentucky, win or lose, these games have been important building blocks for when the schedule does get tougher. Three difficult non-conference games are coming soon and the SEC appears to be a gauntlet this season. The competition is certainly coming.
After a full seven day break without a game, the question remains, what will the Wildcats lineup look like Tuesday night? Davion Mintz has missed three straight games with an illness. Several other players have battled nagging injuries or illnesses over the last couple of weeks. Even Coach Calipari himself has admitted to being under the weather. It would be nice to get one game at full strength before traveling to Notre Dame, but the 'Cats will have to make do with who is available.
Lineups and rotations have been a hot topic during the downtime of the last week, but it is all just talk until we see it on the floor. Hopefully we get that opportunity against Southern Tuesday night.
This Week in Kentucky Basketball: Southern & Notre Dame
Southern Jaguars
Southern is 3-5 on the season, just two wins against Division I opponents, and are ranked 304th according to KenPom. Unlike the last couple of teams that Kentucky has played that really let it fly from beyond the arc, the Jaguars will be much more balanced. They will play extremely fast and do shoot an excellent 39.2% from deep, but they don't shoot many threes at all (just 18.5 per game).
Former Kentucky Basketball star Sean Woods is the head coach of the Jaguars and features some quick guards that lead the fast-paced offense. Colorado State transfer P.J. Byrd and Jayden Saddler are both high assist guys in the Southern backcourt, but haven't had to face a defensive pest like Sahvir Wheeler yet. After a couple years of slowing things down in Lexington, the faster pace of Southern could play right into the hands of the Wildcats.
Notre Dame Fighting Irish
It has been a tough start to the season for veteran head coach Mike Brey and the Fighting Irish. They have just two wins against Division I opponents and had a tough showing in the Maui Invitational with losses to Saint Mary's and Texas A&M. Notre Dame is coming off of a 73-57 loss at Boston College to begin ACC play as well.
The offensive production has been solid for the most part as they rank 25th nationally in adjusted efficiency. However, teams have shot the lights out from three-point range. The Irish are 355th out of 358 teams allowing opponents to shoot 44.3% from beyond the arc. That is tough to overcome regardless of how efficient you are offensively.
Around the Southeastern Conference
While other leagues around the country have already started conference play, the SEC still has a couple of weeks before they dive in. That means that we still have some marquee non-conference games going on featuring SEC teams. On Saturday, Alabama was on the big stage playing Gonzaga and rolled to an impressive 91-82 victory. Jaden Shackelford was incredible and freshman JD Davison proved he can be one of the conference's best by the end of the season. The Crimson Tide have two more big games coming up against Houston and Memphis.
Both Arkansas and LSU remain undefeated with perfect 8-0 records next to their name. Neither has exactly played a murderer's row, but they haven't stumbled yet either. Elsewhere in the league, Texas A&M remains a team that isn't being discussed enough. Buzz Williams has the Aggies at 7-1 with their lone loss coming in a competitive game with Wisconsin. His team is much improved this season. Auburn and Tennessee keep notching more solid wins as well. Even Tom Crean and Georgia got in on the fun last week beating Memphis and causing Penny Hardaway to call out his entire team.
Looking ahead to this week, we will get a matchup between Tennessee and Texas at Madison Square Garden for the Jimmy V Classic Tuesday night. Alabama hosts Houston on Saturday in a top 25 matchup while Arkansas goes to Oklahoma for their first real test of the season. Kentucky heads to South Bend on Saturday too in what will be their first true road game this year. The Florida Gators have three games this week culminating in a neutral site battle with Maryland on Sunday. Mike White and the Gators suffered their first setback of the season on Wednesday at Oklahoma.
Games to Watch Nationally
Monday, December 6th
Texas Southern @ #20 Florida (6:00 p.m. Eastern Time ESPN+)
Alcorn State @ #14 Houston (8:00 p.m. Eastern Time ESPN+)
Tuesday, December 7th
Southern @ #10 Kentucky (7:00 p.m. Eastern Time SEC Network)
Texas Tech vs. #13 Tennessee (7:00 p.m. Eastern Time ESPN) @ Madison Square Garden
UTEP @ #8 Kansas (8:00 p.m. Eastern Time ESPN+)
#6 Villanova vs. Syracuse (9:00 p.m. Eastern Time ESPN) @ Madison Square Garden
Charlotte @ #12 Arkansas (9:00 p.m. Eastern Time SEC Network)
Eastern Kentucky @ #16 USC (10:00 p.m. Eastern Time Pac 12 Network)
Wednesday, December 8th
North Florida @ #20 Florida (7:00 p.m. Eastern Time SEC Network)
#15 UConn @ West Virginia (7:00 p.m. Eastern Time ESPN2)
Indiana @ #22 Wisconsin (7:00 p.m. Eastern Time)
Utah State @ #24 BYU (9:00 p.m. Eastern Time)
#19 Michigan State @ Minnesota (9:00 p.m. Eastern Time)
Wyoming @ #11 Arizona (10:00 p.m. Pac 12 Network)
Thursday, December 9th
#7 Texas @ #23 Seton Hall (6:30 p.m. Eastern Time FS1)
#1 Purdue @ Rutgers (7:00 p.m. Eastern Time)
Merrimack @ #5 Gonzaga (9:00 p.m. Eastern Time)
Iowa @ #17 Iowa State (9:00 p.m. Eastern Time ESPN2)
Saturday, December 11th
Nebraska vs. #18 Auburn (11:30 a.m. Eastern Time ESPN2) @ State Farm Arena
#24 BYU vs. Creighton (Noon Eastern Time)
#22 Wisconsin @ #21 Ohio State (Noon Eastern Time)
#12 Arkansas @ Oklahoma (1:30 p.m. Eastern Time)
Penn State @ #19 Michigan State (2:00 p.m. Eastern Time)
#4 UCLA @ Marquette (2:30 p.m. Eastern Time)
Missouri @ #8 Kansas (3:15 p.m. Eastern Time ESPN)
St. Bonaventure vs. #15 UConn (3:30 p.m. Eastern Time ESPN2) @ Prudential Center
UNC Greensboro @ #13 Tennessee (4:30 p.m. Eastern Time SEC Network)
#11 Arizona @ Illinois (5:00 p.m. Eastern Time)
#10 Kentucky @ Notre Dame (5:15 p.m. Eastern Time ESPN)
#25 LSU @ Georgia Tech (6:00 p.m. Eastern Time ESPN2)
#14 Houston @ #9 Alabama (10:00 p.m. Eastern Time ESPN2)
Sunday, December 12th
Jackson State @ #17 Iowa State (1:00 p.m. Eastern Time ESPN+)
#1 Purdue vs. NC State (2:00 p.m. Eastern Time) @ Barclays Center
#6 Villanova @ #2 Baylor (3:00 p.m. Eastern Time ABC)
#20 Florida vs. Maryland (4:30 p.m. Eastern Time) @ Barclays Center
Washington @ #5 Gonzaga (5:00 p.m. Eastern Time ESPN)
Long Beach State @ #16 USC (5:00 p.m. Eastern Time)
Rutgers @ #23 Seton Hall (7:30 p.m. Eastern Time FS1)