This Week in Kentucky Basketball: Win Tuesday to Earn Saturday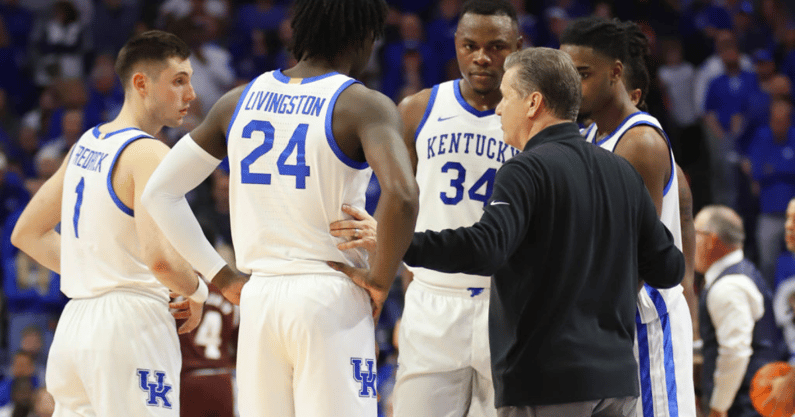 When you look at this week's Kentucky Basketball schedule one game really stands out. The Wildcats host the Kansas Jayhawks on Saturday night for an 8:00 p.m. tip-off on ESPN. College GameDay is even making the trip to watch the two blue-bloods go at it in the Big 12/SEC Challenge. However, there are several reasons why Tuesday's trip to Nashville to take on the Vanderbilt Commodores is the game that should be the primary focus of Big Blue Nation this week.
First of all, Tuesday's game is the next one. With the position Kentucky is in at 13-6 overall, 4-3 in the Southeastern Conference, they just need to stack up wins. Secondly, conference games always mean a little bit more. The 'Cats are riding a three game winning streak that has seen them rise in the league standings. Tuesday night is the next step towards the top end of the conference. Finally, since the Wildcats already lost to South Carolina, they can't afford any more losses against teams they are supposed to beat. Vanderbilt is dangerous, especially offensively, but it is still a game that UK will be expected to win.
However, it is fair to recognize Kentucky also needs Quad 1 wins and Saturday's matchup is an opportunity to really add to their NCAA Tournament resume. That opportunity means a lot less though if you don't take care of business at Memorial Gymnasium. Win in Nashville on Tuesday and you earn the right to have all eyes around college basketball on you at Rupp Arena on Saturday.
As we do every Monday it is time to take a step back and preview the upcoming week. We will highlight the biggest storyline surrounding the program, preview the week's upcoming opponents, take a closer look at the SEC standings, and highlight the best games to watch nationally. Let's dive on in and take a look at this week in Kentucky Basketball.
Top Kentucky Basketball Storyline: Keep the Good Times Rolling
What a difference a week can make. On the morning of January 14th the Big Blue Nation was nearing a low point. The Wildcats had suffered a humiliating 78-52 loss at Alabama the previous Saturday only to return home and get upset 71-68 by SEC cellar-dweller South Carolina. At 10-6 overall, 1-3 in the conference, there was no NCAA Tournament resume to speak of. That Saturday's trip to Knoxville to face the rival Tennessee Volunteers was met with more apathy than excitement. "Let's get this over with" was a common expression used in the moments leading up to tip-off. However, over the course of two hours at Thompson-Boling Arena, the Kentucky Basketball season changed its course.
The Wildcats defeated Tennessee 63-56 that day and returned home for a pair of games at Rupp Arena. A disappointing first half against Georgia brought questions of whether or not the performance against the Vols was nothing more than an aberration. However, the 'Cats came storming back to beat the 'Dawgs 85-71. That set up a big game against Texas A&M and their 5-0 SEC record. Big Blue Nation came prepared and had Rupp rocking from the opening tip. Kentucky hit 11 three-pointers, dominated the glass, and held on for 76-67 victory. Just like that a three-game winning streak changed the Wildcats trajectory. In just one week's time many fans went from checked out to completely locked back in. Now sitting at 13-6 overall, 4-3 in the SEC, there is a sense of hope surrounding the program once again.
For that sense of hope to continue, to keep the good times rolling, Kentucky must go on the road and defeat Vanderbilt on Tuesday. The Commodores are a solid team, and winning on the road is never easy, but it is still a game you have to win if you expect to be a NCAA Tournament team. If you want to compete at the top of the league you have to beat the teams you will likely finish in the bottom half. Also, winning Tuesday sets up what could be an epic Saturday in Lexington. The Kentucky Basketball program has finally built some positive momentum. Tuesday is the next opportunity in the January grind to add to the win column.
This Week in Kentucky Basketball: Vanderbilt Commodores & Kansas Jayhawks
The Vanderbilt Commodores still haven't found a ton of success under fourth year head coach Jerry Stackhouse. However, he consistently runs some of the best offense in the Southeastern Conference and has the program heading in the right direction. They got over .500 last season and now are 10-9 overall, 3-3 in the league so far this year. Vanderbilt is humming along with a Top 50 offense that scored 97 points in a win over Arkansas and just put up 85 to defeat Georgia on the road. 7-footer Liam Robbins will be out on Tuesday evening though. The Commodores leading scorer (13.2 ppg) and rebounder (5.9 rpg) suffered a sprained ankle last Monday in practice that is expected to keep him out for 4-6 weeks. His absence will especially be felt on the defensive end of the floor when trying to guard Oscar Tshiebwe.
As for Kansas, they are sliding right while the Kentucky Basketball program is getting hot. The Jayhawks had climbed to #2 in the country with a 16-1 record and 5-0 Big 12 mark entering last week. However, an overtime loss at Kansas State followed by a 23-point drubbing at home against TCU has knocked them down a peg. On Monday night they have another tough test at Baylor. The Big 12 is an absolute gauntlet and the Jayhawks are undoubtedly still one of the best teams, but these two blue-blood programs could be trending in complete opposite directions come Saturday.
6'8″ forward Jalen Wilson has been playing at an All-American level for Kansas this season. One of the most versatile offensive players in the country, Wilson is currently averaging 21.3 points and 8.8 rebounds per game. Meanwhile, freshman guard Gradey Dick is putting together arguably the best shooting season in college basketball. Dick is averaging 14.4 points per game on 50-114 shooting from beyond the arc. Slowing that dynamic duo down will be a major test for the Wildcats defense on Saturday.
Around the Southeastern Conference
There are still three teams with one loss technically nipping at their heels, but it feels like Alabama has separated themselves as the class of the SEC. The Crimson Tide are a perfect 7-0 having beaten each conference opponent by double-figures. Their average margin of victory in those seven SEC games is 22.4 points. This week the Tide will host Mississippi State on Wednesday before traveling to Oklahoma.
Tennessee rebounded from their home loss to Kentucky by picking up road wins at Mississippi State and LSU last week. Their defense continues to be the best in all of college basketball. Meanwhile, Auburn is also 6-1 in the league after rattling off five straight wins. They now have a Top 10 defense in the country and are set to host Texas A&M in a big Wednesday night matchup. Coach Bruce Pearl will then take the Tigers to West Virginia for their Big 12/SEC Challenge contest.
Texas A&M is still hanging around at 5-1 as well, but they just lost to a Kentucky Basketball team trending in the right direction. The Wildcats are now 4-3 tied with Florida in that fifth place slot. With everyone just playing one league game this week there won't be a ton of moving around, but the standings are certainly beginning to take shape. Things will get very interesting as the calendar turns to February.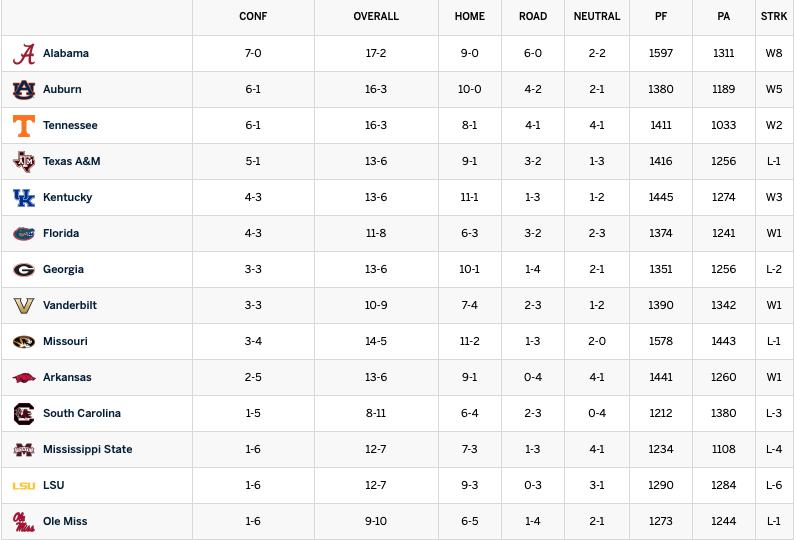 Games to Watch Nationally
Monday, January 23rd
#17 Baylor vs. #29 Kansas @ 9:00 p.m. Eastern Time (ESPN)
Nevada vs. #25 New Mexico @ 9:00 p.m. Eastern Time (CBS Sports Network)
Tuesday, January 24th
Florida State vs. #20 Miami (FL) @ 7:00 p.m. Eastern Time (ESPNU)
#11 TCU vs. Oklahoma @ 8:00 p.m. Eastern Time (ESPN+)
#10 Texas vs. Oklahoma State @ 9:00 p.m. Eastern Time
#12 Iowa State vs. #5 Kansas State @ 9:00 p.m. Eastern Time (ESPNU)
#24 Clemson vs. Georgia Tech @ 9:00 p.m. Eastern Time (ACC Network)
Wednesday, January 25th
#19 UConn vs. #13 Xavier @ 6:30 p.m. Eastern Time (FS1)
UCF vs. #3 Houston @ 7:00 p.m. Eastern Time (ESPN+)
#4 Tennessee vs. Georgia @ 7:00 p.m. Eastern Time (SEC Network)
#23 Providence vs. Butler @ 8:30 p.m. Eastern Time (FS1)
#2 Alabama vs. Mississippi State @ 9:00 p.m. Eastern Time (SEC Network)
#15 Auburn vs. Texas A&M @ 9:00 p.m. Eastern Time (ESPN2)
Thursday, January 26th
#21 Florida Atlantic vs. Middle Tennessee @ 7:00 p.m. Eastern Time (CBS Sports Network)
Michigan vs. #1 Purdue @ 9:00 p.m. Eastern Time (FS1)
USC vs. #8 UCLA @ 9:00 p.m. Eastern Time (ESPN2)
Washington State vs. #6 Arizona @ 11:00 p.m. Eastern Time (FS1)
Friday, January 27th
#25 New Mexico vs. Air Force @ 10:00 p.m. Eastern Time (CBS Sports Network)
Saturday, January 28th
Kentucky vs. #9 Kansas @ 8:00 p.m. Eastern Time (ESPN)
#7 Virginia vs. Boston College @ Noon Eastern Time (ACC Network)
West Virginia vs. #15 Auburn @ Noon Eastern Time (ESPN)
Creighton vs. #13 Xavier @ 12:15 Eastern Time (CBS)
Oklahoma vs. #2 Alabama @ 2:00 p.m. Eastern Time (ESPN)
Missouri vs. #12 Iowa State @ 2:00 p.m. Eastern Time (ESPN2)
DePaul vs. #16 Marquette @ 2:00 p.m. Eastern Time (FS1)
#3 Houston vs. Cincinnati @ 2:15 p.m. Eastern Time (CBS)
Mississippi State vs. #11 TCU @ 4:00 p.m. Eastern Time (ESPN2)
#17 Baylor vs. Arkansas @ 4:00 p.m. Eastern Time (ESPN)
#18 Charleston vs. Hofstra @ 4:00 p.m. Eastern Time
Pittsburg vs. #20 Miami (FL) @ 4:00 p.m. Eastern Time (ESPNU)
#21 Florida Atlantic vs. Western Kentucky @ 4:00 p.m. Eastern Time
Florida State vs. #24 Clemson @ 5:00 p.m. Eastern Time (ACC Network)
Washington vs. #6 Arizona @ 5:30 p.m. Eastern Time (FOX)
#4 Tennessee vs. #10 Texas @ 6:00 p.m. Eastern Time (ESPN)
#5 Kansas State vs. Florida @ 6:00 p.m. Eastern Time (ESPN2)
Portland vs. #14 Gonzaga @ 7:00 p.m. Eastern Time
BYU vs. #22 Saint Mary's @ 10:00 p.m. Eastern Time (ESPN2)
Sunday, January 29th
Villanova vs. #23 Providence @ Noon Eastern Time (FS1)
#1 Purdue vs. Michigan State @ 12:15 p.m. Eastern Time (CBS)