This year's Kentucky football team is eerily stacking up with Rich Brooks' 2006 team...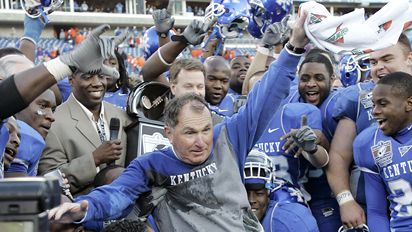 After Austin MacGinnis drilled the game winning FG to defeat Mississippi State on Saturday, optimism throughout the Big Blue Nation soared. The Wildcats had moved to 4-3 on the season and 2nd overall in the SEC East, with bowl hopes looking as alive and well as ever. In the comment section following Freddie's game breakdown yesterday, a fan (Duuuuuude, to be exact) mentioned it was "starting to feel a lot like the 2006 football season when Rich Brooks had his breakthrough season." It certainly sparked my interest, considering that era of players was one of my favorite in Kentucky football history, so I decided to look into it.
After taking a closer look, the situations are eerily similar...
When Rich Brooks first took over at Kentucky in 2003, there was quite an adjustment period. In his first three seasons, Brooks went
4-8, 2-9, 3-8, and then started out his fourth year 3-3.
Early in his fourth season, Kentucky fans came out with torches and pitchforks, selling
"Ditch Rich" t-shirts
out in the Commonwealth Stadium parking lot. It was an ugly time, and many believed Brooks was on his way out. After a 49-0 beatdown on the road against LSU, instead of laying down flat and calling it a season, the Wildcats came out fired up and won four consecutive games. They started out with a 34-31 victory at Missississippi State, followed it up with a monumental win at home against Georgia, and continued with wins over Vanderbilt and Louisiana Monroe. Kentucky finished 4-4 in conference play, and 3rd overall in the SEC East. The Wildcats earned a bowl bid to the Music City Bowl, where they took on Clemson, winning 28-20. We saw guys like Andre Woodson, Jacob Tamme, Stevie Johnson, Myron Pryor, and Wesley Woodyard emerge as stars, who would later become pivotal in the years to follow. You guys know the rest of that story. Brooks led the Wildcats to four of Kentucky's 15 total bowls in program history, and retired into the sunset to play endless rounds of golf and tweet pictures you've been jealous of at one point or another. He was inducted into the UK Hall of Fame back in September, a well-deserved feat for a guy that flipped the program around following the Guy Morriss era.
Now let's compare this to Mark Stoops' career thus far in Lexington.
In his first three seasons, Mark Stoops finished with records of
2-10, 5-7, and 5-7, and then began his fourth season at 3-3.
After an atrocious start to the season, many called for Stoops' job, with many believing a loss at home against South Carolina would lead to his immediate termination. Fans started a trend of calling into Stoops' radio show on Monday afternoons and giving the head ball coach their own ideas as to who his replacement should be, all but requesting his resignation/termination. Kentucky then beat the Gamecocks, put up a solid fight on the road against Alabama, and then defeated Vandy and Mississippi State in back-to-back contests. We've seen young guys such as Benny Snell, Derrick Baity, Jordan Jones, and Landon Young emerge into future stars, along with established veterans like Boom Williams and Mike Edwards take strides as team leaders. The running backs are putting up record numbers, a back-up quarterback has led the team to a 4-1 record since taking over, and the entire defense has found major success since Mark Stoops started calling the shots for the unit.  
The turnaround has been remarkable.
So here we are. Kentucky is sitting at 4-3 on the year, along with 3-2 in the SEC. Winnable games against Missouri, Georgia, and Austin Peay lie ahead. You win each of those games, and the Wildcats finish 7-5 on the year, going 5-3 in conference play and a shot at one of the top two slots in the SEC East. Could major momentum help lead to upsets against Tennessee or Louisville? It's not likely, but this recent success wasn't extremely likely either. Not many envisioned the season unfolding the way it has, but I'll take it if it means UK participates in postseason action again.  
Can UK finish the regular season 7-5 en-route to a bowl game, emulating Rich Brooks' 2006 Kentucky team?
@JackPilgrimKSR