Three biggest takeaways from Kentucky WBB 2022 Media Day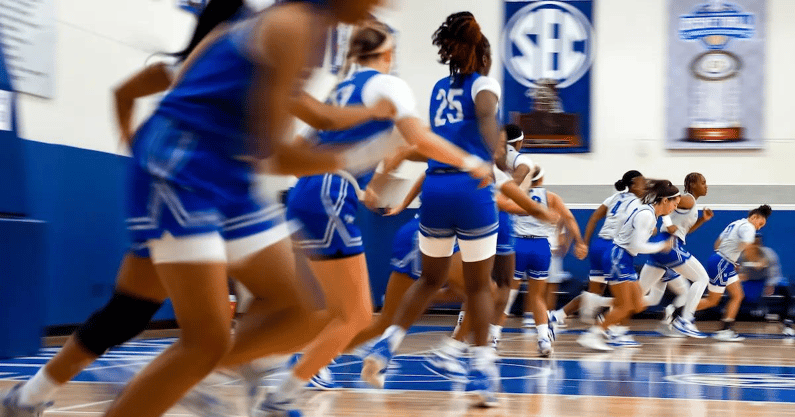 The Kentucky women's basketball team is full of new faces, fresh excitement, and endless storylines.
On Wednesday afternoon, the program hosted its annual Media Day. The event included a press conference with head coach Kyra Elzy, individual interviews with players, and concluded with an open practice. Although there will be plenty of content in the coming weeks, here are our immediate takeaways.
Chemistry is key
With 10 new players, the Wildcats' chemistry was a larger question mark than their skills. By all accounts, the team gets along like butter on toast. Oregon transfer Maddie Scherr discussed the group and their instant bond.
"We're an extremely tight-knit group. Everybody's great. Everybody is super honest about everything and quite blunt about how they feel," Scherr said.
The team's connection didn't happen by accident. This summer, the 'Cats were together nonstop. From boxing classes to painting lessons, the team had unlimited opportunities to learn about one another. Of course, the process is easier when the players aren't shy. Thankfully, this team is anything but meek.
"A year ago, I kind of had to wait with the awkward silence when I asked a question. This year, I have to be like, 'Okay, everybody calm down; not everybody at once,'" Coach Elzy said.
All Kentucky WBB knows is hustle
The Wildcats' mouths aren't the only thing that's running. Last season, Kentucky faced constant fatigue due to injuries and suspensions. At their low point, the team played a game with only six available players. Elzy and company are ensuring exhaustion won't be a problem this year.
"The conditioning here is very different. We run a lot," South Carolina transfer Eniya Russell said. "We didn't really run that much at South Carolina in practice."
Russell isn't the only one that feels this way. We asked each transfer what the biggest change was between Kentucky and their former school, each 'Cat had the same response: conditioning.
Despite the difficulty, the 'Cats seem to be embracing the challenge. Kentucky uses a point system in practice to measure performance. To no surprise, rebounds and charges are worth more than baskets. Even less surprising, rookie guard Cassidy Rowe is the consistent winner.
"Cass, she leads the team in charges. She's going to take them. Let me tell you she has changed the way [the team] views points," Elzy said. "The last two challenges she has won for taking charges in practice."
Blair Green is the definitive Wildcat
Of the five returning players, Blair Green's situation is the most mysterious. The fifth-year senior suffered a ruptured Achilles tendon in a preseason scrimmage against EKU in October 2021. The journey back to health hasn't been easy.
Moreover, Green isn't only expected to produce on the court, but off of it as well. The veteran 'Cat is a team leader, and after spending last season essentially being a coach, she's expected to act like it. Green discussed her role during Media Day
"Even with a lot of new faces and a lot of new freshmen, I'm having to step up and be that leader and use my voice, and help everyone through learning this new process of what Coach Elzy wants," Green said during Media Day.
If anybody believes in Green, it's Coach Elzy. When Green got injured, Elzy didn't let Green's talents go to waste. The 44-year-old head coach had Green watch film, create scouting reports, and advise her teammates.
Now, Elzy is putting Green under the magnifying scope. She is the expectation, the standard, and a proper Wildcat.
"So happy to have Blair Green back. She has worked extremely hard. We actually have to kick her out of the gym and we have to remind her an 'off day' is actually an off day," Elzy said.
Fans will get to see Green's hard work soon. Kentucky WBB will take the court at Big Blue Madness on Oct. 14 and hold a Blue-White scrimmage on Oct. 22. Let the fun begin.