Three people charged with public intoxication at Kroger Field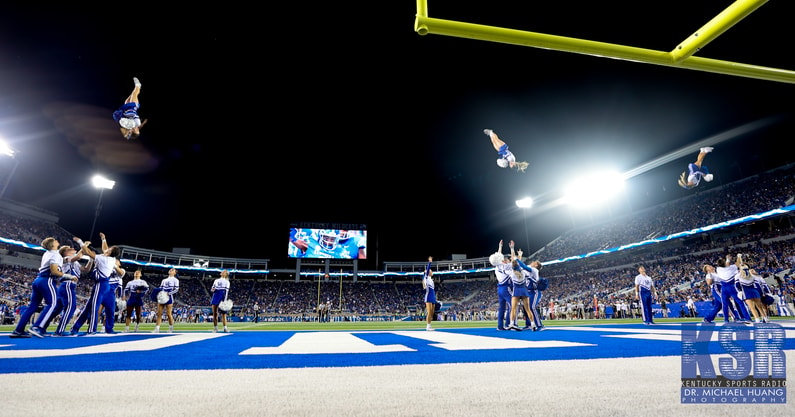 The first night game with alcohol sales at Kroger Field did not come and go without any hiccups. It actually resulted in a trio of arrests and charges during Kentucky football's 35-3 victory over Akron to move to 3-0.
Three people were hit with public intoxication charges as a result of a fight out in the concourse, footage of the incident leaking on social media to open the week. University of Kentucky spokesperson Jay Blanton confirmed the arrests with the Herald-Leader, adding that one person was charged with disorderly conduct and resisting arrest while another earned third-degree assault, disorderly conduct and resisting arrest charges.
One clip showed the slow-moving fight while another featured police officers carrying an individual by the arms and legs through the stadium in handcuffs.
The school confirmed with the Herald-Leader that it was aware of both incidents.
As embarrassing as the footage may be, Blanton added that the university hasn't seen a stark difference in alcohol-related incidents from last year to this one with the debut of beer sales. UK Police agrees.
"Our policies and procedures remain the same for public intoxication and we have seen no difference so far in these incidents," University of Kentucky Police Chief Joe Monroe said in a statement via the Herald-Leader.
Kentucky approves beer sales in June
The university first allowed the sale of beer and seltzer at Kentucky baseball and softball games in the spring before moving to open those sales to all sporting events — including football and basketball games.
UK Athletics Director Mitch Barnhart said the school watched that rollout closely, acknowledging "that went well" and "fans were awesome, they were great." He knew, though, that the larger crowds inside Kroger Field and Rupp Arena would present new hurdles — albeit ones the school was willing to clear.
"Obviously the crowds at Kroger Field and at Rupp Arena will be bigger," Barnhart said. "It's a much larger crowd with more people to manage and we'll have to work our way through all that."
Incidents like this past weekend are prime examples. It was always going to be an adjustment.
A learning opportunity for all parties involved. And hopefully the last.