Three Plays: Chunk plays power Kentucky to blowout win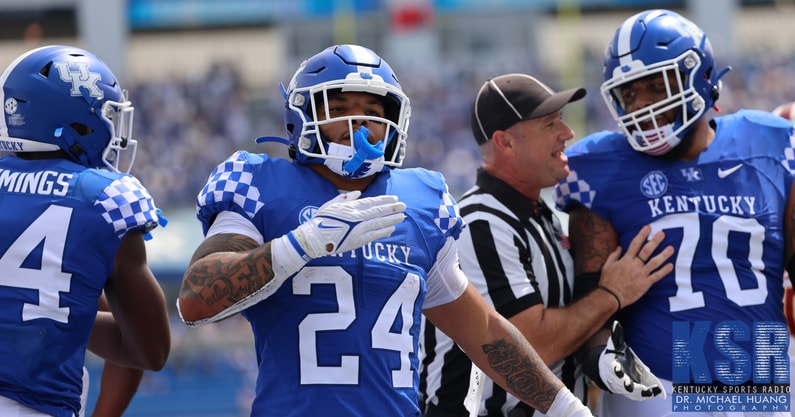 Outgaining your opponent by 477 yards is usually a solid strategy. Kentucky got to that big number by creating chunk plays.
A first possession interception and some untimely penalties led to the Warhawks taking a touchdown lead to begin the game. However, the Wildcats came back strong and finished the job with a 35-point victory and a cover in their back pocket.
Here are the key plays that led the Wildcats to the winner's circle.
Play-action crosser
In their first play in plus territory, Liam Coen decided to dial up Kentucky's first shot play of the season. Will Levis and Wan'Dale Robinson made a splash.
At the ULM 33, Kentucky goes to 11 personnel — one running back, one tight end, three wide receivers — in the shotgun. After a play-fake to Chris Rodriguez Jr., Levis is looking for one target.
The defense bites hard on the play fake, and Robinson runs right past the safety on a deep crossing route. The offensive line creates a clean pocket which leads to Kentucky's first explosive play touchdown of the season.
The play-action shot plays were a huge draw to this offensive scheme Coen brought to Lexington from the NFL. Kentucky didn't have to wait long to see them unfold at Kroger Field.
Consecutive chunk play haymakers
After the Robinson touchdown, Kentucky's defense took the field in their second possession of the game and forced a three-and-out to give the offense the ball at their own 42.
Coen immediately dialed up another shot play.
Kentucky comes out in 12 personnel, and Levis gets under center. In a condensed formation, the Wildcats go to a wide zone play-action on the snap. However, this is a clear home run swing as Kentucky uses a 7-man protection with only three receiving options. Both Josh Ali and Wan'Dale Robinson run post routes.
As the box defenders are first drawn to the run action, the deep safety jumps all over Robinson's route. This leaves Ali one-on-one with the outside cornerback, and Levis gets it to his target.
Kentucky takes the lead with this 58-yard strike and never looks back. Get used to seeing deep shots off of the wide zone play-action as the season progresses.
Chris Rodriguez Jr. gets downhill
The ending stat line will read very nicely for Chris Rodriguez Jr. The redshirt junior finished with 125 yards on 19 carries, but the star tailback struggled to get loose for most of the game.
With the new outside zone approach, Rodriguez was not running through tackles like normal and had some issues getting free despite not recording a negative rush.
However, his last attempt went for 31 yards and could allow the ground attack to gain momentum entering next week.
On what appears to be an inside zone action rushing behind the second-string offensive line, Rodriguez bowls through tacklers and records Kentucky's biggest rushing play of the day creating another scoring opportunity for the offense.
This new scheme all starts and ends with efficient Rodriguez runs on outside zone actions. The team's top rusher is working on improving his skill set for the new offense.
"That's really what this offense is based on — you have to beat that one guy. There's going to be one guy that's going to be unblocked, every time," Rodriguez told KSR. "That's one thing that I am going to start working on is trying to work on beating that one player."
The hot finish to the game could give the Kentucky ground attack some momentum moving forward. Once Rodriguez adjusts to the new system, this offense could be difficult to stop.