Three years later, Wan'Dale Robinson clears the air on his recruitment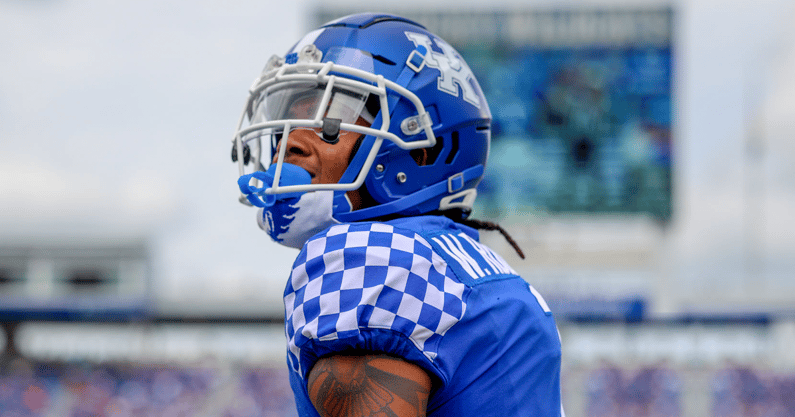 Wan'Dale Robinson is a star for Kentucky Football this season, but he took the long way to get there.
Born and raised 30 miles from Kroger Field in Frankfort, Kentucky, Robinson's career path re-routed him through Lincoln, Nebraska to play two seasons for Scott Frost before he was called home to wear the Blue and White.
Why the detour? Why Nebraska? Was it because they have good corn? Why transfer after two seasons? Why return home to finish his career?
These are questions Robinson answered on the new episode of KSR's Pin It Deep podcast.
"Alright, I'm just going to give everybody the rundown on what happened with this story. So that way, I can stop seeing on Twitter that I committed to Kentucky to win Mr. Football and all this stuff," he told former Kentucky Football specialists (now podcast specialists) Max Duffy and Miles Butler.
Here's the written version of Robinson's recruiting tale, but I encourage you to listen to the new episode for the full story and more.
---
Kentucky Commitment (The First Time)
Robinson was a top-100 player nationally out of Western Hills High School in Frankfort with interest from all over the country, including a school called Alabama and another one named Ohio State. He took official visits to both.
But it was nearby Kentucky and Nebraska that won Robinson over, and it was those two schools battling it out in the final hours of his recruitment in the fall of 2018, his high school senior year.
When it came time for his announcement ceremony on November 1, 2018, Robinson picked Kentucky over the Huskers.
Unbeknownst to the outside world at that time, Robinson was already silently committed to Nebraska when he announced his decision to attend Kentucky.
"I took all of my official visits and at that point I was like, OK, I'm ready to make a decision," Robinson told Pin It Deep. "I was silently committed to Nebraska before that announcement with UK… They knew I was coming but I wasn't putting it out."
So what happened?
The Pressure
"Halloween comes and me, my dad, and my trainer were on the phone with (Nebraska head coach Scott) Frost. This is the day before I'm announcing. They know I'm coming and there is this big misconception on how I'm being used in their offense.
"So I'm like, alright, I don't know what I'm going to do. At this point, Nebraska was 1, UK was 2. If I go to UK, I can't make the wrong choice. It's UK. I'm the hometown kid so I know I'm going to go in there and I'm going to play. So I can't go wrong."
Robinson also felt pressured by Kentucky fans in his hometown community (the state capital, of all places) to stay home and help Mark Stoops build a winning program in nearby Lexington.
"That whole week everybody was like, 'are you going to UK?' and all this stuff—-so I'm feeling that pressure like I need to go to UK to make everybody happy."
Then when the day came, he made everyone happy.
But not for long.
The Decommit and Flip to Nebraska
A month after Robinson's big announcement, when the excitement had died down, Robinson made the difficult decision to back out of his commitment.
"Throughout this whole recruiting process I've always been told, 'Do what's best for you. You have to live your life for you and nobody else. Just follow your heart,'" Robinson wrote on Twitter to announce the news. "Those words of advice got away from me as my verbal commitment date neared. I got overwhelmed by the pressure from outside influences, the pressure of staying home, and the pressure of trying to please everyone. Most people don't realize the stress that goes on with recruiting, especially when it's from your home state and everyone wants you to go there. Staying home is something I would have loved to do, but, unfortunately, my heart just isn't there."
In that same note, he flipped his commitment to Nebraska.
"Recruitment completely shut down," it read.
Why Nebraska?
On Pin It Deep, Robinson explained the contrasting styles of football at the time and one Kentucky game in particular that left a very sour taste in his mouth. Kentucky's 2018 season was one of the best in school history, but Robinson took in the game against Vanderbilt, a 14-7 barnburner in Lexington.
"Y'all had thrown for like 20 yards and after that game, I was like, 'I can't do this,'" he told Duffy and Butler, who were both on the team at that time. (Note: Kentucky actually threw for 18 yards in that game.)
Robinson didn't see things changing anytime soon, either.
"As a recruit, I'm seeing it and I'm like, if I come there they're still not going to throw the ball. At the end of the day, it's who's behind the center, who's calling the plays… That was it for me essentially not coming in the beginning."
It didn't help Kentucky's chances when Scott Frost traveled to Robinson's home with two pieces of paper: one with Nebraska's offensive stats, another with Kentucky's.
"They came on a home visit as soon as they were allowed to go," Robinson explained of Nebraska's re-emergence into the recruiting picture. "They were able to literally lay it out to me… Here's the two offenses. You compare them. At that point, Nebraska had them beat in every category."
Two Years at Nebraska, Back to Kentucky
Robinson arrived in Lincoln with expectations of being a dual threat in both the Huskers' ground and passing attacks. However, injuries and suspensions hit Nebraska's running back room in Robinson's freshman year, forcing him into action as the team's featured ball carrier. His rushing attempts more than doubled his catches, and even when he was catching passes it was out of the backfield, not as a wide receiver.
"I ended up essentially being our number one running back my freshman year," he said. "I was like 185 pounds soaking wet at that point."
The following season, Frost assured Robinson he would get him away from the 300-pound defensive linemen of the Big Ten and outside as a route-runner. But the injury bug bit again in 2020 and Frost put Robinson back in the backfield.
"I was like, I can't keep doing this," Robinson admitted. "We're getting reports saying that's not what I would do in the NFL."
Coincidentally, Mark Stoops brought in a new play-caller from the NFL who knew of a gunslinging quarterback at Penn State who also felt misused as a runner. Liam Coen arrived at Kentucky with the L.A. Rams playbook and used Rams' receiver Cooper Kupp as an example of what Robinson could be in the passing game.
Remember Robinson's quote about that 2018 Vandy game?
"At the end of the day, it's who's behind the center, who's calling the plays."
The new Kentucky offense with Coen and, eventually, quarterback Will Levis came at the perfect time for Robinson, whose NFL dreams were dying with each new carry in Nebraska's backfield.
The second time around, Kentucky told Robinson, "Look, you've done what you had to do in the Big Ten. Now it's time to come back and do it in the SEC and actually prove yourself (to the NFL)."
It's working so far. Robinson currently leads the SEC in receiving yards with over 400 on 25 catches in his first four games. As a team, Kentucky is undefeated while Nebraska is 2-3 with non-conference wins over Fordham and Buffalo. Plus, Nebraska doesn't have a Pin It Deep Podcast.
Welcome home.