Throwback Thursday: Kentucky's last three games vs. Notre Dame
This morning, UK announced a three-year series with Notre Dame, with games in Lexington in 2020, a neutral site in 2021, and South Bend in 2022. Believe it or not, the two teams have met 62 times on the hardwood, with Kentucky dominating the series 43-19. The Cats have played the Fighting Irish three times in the John Calipari Era. Each of those games was memorable for different reasons, so let's relive them.
December 8, 2010: No. 17 Kentucky 72, No. 23 Notre Dame 58
This game took place in Freedom Hall as part of the 2010 SEC/Big East Challenge, the penultimate game Kentucky played in the venue (can you name the last one?). After a horrible performance in the loss to North Carolina, Terrence Jones came out with something to prove, putting up 27 points and 17 rebounds. Notre Dame led by 11 at one point in the first half thanks to Ben Hansbrough, but Jones helped turn the tide with a huge dunk to spark a 13-2 run to tie the game at 40 at half. He did more of the same in the second half, and Kentucky held the Fighting Irish to only 20% shooting in the final 20 minutes. Brandon Knight was the only other Cat to score in double figures, finishing with 20 points.
---

November 29, 2012: Notre Dame 64, No. 8 Kentucky 50
I'm still kind of pissed off about this game. Notre Dame pulled out all the stops for Kentucky's trip north, calling for a blackout complete with hideous new uniforms and a sellout, raucous crowd. It was bad from the start. Notre Dame owned Kentucky inside and out, winning the rebounding battle 33-27 and holding the Cats to just 4-14 (28.6%) from three while shooting 8-15 (53.3%) behind the arc themselves.
The Fighting Irish led 36-25 at halftime, which is when the captains from their top-ranked football team came out to pump up the crowd, led by Manti Te'o (and his fake girlfriend, harhar). The second half wasn't much better and once the buzzer sounded, a court-storming was inevitable. Julius Mays led the Cats with 16 points, followed by Nerlens Noel with 10. Archie Goodwin and Alex Poythress, who were averaging 19 and 18 points per game coming in, scored only three points each.
"We went to South Bend a couple years later and that place was nuts," Calipari said in this morning's press release. "The football team was there and they thumped us."
If you can handle it, here are the lowlights, complete with Mike Brey and his mock turtleneck pumping up his squad.
---
March 28, 2015: No. 1 Kentucky 68, No. 3 Notre Dame 66
It looked like Kentucky's undefeated season might come to an end in the Elite Eight, but a trio of players stepped up to make sure the Cats advanced to the Final Four. Aaron Harrison hit a crucial three, Karl Towns scored 25 points (17 in the second half), and Andrew Harrison's free throws put the Cats ahead by two with six seconds left to fend off the Fighting Irish. The game featured 20 lead changes, 12 ties, and millions of racing hearts across the Big Blue Nation.
After the game, no one was happier than Ashley Judd, who embraced the team outside the locker room and danced on a coffee table during the KSR Postgame Show:
Ashley Judd w/a post game hug for Andrew Harrison after #Kentucky's 68-66 win over #NotreDame! #MarchMadness pic.twitter.com/h8vIS3AyhV

— Kenny "The Roadman" Roda🎙🎧📻🏈⚾️🏀🏒⚽️ (@TheKennyRoda) March 29, 2015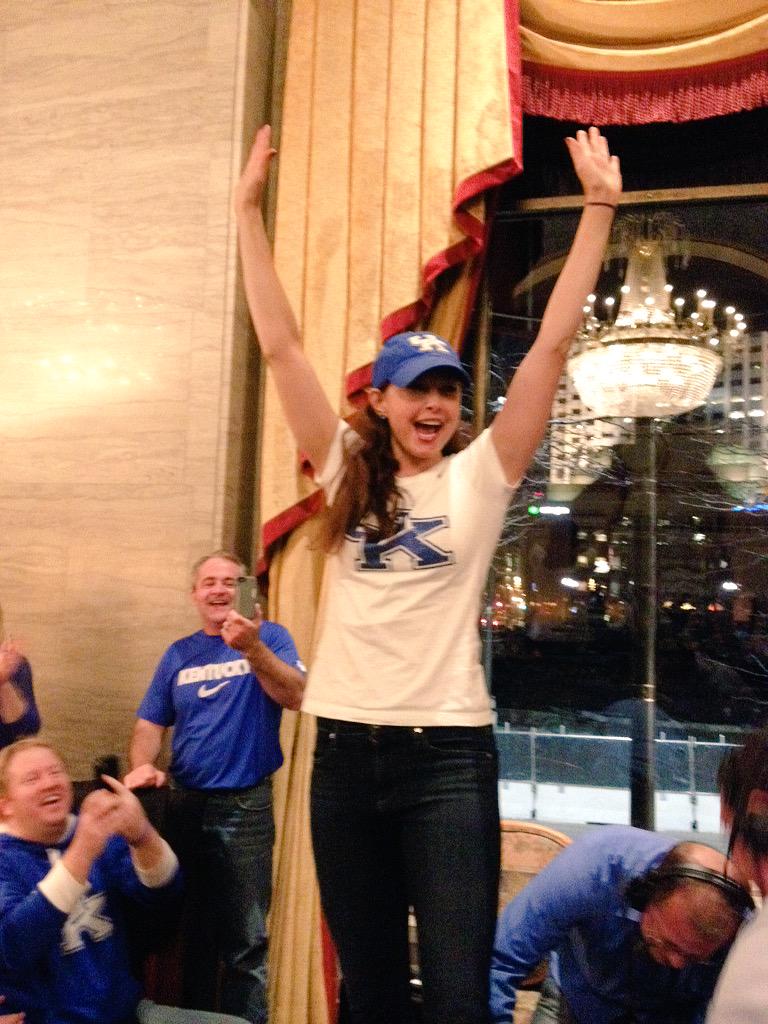 Oh, what a night.