Throwback Thursday: That time West Virginia talked trash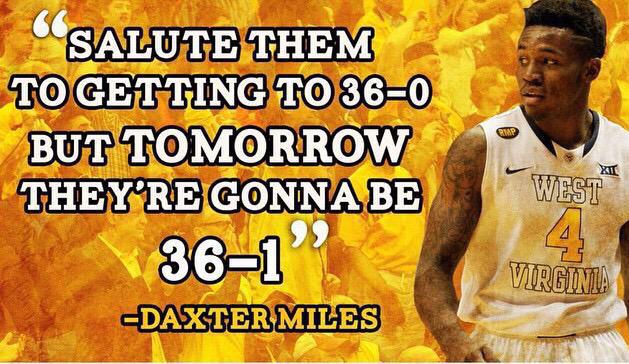 For Kentucky fans, four-year players are an oddity, so imagine my surprise when I pulled up West Virginia's roster and saw that Daxter Miles and Jevon Carter, the players that talked trash to a 36-0 Kentucky team back in the 2015 Sweet 16, are still there. In fact, the seniors are the Mountaineers' leading scorers.
You probably remember Miles' comments the most. Then a freshman, he had the nerve to predict the Mountaineers would knock off the Cats, something no other team had been able to accomplish so far that season.
"Tomorrow they're gonna be 36-1," Miles bragged. "They're gonna be 36-1"
If that wasn't bad enough, he went one step further, telling reporters he didn't think Kentucky played hard.
"I don't think they've played a team like us," Miles said. "To me, they don't play hard. To me, they don't play as hard as we play. Nobody is invincible, so their time will come, and I think we're going to pull it out."
Meanwhile, Carter really made it personal when he mocked the Harrison Twins for playing Nintendo:
In honor of Throwback Thursday and Saturday's game in Morgantown, let's look back at how that game turned out.
As expected, Kentucky used the smack talk as fuel and blew West Virginia out 78-39 in one of the most lopsided defeats in NCAA Tournament history. Not only did Kentucky's 39-point margin of victory tie for the largest in Sweet 16 history, it was only the second time a team doubled up its opponent in a regional semifinal or later. It was the first time since March 26, 1949 that a team has failed to score 40 points vs. Kentucky in an NCAA Tournament game. It. Was. Awesome.
Keep in mind, all of this domination took place on a night when Karl Towns scored only one point and Aaron Harrison dislocated his finger. Like the boss he is, Aaron popped it back into place and returned to the game, scoring this bucket over the guy who made fun of him and his brother for playing Nintendo:
West Virginia scored only 18 points in the first half. Their 39 points at the end of the game were the fewest in the Sweet 16 since the adoption of the shot clock. They only shot 24% from the field the entire game, the lowest percentage by any team in a Sweet 16 ever. Daxter Miles was 0-3 for zero points.
Don't worry; Devin Booker made sure to remind him of his trash talk after the game:
36 and won

— Book (@DevinBook) March 27, 2015
Willie Cauley-Stein's reaction to Miles' comments ended up being the best prediction of all.
"Now I'm kind of juiced. This game is going to be really fun. They made it kind of personal now. It's just going to be one of them games, that I'm telling you, if you want to watch a good game, you're going to want to watch this game because dudes is lit. Dudes is really ready to play."
Relive the glorious win below:
Regardless of what happens Saturday, this will go down as one of my favorite Kentucky basketball games of all time, and for that, I have Daxter and Jevon to thank.
[mobile_ad]