Hi friends, how have you been?  Good I hope.  It's been a pretty wild Thursday around the KSR compound.  Without wasting too much time, I hope you've been doing your best to catch your favorite Cats out and about.  They've been hanging out with fans everywhere, and tonight three of them decided to take the mound in Bowling Green.
Karl's first pitch: pic.twitter.com/gXXriqVTdo – Tyler Thompson (@MrsTylerKSR) April 23, 2015
Karl was too kind to the ball, of course.  But they could've been worse (cough John Wall cough cough). Scroll down to see them all, and let's get down to today's news.
Poythress is Officially Returning to Campus
We all expected it, but some were starting to get suspicious if Poythress would in fact play another year for Coach Cal.  Today he took to Twitter to confirm,
he's ready to roar
.
Jamal Murray is Officially NOT Coming to campus
It seemed too good to be true, and it was.  The 2016 star exploded onto the scene at the Nike Hoops Summit, with Coach Cal quickly taking notice.  With the EYBL tournament at KBA this weekend, Murray was expected to make a serendipitous visit to see Kentucky's campus.
Unfortunately I won't be in Lexington. Good luck to the Bounce family this weekend. – Jamal Murray (@BeMore27) April 24, 2015
Murray's Father told The Cats Pause his son needed the rest before making his college decision.
Coach Cal Accepts the Rupp Cup(p)
They should seriously consider adding the second "p" to Cup, it only makes sense. 
Coach Cal graciously accepted another award for Coach of the Year, but this one seemed more special with a homegrown feel.  He fielded many questions about expectations for next and recruiting, coming off with his usual confidence, "I think at the end of the day, it's going to be crazy again." You can watch it all
here
.
Mel Kiper and Todd McShay's Mock Draft Looks Good for Bud
There was
plenty of buzz from NFL talking heads
today praising Bud's potential, but the highest form of praise was probably from tonight.  Mel Kiper and Todd McShay were on ESPN News doing their annual live mock draft.  Bud went early,
#8 overall to the Atlanta Falcons
. I normally Don't Geek when it comes to mock drafts, but it's pretty cool when you see real recognize real on live TV.
Matthew Mitchell hired a new assistant
After ending their season against the Dayton Flyers at home, Matthew Mitchell got his revenge by stealing a coach.  Cynthiana native, Camryn Whitaker, is excited to be back in blue, "I truly bleed blue and am excited to join Big Blue Nation. It's a great day to be a Wildcat."
THIS Guy's day was worse than yours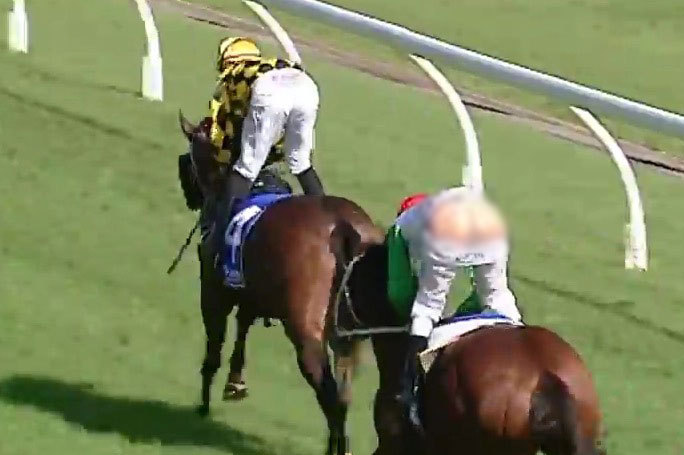 9 days til Derby....
Ramon Harris is back in the D-League Finals
After winning the title last year, Fort Wayne Mad Ants' starter, Ramon Harris, has helped lead the team back to the D-League Finals.  The Mad Ants came out hot at home, jumping to a 15-3 lead behind two 3s from Razor Ramon before giving the game away in the 4th quarter, falling to Santa Cruz 119-115.
Harris his eight 3-pointers en route to a 30-point performance
.  Just wow, wow.
Anthony Davis is going for the W against Golden State
Spoiler Alert: Davis' Pelicans probably aren't going to get passed the best team in the league.  Before he hangs up the towel for 2015, watch the Brow go out with a bang, hopefully stealing a win away at home. Go ahead and click over to TNT.  Davis is already doing things like this:
Anthony Davis SOARS for the putback slam! #NBARapidReplay http://t.co/mvhp3Den7J – NBA (@NBA) April 24, 2015
Drew Franklin went to Vegas tonight....with Rick Pitino
I wish I was making it up, but...
It's a Louisville pep rally in the back of Southwest Flight 877 pic.twitter.com/rbai6BGKMN – Drew Franklin (@DrewFranklinKSR) April 23, 2015
You can only see Rick's back because he refused to look Franklin in the eye.  I wonder who's better company on a plane, Marilyn Manson or Ricky Three Stacks?
KSR will be LIVE tomorrow at Bevins Motor Company in Georgetown
Catch up with the KSR crew tomorrow from 10-noon.  You'll find Bevins at 1797 Lexington Road.  With plenty of news today, I'm certain tomorrow's show will be worth your while.